JavaScript seems to be disabled in your browser. For the best experience on our site, be sure to turn on Javascript in your browser.
Journalism Center
Types of articles for school newspapers.
This article details the various types of school newspaper articles you can write. For ideas on what to write about, click here.
News Articles
These articles are all about the news. Specifically, you want to write about school news. You can write about local, national, or world news—but we recommend only doing so where they are relevant to the student body.
You have the opportunity to go so much further than what is posted on social media sites. Social media reports rumor, gossip, and assumptions. You will report the truth, having done all the relevant research and fact checking. You want your article to be the definitive source on the issue—the source others will point to and say, "But that's not what so-and-so said."
To learn how to write a school news article, click here.
Editorial (Opinion Piece, Commentary)
These articles are about influencing popular opinion and represents the consensus view of the newspaper editorial staff. It can also be about entertainment. People need to read your article and become engaged with it, even if they completely disagree with you. Some may read your piece because they completely agree. Others will read it because they just like the way you say it. Still others will read it because they feel a need to respond and disagree with you. Regardless of the reason, you have engaged the reader in such a way that your opinion has an impact. This is the main purpose of an editorial.
To see tips on writing editorial pieces, click here.
Feature Story
A feature story is probably the longest article you will write. It takes a news article and expands upon it, trying to explore reasons as to why the particular news story happened. To some degree, your opinion is inserted into the article, but in general, your opinion is based on the facts you have been able to gather, not on a personal bias.
A feature story will also make predictions on the consequences or ramifications of the news story. Likely scenarios are presented that might in some way effect the student body you are writing to. In general, a school newspaper will have one, maybe two, of these types of articles.
To learn how to write a feature story, click here.
A column can be written by the same author each issue of the newspaper. It will reflect the personal opinion of a single individual and can follow a similar theme through each issue. In general they are editorials, but written from one person's perspective and opinion, and it may be laser-focused on one particular area: advice, polls (and responses to), school announcements, school policy, question and answers, rival school news, and so on.
For more tips on writing columns, click here.
Review Article
A review article is a first-hand experience (good or bad) of a product, service, person, group, or idea. Your job here is to give as an unbiased experience of the good and negative aspects of your experience. You want to inform readers of what to expect. You also want to be thorough and honest about aspects you did not experience.
To learn how to write a review article, click here.
Promotional Article
The idea here is to encourage your readers to join in, engage in, participate in, purchase, or otherwise become involved with an activity, a group, a product, or an opportunity. For instance, the Newspaper Club can write an article about why joining them would provide members with an expanded resume that could help them land a job someday. An upcoming school activity might also be written about to encourage students to participate.
For tips on writing a promotional article, click here.
How-To Articles
These types of articles have become much more popular in recent years. For a school newspaper, writing about how to study, how to memorize better, how to utilize certain school resources, or how to best take advantage of the school cafeteria. All of these ideas, and many more, might be of interest to the student body and are potential articles for your newspaper.
To learn how to write a how-to article, click here.
Free Cloud Designer Templates
Our templates are 100% customizable, super user-friendly, and designed specifically to help you create outstanding school newspapers with our free Cloud Designer. Below are a few of the 100s of templates available to you. The first three show the various sizes we offer.
Privacy Policy
Terms of Service
Who Are We?
We are a one-stop shop for all your newspaper needs. You can design and print real, actual newspapers right here. We specialize in shortrun newspapers for practically any niche or need, from schools to weddings.
MMNC Key Features
Low Printing Prices
Fully Integrated Cloud Designer
Create Digital eNewspapers
First Class, Modern Templates
Start to Finish Guides
Tabloid and Broadsheet Printing
Dedicated Customer Care
Newspaper Design Services
Personalized Account Center
Popular Newspaper Niches
Schools - Colleges, High Schools, Middle, Elementary
Community - Income Generating, Public Service
Businesses - Marketing, Catalogs, Newsletters
Religious - Churches, Religious Organizations
More Popular Niches
Real Estate - Properties, Growth, Community
Restaurants - Menus, Reviews, Funny Pages
Political - Elections, Campaigns, Grass Roots
Personal - Birthdays , Reunions , Weddings
Berlin High School
Griswold Elementary School
Hubbard Elementary School
McGee Middle School
Willard Elementary School
Twitter Feed
Facebook Page
Principal's Welcome
School Profile
Regular Bell Schedule
Advisory Day Bell Schedule
Early Release Schedule
Late Arrival Schedule
Lunch Waves
Next Two Weeks Rotation of Periods
Berlin Public School Calendars
Program of Studies
Student Handbook 2022-23
Honor Rolls
BHS School Newspaper
School-wide Rubrics
Other School Publications
School Forms
Berlin HS Directory
BHS Weather Station Live Data
English Learners
Family & Cons. Science
Mathematics
Music & Theater Arts
PE, Health, & Wellness
Social Studies
Special Education
Technology Education
World Language
After-School Academy
Library Media Center
BHS Math Academy
Nurse's Office
Advanced Placement
Career Exploration Resources
College Credit Opportunities
College Planning
College Rep Visits Calendar
Community Resources
Developmental Guidance
Financial Aid Resources
NCAA Clearinghouse
Scholarships
SAT Prep Courses
Work Based Learning
Technology Integration
Writing Center
Band & Color Guard
BHS Radio Club
BHS Redcoat Review Recent Issues
BHS Sport Calendar Page
Cancellation Cup Contest
All Clubs Listing
BHS Redcoat Review Issues
National Honor Society
WERB Radio Station
Driver Education
Musicals & Drama
The Lamp - BHS Yearbook
Unified Sports
Band Parents Association
Booster Club News/Events
Current Fundraisers
Fundraising Chairpeople
Grad Party Policies
BHS PTO News
Graduation Celebration Website
Athletics Home
AD Welcome Page
Athletic Trainer
Teams & Schedules
Athletic Facilities
Athletics Documents
Athletic Booster Club
State Rankings and Tournaments
Admission Fees to Athletic Contests
BHS Sports History
Weekly Bell Schedule for Next Two Weeks
Redcoat Review Receives State Honor
BHS Activity Photos Available for Purchase
Art Students Honored
Order your Yearbook NOW
Free Lunch Program is BACK
BHS Students Honored
BHS Commended Students
Interact Member Attends International Conference
BHS Morning Announcements
Graduation Celebration Parents Fundraisers
Athletic Boosters Seeking Representatives
BHS Athletic Booster News
Community Announcements
Virtual College Fairs
BHS Event Calendar
BHS News Archive
BHS Artist Up for Artsonia Artist of the Week
PTO Archived News
Quarter 1 Honor Rolls are Posted
Guidance News Achieve
BHS Broadcasting Club Honored
BHS Students Honored by the College Board
21-22 Program of Studies is Available Now
Mums Sale to Benefit Class of 2022
Welcome to The School Newspaper page. Check here for interesting articles about Berlin High events, items of common interest, and articles that will entertain and inform. The School Newspaper is assembled by B.H.S. students. Our contributors meet in the library or virtually through our Schoology Group. All members of the B.H.S. community are welcome to be part of the School Newspaper.
See Mrs. Rice with any questions.
ONLINE EDITIONS OF THE BHS NEWSPAPER:
Issue #1 November 2019
issue #1 october 2018, is sue #2 february 2019, is sue #3 may 2019.
2016-17 SCHOOL YEAR:
2015-16 SCHOOL YEAR:
2014-15 SCHOOL YEAR:
ARCHIVED ISSUES
2012-13 School Year:
The ultimate guide for your school newspaper
Schools newspapers are a great way to inform and entertain highschool and college communities, but they are often not taken seriously. Perhaps the reason for that is the fact that some school newspapers are indeed amateurish. But they shouldn't be. With the right team and with the right tools, it's possible to produce a highly professional school paper.
It can be a daunting task, at first. There are so many things that you need to do, from team management and training to article writing , photojournalism, design, production and online student publishing. You might need a little help. We are here to provide that. This article is named "the ultimate guide for your school newspaper" because we have covered all the aspects of producing a student newspaper and managing the editorial team.
We simply want you to be a little less stressed, while producing a quality student paper.
This article is for everybody who is involved in the newspaper production, regardless of the role. You'll find some valuable tips for running and contributing to your school newspaper.
Here's a quick overview:
Staff management for school newspapers
Types of articles, news writing, newspaper design, school newspaper templates.
Online student publishing and production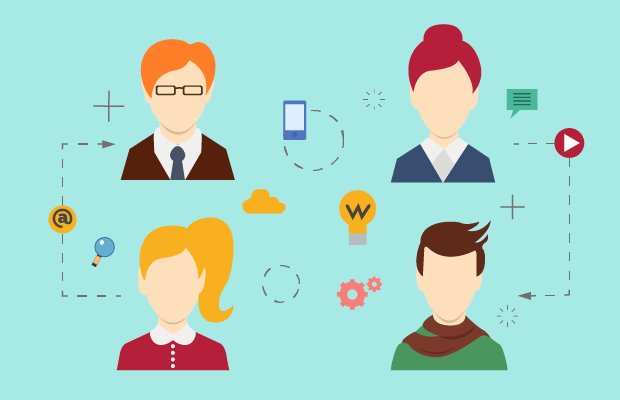 Organizing a newspaper dream team (even if you're not an expert)
Let's talk about the structure of the student newspaper team. What roles must be present in your team? How should you structure it? How many people should be part of the team?
There are many different ways to organize the staff, but you'll likely end up with a team that is more or less similar to traditional newspaper team structure, with the addition of the faculty advisor.
Let's take a look at the typical roles in a newspaper team:
Faculty advisor – gives the final approval to the school paper, is responsible for reading all articles and notifying the staff if a piece is not yet ready for press or if it doesn't meet the newspaper's standards
Reporters (news, sports, photo, opinion, tech) – responsible for staying up to date with the latest and upcoming events happening in school. They should also stay informed on politics, sports, technology or culture according to the department they are in
Editor / Department editors – editors plan and cover articles, proofread and edit reporter submissions. Department editors are responsible for all the articles that belong in their section and they work closely with the editors and reporters that are in their sections. They should be more experienced than editors, so the department editor role shouldn't be assigned to a junior student
Designers + Art director – The design/ art team is in charge of the visual aspect of the newspaper, including layouts, illustrations and everything that is related with the visual aspects. The art director oversees the entire design process, so he works closely with the designers
Photo reporters + photo editor – in smaller teams the role of the photo editor is not necessarily required, because his responsibilities can be covered by the art director
Production manager – responsible of setting the production schedule and making sure the all departments are meeting deadlines for copy, design, editing, proofreading and so on. He communicates directly with the printing house and with the technical department
Technical staff – the technical department publishes the newspaper on the website. The online version of your newspaper can be an identical copy of the printed one, or you can decide to publish the articles on your website in a different format
Business / Advertising – if you run ads in your school paper, you will need someone to mediate your relationship with advertisers and establish new business connections to grow the advertiser network
If there's currently no structure in place or you have a very small team, you can start small. Baby steps.
You don't necessarily need an entire department to cover a role. Sometimes a single student is enough, especially if your school newspaper isn't long (eg. hire just one designer instead of an entire team + art director). You can also have students take on multiple roles (eg: a student can be both editor and production manager). In some cases the faculty advisor becomes so involved in the production that he acts as a production manager.
Make sure each one of these roles is covered, and start from there. As your team grows you will need more structure and clearly defined roles.
Write clear job descriptions for each role
This way each student will understand his place and purpose in the team, will know exactly who he has to report to, what is expected, duties and responsibilities.
Even though job descriptions are not a standard practice in school newsrooms, writing them will be very rewarding. Yes, it will take some time, but it will not be wasted time, for sure. These job descriptions will help students perform better, and it will make the manager's role so much easier.
Hiring for school newspapers
Some colleges offer paid positions for the newspaper staff, but most high schools and colleges do not. However, there should still be a "hiring" or selection process in place.
Many students are interested in becoming involved in the production of the school newspaper, for various reasons: it's fun, it's a great learning experience, it looks good on college or job applications. That's what it's like to work on a college newspaper!
These are all valid reasons to join the school newspaper crew, but not everybody gets to be a part of it, if there are too many people interested in a position.
The best way to figure out if a student is a great candidate for a job is by interviewing him. These interviews usually take place in the first months of the first semester. After you finish all the interviews select the best candidates and let them know they've been selected.
When you're a part of a student newspaper team, you know that you'll be there for limited amount of time. The team will change every single year: the most experienced student journalists will graduate and leave the school, and a new of inexperienced juniors will need onboarding. This is why training and onboarding is a never ending process in the school newsroom. It's a fact of life, and it's definitely a challenge, but it can be dealt with.
Encourage the more experienced team members to train and coach the new hires. But oftentime, that won't be enough, because not everyone is willing to take on this responsibility. Sometimes, they might need a little push. You might need to assign a trainer for each new person that joins the team.
You can also invest time in creating a coaching manual for trainers and guideline manuals for trainees. It will simplify the onboarding process and reduce the hours spent coaching new colleagues.
Ground rules
College newspapers function under the protection of the First Amendment, so students can truly express themselves and their opinions, even when their views are contradictory to those of the school. Yet, that doesn't mean that the school has no control whatsoever over what gets to be published. The faculty advisor has the legal right to impose certain rules and standards, if the purpose is educating students.
If the faculty advisor isn't happy with the quality of an article he may suggest edits or reject it altogether. This doesn't mean that he's censoring free speech.
There should also be some ground rules regarding copyrights, plagiarism, subjectivism and other sensitive issues such as violence and profanity.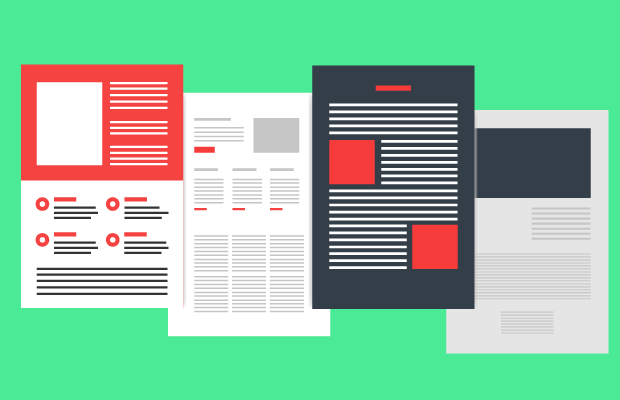 School newspapers and regular newspapers are structured in a similar manner, even though the topics are tailored to the audience. If you need some ideas for articles, take a look at the article types below. It will help you get organized and produce a well rounded newspaper.
School news
News articles should cover various events, policies and other school news that are interesting for students. These news don't have to be limited to your high school or college. You can write about national and even worldwide news, but only if they provide useful information.
For example, a worldwide student art competition could be the subject of a newspaper article. National laws and legislation regarding schools and education should also be covered in news articles, because they concern all students and will impact their lives. School news should be presented in an objective manner, presenting facts, not rumors or assumptions. They should be based on research and present different points of views.
Feature story
(over 1000 words) Each newspaper edition is likely to have a feature story. It's the longest article in the paper, and the most in-depth. Feature stories revolve around facts, but they take a story to the next level by presenting context, quotes, reasons why it happened, ramifications of the story and implications. The article shouldn't involve personal bias. It should be based on an elaborate investigation made by the journalist, interviewing multiple accounts. However, the feature isn't limited to facts, it gives the journalist a little room for interpretation and embedding his opinion in the piece, in a subtle way.
The topic varies. It could be some big news, an in-depth analysis of a social school phenomenon, a new policy or something else.
(under 500 words)
Unlike the previous 2 types of articles, the editorial is an opinion piece. Still, the writer shouldn't express his own views, but the opinion of the entire editorial staff.
For that reason, the editorial is usually not signed. It's a piece of commentary that appears to be written by an entire team. That's why the writer/ editor shouldn't talk about himself using the singular form of the first person: I, me, myself.
The editorial should be entertaining or argumentative. In order to achieve that you can start by making a claim that could be controversial, then proceed by explaining your reasons and clarifying your claim. This flow will keep readers engaged. Some of them will agree with your point of view. Others won't, but that's alright. The purpose is to challenge readers.
Topics: school rules, policies, teaching methods, advice, announcements, school news
Just like editorials, columns are opinion-based articles. The content and topics are very much like an editorial. But the main difference between an editorial piece and a column is the signature. The editorial goes unsigned because it represents the collective views of editorial staff, but the columnist will publish his piece under his name. That's why columnists can write about their opinions using the singular form of the first person. Sometimes an editor will publish a series of articles on the same topic/ similar topics, through several issues.
All of the big newspapers publish reviews because they help the general public make decisions. There's no reason why school newspaper shouldn't publish review articles on various topics: school textbooks, movies, books, or even classes.
Start by writing a short description of the thing that you are reviewing. Then add details about your personal experience. Include details about pros, cons, value for the money, performance mentions of other reviews, comparison to similar products. Try to be as objective and unbiased as possible.
Don't forget to write a conclusion in which you summarize the review and give a verdict: whether you would recommend the product or not.
Promotional pieces
Companies pay money to have advertorials inserted in newspapers. The school context is different, but you will still need to include some promotional articles every once in a while. It may be for the school's art or sports club, for a conference organized by the school or for a different event.
Your article should offer useful details about the event/ club that is promoted and it should also present the benefits it offers for students in order to encourage them to participate / join a program / buy a ticket.
Educational articles
This category includes tutorials and how-to articles with useful tips. Topics vary, but they should be school related, at least slightly. Here are a few examples: how to deal with stress, mnemonic learning techniques, tips for integrated digital learning, utilizing school resources, etc. These types of articles will help students deal with certain issues that almost everybody encounters.
If you have a talented illustrator in your crew, you should make the most of his skills. Assign a space in your newspaper's layout specifically for the cartoon. The topic should be something school related, something that students can relate to. The cartoon will put a smile on the reader's face.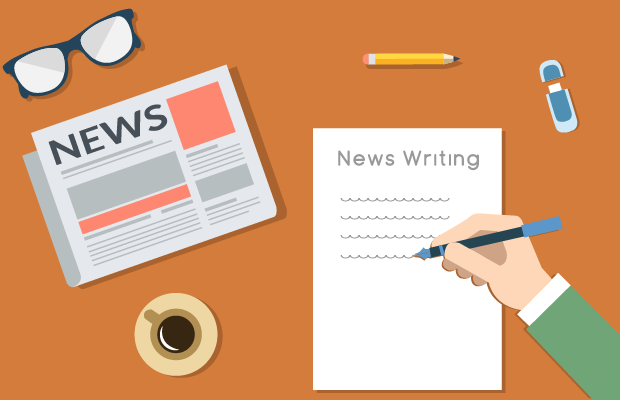 Producing a professional school newspaper requires many skills and great teamwork. But building a team of talented journalists takes time and training. If you're working with inexperienced student reporters and editors, you should start by teaching them the most basic news writings principles. Every journalist should know these.
The inverted pyramid style
The inverted pyramid refers to a very specific structure of a news article, which places the most important information at the beginning of the story. The information that is less vital to the reader's understanding comes later in the story. This is how you should present school news.
The first paragraph which contains the most important details is "the lead". The lead contains a very short and concise summary of the story. They should make sure that the first paragraph provides answers to the "5 Ws":
Continue with a few paragraphs that contain other important details of the story.
Writers should also integrate relevant quotes from their interviews with witnesses, sources or other people involved in the event. The next paragraphs should include other general or background information.
Students decide what articles interest them from the school newspaper by simply scanning the newspaper and reading headlines. Every great writer understands the importance of a good, attention-grabbing headline, and young journalists should know it too.
A well written headline is acts as a hook that makes readers want to read the entire piece. There are different types of headlines: humourous, mysterious, informative. The headline's style should match the article. There are many other things to consider, but you can start by reading these tips for writing great headlines .
There's a lot of work that goes into an article. Sometimes the journalist has to gather all the information himself. In other cases, it involves interviewing witnesses or experts. There's also that scenario in which the student will do research and find useful information in books, websites or other publications.
Regardless of how you collect data, you should always cite your source. It will add credibility to your story. It goes without saying that all journalists, including students, should check the reliability of their sources. Don't just pick up information from dubious online sites.
In some cases your sources will ask you to protect their identity. It will probably not happen very often in the school context, but if they do, you must respect their wish.
Editing and proofreading
Make sure that the most experienced editors are reviewing and editing every article before publication. Obviously, the writer should be the first person to edit and check for spelling & grammar mistakes. But that's not enough, not if you have high standards for your school's paper (which… you should).
Submit each piece for peer review. The reviewer should analyze grammar, spelling, tone and voice, as well as other standards imposed by the production manager. Encourage students to provide useful, objective feedback. Don't get offended if they make a lot of comments and suggestions. Writing for a school newspaper is a learning experience. You can't get better if you don't learn from your mistakes.
Obviously, the reviews should always be made by an experienced editor.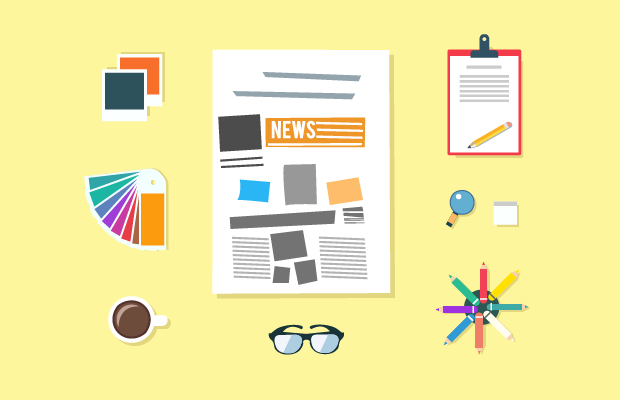 We recommend the art director and production manager to make a style manual because it will help students get familiar with the design guidelines and learn to respect them. The manual might change over time. You don't have to provide extremely detailed guidelines to make it useful for newspaper design.
The newspaper style guide should cover the general layout, number of pages, font types and sizes, guidelines for photos and cropping. These rules will guarantee some visual consistency for your future newspaper editions. Ask all designers to get familiar with the rules, before they start working on their first assignment. It will help save a lot of time and headaches for the art director/ production manager.
The newsroom is a very busy and exciting place. Everybody works on something, and the production manager has to coordinate everything, making sure the design and the copy complement each other. Communication between designers, art director, editors and production manager is key. It's challenging, but rewarding at the same time. Designers will work with dummy texts at the beginning, until editors finish their part. It also means that they will have to make edits to the design and make small adjustments so that everything looks great.
If you are a designer working for a school paper, learn about grids, composition and editorial design principles. Your design should look great and provide a great reading experience.
Perfect for online publishing and ready for print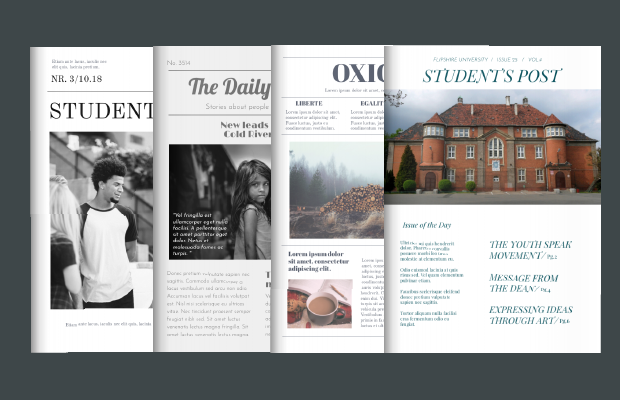 We made a few school newspaper templates that are free to edit online and to publish them digitally. These templates are the perfect solution for very small or inexperienced teams, because they will save you a LOT of time.
Take a look the images below to see some of our school paper templates.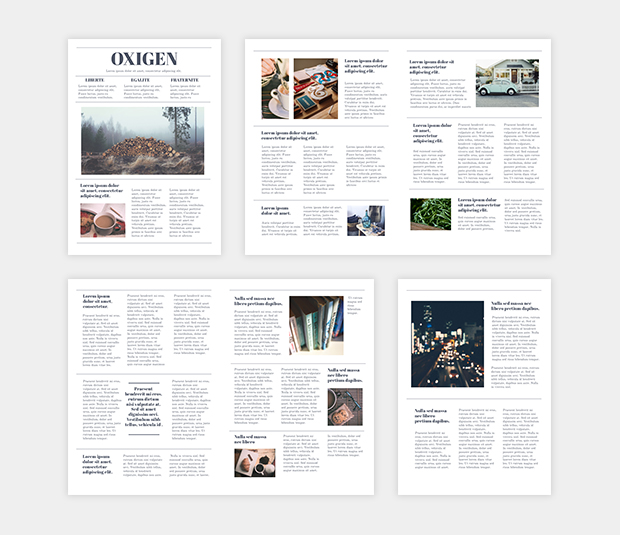 You won't even need a designer or art director if you know how to edit and adapt these newspaper templates to your needs.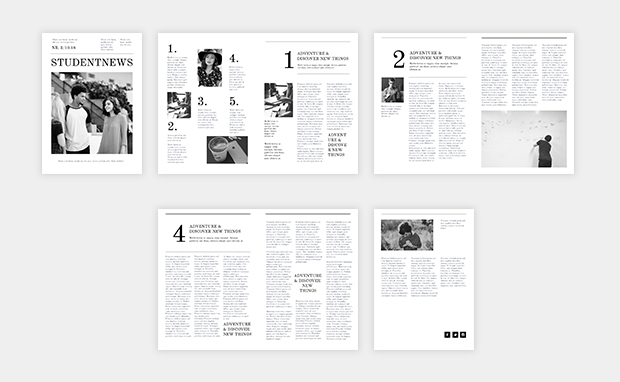 Start editing your favorite newspaper template very easily. Just click on images and register for an account. Then you can customize these layouts in the editor with a simple click on these images.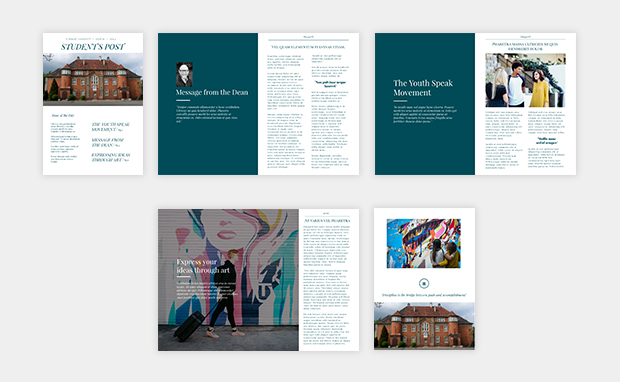 You can add more pages, duplicate pages, delete pages and do extensive customization.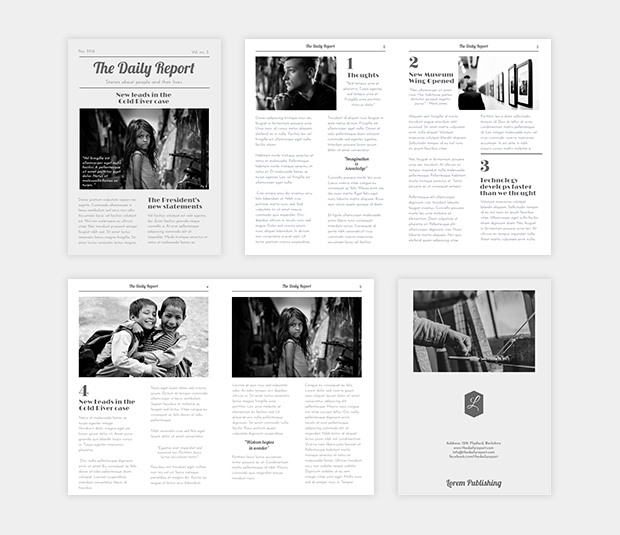 There's also another option for advanced designers. They can create their own layouts from scratch in our online editor, starting with blank pages.
Or, you can even upload a ready-made PDF to Flipsnack and we will turn it into a beautiful page-flip document that's highly shareable.
When you're done editing, proofreading and you get the final approval from the production manager, you can go ahead and download a PDF copy of the newspaper design on your computer. It requires a premium subscription, but it's worthed. The downloaded PDF is printable, so you can take it to print right away.
Online student publishing and production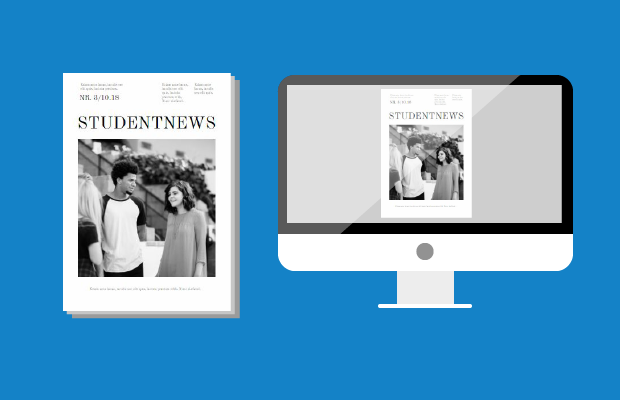 Nowadays many newspapers are digital-only, for various reasons. It completely removes printing costs and it's eco-friendly. No more paper, no more trees being cut! We think this is a great solution for schools, especially because the young generations of students are digital natives.
If you decide to try online student publishing, you have 2 options: publish the newspaper as a website/ blog or publish it digitally as an online newspaper with turning pages. The second option is probably easier to produce, because it doesn't require constant updating. The stylish look is an added bonus. And let's not forget about the fact that you can start from a school newspaper template.
The digital version of your student newspaper is free with Flipsnack. We will host it online on our most secure servers, so you don't have to worry about hosting (or anything else, for that matter). All you will have to do is share the link with students, or integrate the newspaper in your school's website (very easily) with the help of the embed code. Anyone can do it, it doesn't require tech skills.
— Hope you found this useful. What are your biggest challenges in writing for / designing or producing your school's newspaper?
16 Comments
Thanks for this. As a newly appointed editor in chief (my 1st time), I have to re-access my knowledge about student paper and the ways so I'm glad I found this site!
[…] for the school newspaper is a blessing in disguise. As a kid, you may be scared at the beginning, but after you have written […]
As a newly appointed EIC, I think that being part of the editorial board is an indicator that we are indeed the cream of the crop, a thing that we must really be grateful for. But before proceeding to the complexes, it is vital to know first the basics, thanks to this! :-)
So glad that you found this useful!
This was very helpful!
I really appreciate your tip to have someone be in charge of the layout when you publish your newspaper so it looks natural. My wife and I have been thinking of getting our daughter into the school newspaper so she can make friends. I will be sure to tell her to ask about a layout specialist.
Hello. I find this article useful to my study. I would like to ask for the complete name of the author and the date of its publication so I can have the citation.
Hi Zacharia, here are the requested details: Author name: Janina Moza Date of publication: Feb 8, 2018
What I am looking for for my middle school journalism class is the ability for the students to have access to designing and writing directly on the program and then I complete the final editing before publication. Is this possible with Flipsnack? Can the students have their own individual access to the paper? The last online newspaper we did only allowed for me to do everything.
Hi Shannon! We highly recommend getting a classroom plan for your class: Classroom plan It includes up to 30 connected student accounts, fully controlled by the teacher, so you would be able to do the final editing on their designs. With this plan students can work on projects at the same time in Flipsnack (but the program might not save all their edits properly if they all work on the same project). If you're looking for a free option, you can use Flipsnack to create projects that are up to 30 pages long, but it will only allow one user account. So you would have to use the same account as the student to log in and make the final edits.
This article is very useful? Thank you so much?
Hello.. thank you so much for sharing you expertise on these matter. I'm so thankful i found this site. I've been looking for this kind, a comprehensive guide for a school paper publication. It was so helpful especially for us neophytes.
Thank you very much for your kind words! We also have another article on the same subject. Check it here . Happy reading! :)
Hi. Your blog is easy to comprehend yet substancial. I can't specifically find a direct answer to this. Can a published newspaper have multilingual articles in one issue? Like the news sections have an article written in full english while other news are in a foreign language. It's a high school paper by the way. Thanks
Hello, Nory! Yes, you have the total freedom to insert multilingual articles in one issue if you want. Create your high school paper however you want! Have a nice day! :)
Hello, thank you so much for this article. I am about to start a college newspaper and I find the information here helpful
Leave A Comment Cancel reply
Save my name, email, and website in this browser for the next time I comment.
Related Posts
Is your company spending too much on print? Useful tips for budget cuts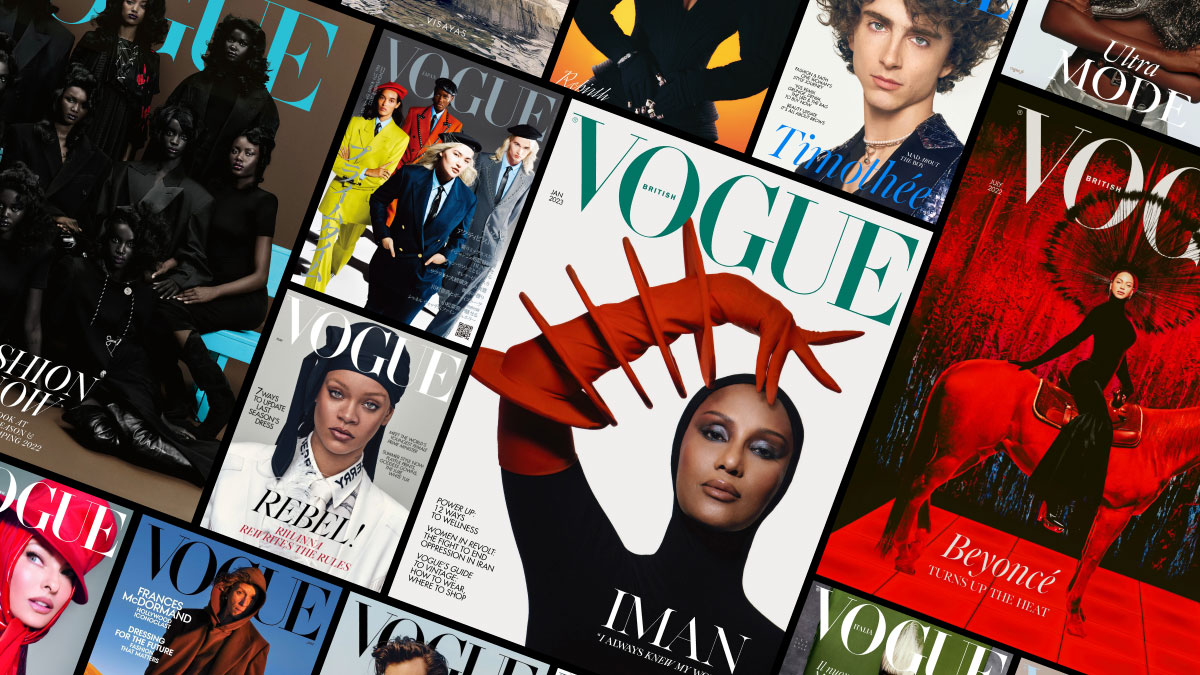 How to design a fashion magazine like Vogue [+templates]
The online flipbook maker.
Flipsnack © Copyright 2022 – All rights reserved.
Create a digital magazine
Make an online catalog, create a digital brochure, make a digital newsletter, help center, flipsnack academy.
🎉 Yearbook cover mock-ups now available! 🎉
High School Newspaper Story Ideas
Katie Moreno
Home » Publications » Newspaper » High School Newspaper Story Ideas
Modern day heroes
Unusual pets
Unusual jobs (or students who meet famous people as a result of their part-time job)
Making a comeback—students or faculty who have overcome incredible odds.
The rescue team—librarians who save your necks during research paper time.
The library—how much is lost each year due to theft, or books not returned, or vandalism. What is being done to curtail this?
Brian drain—the most difficult classes
Making the grade—feature on the students who make A's in the class or from the teacher no one makes A's from.
Favorite classes. Why?
The high price of education—classes that cost additional money like photography, art, computer classes…
The cost of belonging—activities where you have to pay additional money to represent the school— summer camps, cheerleading uniforms, pompon, dance lines, minor sports, etc.
Student entrepreneurs
Volunteers—students/faculty who perform service work in the community
School traditions
Athletic superstitions
Selling yourself—athletes who are real press hounds because they need the publicity to attract college scholarships
Being recruited—athletes and non-athletes who are heavily recruited by schools, military, etc. Keep track of all the literature received from colleges, etc. Figure postage costs…
The school junker—the car that's held together with twine, etc.
The neatest car in the school—not necessarily the most expensive but the one with the most personality.
Games teachers play to get your attention or to make a point
Embarrassing moments in the classroom—for teachers and students
Breaking curfew
Excuses—those that students give teachers and those teachers give students
A day in the life of….your school, the homecoming candidates, the cross-country team, the principal, etc. A journal approach to capturing the day the way it was.
Sneak attack—a story about tennis shoes (sneakers) in your school. Consider running a survey to determine the average number of sneakers owned, the average cost, and then figure the total cost of sneakers in your school. It's probably a multi-million business in your school.
First dates
Long distance romances—how difficult is it to keep them alive? How expensive are your phone bills? How many letters/e-mails written in a week, etc.
Techniques for getting noticed by a guy/girl.
Excuses given from breaking a date
Over achievers–what drives them to work so hard?
Students with parents who work at school and the flip side of that–parental reaction to having their children as students/athletes.
Large families–over 12. How large is the grocery bill? Do they ever get new clothes or do they end up in hand me downs? How long do they wait for the restroom in the morning?
Heros in hand-me-downs. Junior varsity teams who work hard but seldom have anything new for themselves.
Team trainers
On the road again–travel with an athletic team to do a color story on what the road trips are like.
Bands–students or faculty who have their own bands or play in bands.
Famous alumni
Leaders and pleaders–organization leaders who have to beg to get people to do things
Being clubbed to death–so many clubs and so many choices. Getting overextended in club work.
Your first credit card
Driver's test
Being stopped by the police
The class clown–there's always one who is really a comedian. What makes him tick?
Unusual hobbies
Gameaholics–students who spend all of their time and money on video games or board games
Student hangouts
Exciting summer trips or spring break trips
Students who are taking college credit while still in high school
Unusual relatives within the student body
Shopping–an obsession
Purging the urge to splurge–on shopping, eating, whatever. How do you stop?
School rivalries
Parents with unusual jobs
Tanning booths
Strange and unusual piercings
Teachers with second and third jobs
Married teachers who teach in the same school
Car accidents and tickets
Being a twin/triplet…
Making a difference–people who have been an instrumental influence on students' lives
Skateboarders
Stressed for success–students who are intent on achieving academic success, college entrance exams, etc.
School mascot
Parental pressure on coaches to let students play–student reaction to this too
Fashion and fads
Weather and its impact on school events
How much it costs to run a school
Being a custodian, cafeteria worker…
School epidemics
How long it takes to get ready in the morning
How much money the school receives in scholarships
Cell phones and student use
Divorce–impact on students
Teen marriages
Peer pressure–how students deal with them
Homecoming Week/Prom Week
Single-parent families
What's cooking–spend a day with the cooks and write a color story about their job. Include specifics on how much food it takes to prepare the students' favorite meal. What time do they start their day, etc.
Fast food. How often do students eat it? How much do they spend? What's their favorite fast food meal.
Cramming–techniques for studying for tests. How often do students feel they have to cram?
Procrastination–everybody does it. What rationalizations do students/teachers use to put things off?
Students or teachers with outstanding accomplishments
Foul-ups behind the scenes at plays
Time investment–the number of hours that goes into the preparation of a 12-minute halftime show
Student musicians who began at an early age–hours they've practiced, glad they spend that kind of time…
Internet and mass media invasion
Student involvement in environmental protection
Teenage suicide prevention
Bench warmers–the athletes who may not see much playing time but are an important part of the game because they keep the team psyched. These are the folks that hold the team together.
Student jobs–strange work stories
Freshmen fears
Tricks played on freshmen or underclassmen
Competition and how it affects students
Leave a Reply Cancel reply
Your email address will not be published. Required fields are marked *
Save my name, email, and website in this browser for the next time I comment.
Senior quotes are problematic for yearbook advisers
5 ways to improve your yearbook spreads right now
School Publications Terminology
2023 Award Finalists Announced!
How to Write Yearbook Captions
Yearbook Style Guide Template (+Example)
Recent posts.
RECENT VIDEOS
Connect with us.
© 2022 organized adviser, llc. | All rights Reserved. Made with ❤ by KM Creative
Pilinut Press, Inc. TM
Publisher of Advanced Readers and How-To Books.
Writing Articles for the School Newspaper
Writing articles for the school paper can be fun and interesting. You can be the journalist who covers the school's basketball game or spring concert. Maybe you will go to school board meetings and report back to your fellow students on the decisions the board made. You might interview the principal about the new classrooms being built because the school is expanding. There are all kinds of stories waiting to be told by you. But writing stories for the newspaper is not the same as writing an English paper or poetry. Journalism has its own guidelines. The following will give you the basic guidelines and some ideas on how to make your stories shine.
The first paragraph. The first paragraph is the most important paragraph in a news article for it gives the most critical information about the story. Space is limited in newspapers so news articles present the most important information first. Subsequent paragraphs contain information in order of descending importance. This allows the editor the option of shortening any story to fit the space available by cutting from the bottom.
Who, what, where, when, and, maybe, why, and how. In the first paragraph include all the basic facts of the news story. Who did what? Where did the event occur? When did it happen? Sometimes explaining why and how helps the reader understand more about the importance of the event or helps the reader connect to the story. For example, pretend you were covering your school's basketball game last Friday night. Here is how the first paragraph of the story might appear. The comments in parentheses show the basic facts.
In a knuckle-bitingly close (how) game (what), the Cassadaga Cougars (who) topped the Independence 76ers (who) by 1 slim point last Friday night (when) on the 76ers' home court (where). The final score was 68 to 67. Senior Langston Barnard led the scoring with 22 points.
Make the story interesting. There are several techniques you can use to make your story interesting to your reader which will be covered in the next few paragraphs. The first technique is quotes. People want to know what others have to say about the event. You can quote experts, celebrities, or the ordinary Joe. Following up on our example above, you might interview the coach, some of the players, the school principal, or people in the stands. You could also generate interest by explaining the importance of the event in relation to other things. Continuing on with our example, you could talk about where the team now stands in the rankings or how this game's performance compared to other games this season.
After the game, Coach Humbart said, "I am proud of the way the team fought through to the very end. They just kept coming back each time the 76ers scored." The team had struggled earlier in the season with consistency and keeping the pressure on through the entire game. The last three games have been narrow victories. The team still stands a chance to play in the county tournament if it can win three more games this season.
As an alternative you could tell the story from the point of view of a player. This alternative creates what is called a "human interest" story. People are interested in how others feel and what they do. Readers enjoy learning how someone overcame adversity to succeed or survive.
Use clean, crisp English. News writing should be short and to the point. News stories deliver the facts quickly. However, readers get bored when they see the same story with just the facts changed. Choose each word carefully and provide not only information but a sense of urgency and impact. Take another look at the first sentence in the example paragraph. In theory each time the school's team played a game, the newspaper could use the same sentence and just change the essential facts. What if the newspaper ran a sentence like this each time the team played?
The Cassadaga Cougars played the Independence 76ers last Friday night and won 68 to 67.
Boring! Much better to run the original example sentence.
Add pictures. Find out if the school photographer will be covering the event as well. If not, take a camera with you. Take lots of pictures so your editor can choose the perfect one to accompany your story. Action pictures work best, but they need to be in focus and have good contrast between the lights and darks in the picture. If there is too much gray in a photograph, it will not print distinctly enough for your readers to tell what is happening. Get as close as you can to your subject by "zooming" the camera lens in or moving yourself. Make the subject fill the picture frame. Avoid background distractions. Take pictures in landscape format and in portrait format to allow for different layout options in the newspaper.
Be accurate. A news reporter's responsibility is to accurately report on event. Double check the spelling of names, addresses, scores, dollar figures, and other factual information you collect for your story. If you have a recording device, record interviews. Write down details on a notepad.
Be fair. Remember to cover all sides of any controversial issue. Contact people who are advocating for different solutions to an issue and give them a chance to explain their stand on the issue. When you report the issue, clearly state the differing points of view. Allow readers to come to their own conclusions about how they view the issue. Journalism is about seeking the truth and giving unbiased reports.
Spell Check. Make a diligent search for errors, including using spell check and grammar check, before sending your story to the editor.
Bylines. A byline is the acknowledgement of who wrote the story. In some newspapers, the byline is simply your name. Other newspapers allow a little more space for lauding the author of the article. Bylines give readers some insight into the article writer's expertise. Examples are "By Kevin Block, Sports Reporter" or "By Lucy Witt, covering education issues in the Piedmont". Ask your editor about the newspaper's policy on bylines.
Apply these guidelines to write quality articles that grip, inform, and entertain your readers.
Celia Webb, President of Pilinut Press, Inc., publishers of advanced readers for children and ESL students. Check out http://www.pilinutpress.com for more free articles on developing reading-related skills, word games and puzzles, and activity sheets for the company's entertaining and educational books.
Other Articles of Interest
Citing References in Research Papers
Help Your Child Learn to Write
Overcoming Writer's Block
The Development of the English Alphabet
Writing Books for Preschoolers
Writing Business E-mails
Writing Fairy Tales
Visit our Reference Desk page for a complete listing of articles and worksheets.
EXPLORE Coupons Tech Help Pro Random Article About Us Quizzes Contribute Train Your Brain Game Improve Your English Popular Categories Arts and Entertainment Artwork Books Movies Computers and Electronics Computers Phone Skills Technology Hacks Health Men's Health Mental Health Women's Health Relationships Dating Love Relationship Issues Hobbies and Crafts Crafts Drawing Games Education & Communication Communication Skills Personal Development Studying Personal Care and Style Fashion Hair Care Personal Hygiene Youth Personal Care School Stuff Dating All Categories Arts and Entertainment Finance and Business Home and Garden Relationship Quizzes Cars & Other Vehicles Food and Entertaining Personal Care and Style Sports and Fitness Computers and Electronics Health Pets and Animals Travel Education & Communication Hobbies and Crafts Philosophy and Religion Work World Family Life Holidays and Traditions Relationships Youth
HELP US Support wikiHow Community Dashboard Write an Article Request a New Article More Ideas...
EDIT Edit this Article
PRO Courses New Tech Help Pro New Expert Videos About wikiHow Pro Coupons Quizzes Upgrade Sign In
Browse Articles
Quizzes New
Train Your Brain New
Improve Your English New
Support wikiHow
About wikiHow
Easy Ways to Help
Approve Questions
Fix Spelling
More Things to Try...
H&M Coupons
Hotwire Promo Codes
StubHub Discount Codes
Ashley Furniture Coupons
Blue Nile Promo Codes
NordVPN Coupons
Samsung Promo Codes
Chewy Promo Codes
Ulta Coupons
Vistaprint Promo Codes
Shutterfly Promo Codes
DoorDash Promo Codes
Office Depot Coupons
adidas Promo Codes
Home Depot Coupons
DSW Coupons
Bed Bath and Beyond Coupons
Lowe's Coupons
Surfshark Coupons
Nordstrom Coupons
Walmart Promo Codes
Dick's Sporting Goods Coupons
Fanatics Coupons
Edible Arrangements Coupons
eBay Coupons
Log in / Sign up
Education and Communications
How to Write an Article for Your School Newspaper
Last Updated: March 6, 2023 References
This article was co-authored by Gerald Posner . Gerald Posner is an Author & Journalist based in Miami, Florida. With over 35 years of experience, he specializes in investigative journalism, nonfiction books, and editorials. He holds a law degree from UC College of the Law, San Francisco, and a BA in Political Science from the University of California-Berkeley. He's the author of thirteen books, including several New York Times bestsellers, the winner of the Florida Book Award for General Nonfiction, and has been a finalist for the Pulitzer Prize in History. He was also shortlisted for the Best Business Book of 2020 by the Society for Advancing Business Editing and Writing. There are 9 references cited in this article, which can be found at the bottom of the page. This article has been viewed 581,258 times.
Writing an article for your school newspaper can be exciting and rewarding, especially once you see your name in print! If you don't already belong to your school newspaper, you may need to try out or talk to the editor about submitting some sample pieces. To write an article, you'll need to decide which type of article you'd like to write, check on submission guidelines, research your topic, interview sources, and write it in the proper newspaper format.
Joining the Team and Writing Different Types of Articles
Check to see if there are deadlines for turning in mock articles, what the editor is looking for in a new staff member, and if there are any meetings you can attend to get more information.
If you've been on staff for a while, you may have the freedom to choose your own article topics. But until you know your position, it's always a good idea to ask for assignments.
Feature stories are the largest articles in a newspaper, and they often go beyond simple facts to the reasons behind something, like why an event happened and what it means for students moving forward.
An example of a feature story would be an article about a new scholarship being offered in your state. How it works, who is eligible, and facts about the work that went into making the scholarship program a reality would make a compelling story.
News articles are generally more straight-forward than feature stories or opinion articles. They convey relevant information in an unbiased way.
For example, you could write an editorial about school rules, events or groups on campus, sports, programs, or teaching methods.
If you want to be a regular columnist for your school newspaper, present a plan to your editor for a series of articles that you'd like to work on. For example, you could propose a 4-week series about starting a club or practicing self-care.
For example, you could write an article called "Top 10 Tips to Manage Stress," "How to Develop Good Study Habits," or "How to Get in Shape before Tryouts."
For example, if you review a new movie that came out, you could write about who would most enjoy the film. Perhaps it would be great for someone who likes action movies but not as enjoyable for someone who prefers comedies.
Researching, Interviewing, and Fact Gathering
Talk to your editor, production manager, or faculty advisor for more information.
Who? Find out who was involved, whether that would be students, administrators, or other people in your community.
What? Write down exactly what it is that you are writing about. Is it an event, a person, or an idea? Be as specific as possible.
Where? Identify where the event took place. Is this a subject that is particular to your school or community, or is it a national subject?
When? Make note of important dates and times.
Why? Determine the reasons behind the subject. Was there a catalyst?
How? Connect the rest of your information together to determine how an event or subject came together.
When contacting a person for an interview, let them know who you are and what topic you're writing about, and give them an estimate of how much of their time you'll need.
When you finish an interview, take 10 minutes to write down additional notes right away. They'll be fresh in your mind and you'll be less likely to forget important details.
Ask if you have someone's permission to use their name and words in your article, and write down their quote verbatim. You can use anonymous sources, but quotes are more compelling when they can be traced back to a specific individual.
Fact-checking makes you a more trustworthy writer and ensures that you're taking the time to communicate as truthfully as you can about any particular subject.
Some reporters dictate notes to themselves or write out daily logs about their interviews and research. Figure out what works for you and your lifestyle, and then stick to it.
Writing the Article
A lot of times, readers will decide if they want to continue reading an article based off of the first sentence or two.
Sometimes you'll come up with a great headline before you even write the article, but most often you won't know exactly what you're presenting until after you've written it. Try waiting until after you've written your article to come up with the headline, and then make sure it fits in with the given topic.
People who want to know more about the topic will continue reading past those first 2 paragraphs, but people who just wanted the basic information will get their answers without having to search through the entire article.
For example, instead of saying, "Principal Miller comes from rainy Washington state and had been teaching before becoming a principal for 15 years," you could say something like, "Principal Miller previously lived in Washington, and she has over 15 years of experience in the educational system."
Always ask for permission to quote someone when you're interviewing them.
Being able to proofread your own work is an essential part of being a successful member of the newspaper staff, and the more you work at it, the better you'll get.
Community Q&A
Be careful when writing to avoid plagiarizing other sources. It's okay to use information from others, but make sure to reword it in your own way so it's unique and to cite sources when needed. ⧼thumbs_response⧽ Helpful 0 Not Helpful 0
If you're having trouble coming up with an idea for an article, ask for an assignment from the editor. ⧼thumbs_response⧽ Helpful 0 Not Helpful 0
You Might Also Like
Expert Interview
Thanks for reading our article! If you'd like to learn more about writing as a career, check out our in-depth interview with Gerald Posner .
↑ https://www.pilinutpress.com/Articles/Writing/WritingArticlesfortheSchoolNewspaper.html
↑ https://makemynewspaper.com/how-to-start-a-school-newspaper/
↑ https://schools.firstnews.co.uk/blog/journalistic-writing/how-to-start-a-school-newspaper/
↑ https://study.com/learn/lesson/newspaper-article-format-examples.html
↑ https://static1.squarespace.com/static/55a158b4e4b0796a90f7c371/t/571ec8f14d088ebb71604a41/1461635326642/2.+Op-ed+guidelines+-+3.29.16.pdf
↑ https://blog.flipsnack.com/school-newspaper-guide/
↑ https://www.makemynewspaper.com/how-to-write-a-school-news-article
↑ https://www.aresearchguide.com/write-a-newspaper-article.html
↑ https://www.thoughtco.com/the-secret-to-writing-great-headlines-2073697
About This Article
To write an article for your school newspaper, start with a lead paragraph that explains the who, what, where, when, and why of what you're writing about. Then, for the second and third paragraphs, include any additional facts and details that your readers should know. You can also include quotes from witnesses or school officials in this part of your article. Finally, conclude your article with the least important or relevant information. To learn how to research and come up with article ideas, scroll down! Did this summary help you? Yes No
Reader Success Stories
Ian Thompson
May 11, 2017
Did this article help you?
Lesley Seaton-Thorpe
Sep 24, 2018
Ashna Siddiqui
Oct 7, 2018
Apr 9, 2016
Shruti Seth
Aug 29, 2016
Featured Articles
Trending Articles
Watch Articles
Terms of Use
Privacy Policy
Do Not Sell or Share My Info
Not Selling Info
wikiHow Tech Help Pro:
Develop the tech skills you need for work and life