Remote work
A Simple Guide to Conducting a Solid Virtual Training For Employees
Remote work has made employee training hard. There's no doubt about it. Here are 4 steps to conducting effective virtual training.
Francis King
February 2, 2022
Remote working has taken off in the last couple of years, and this new way of working isn't going away anytime soon. It is estimated that by 2025, 70% of work will be done remotely . As with anything, this comes with its pros and cons. One of the biggest challenges with hiring remote workers is delivering a solid virtual training program. 
Hiring remote workers is a great way to scale your business at speed. But there's a risk of high turnover if remote workers begin to feel isolated and disconnected from their work due to physical distance. It's a challenge to make sure they feel confident in their role and part of the team. 
To maintain employee satisfaction throughout your whole workforce, you need to know how to build an employee training plan for remote workers. That's where this simple guide is here to help. 
Step 1. Ask yourself what you want from your Virtual Training program
Transferring your in-person training to virtual content isn't as simple as copying and pasting. There are a lot of necessary changes and inputs you have to make for your virtual training program to be effective. It's most likely you will want your virtual employees to hone the same skills as the rest of your team. Therefore, the first question to ask yourself is:
What do you want from your workforce as a whole? 
Even in the early stages of creating a virtual training program, it's important to consider what you want from your workforce as a whole—consider the employee life cycle . Don't isolate those working remotely by thinking of them as different from the rest of your team. It's about achieving the same results, but acknowledging you'll use different methods to get there.
Here are three examples of attributes you might like your workforce to have and challenges to bear in mind when trying to achieve them virtually: 
Competent and confident workers
To achieve a confident and competent workforce you must provide individual training that is role-specific. Consider building an employee development plan . For example, before leaving someone in charge of firewall monitoring , train them in the tool you use to monitor a firewall. 
The challenge:
Adequate training in role specificities will save you time in the long run. If people are under-trained in these areas they will be forced to ask questions as they go. Learning in the workplace in person is one thing, but learning virtually can be confusing if clear instruction isn't given. Rather than face an inbox thread of question-filled emails, go into clear detail during initial training. It will make your life easier further down the line. 
An inclusive workforce 
You can't simply create email with custom domain and think that your job of banding together the workforce is done. There's a lot of behavioural training that goes into creating an inclusive workplace environment . This might include cross-culture training and communication training.
The challenge
Inclusivity is heavily dependent on equality in communication and relationships. For remote workers, communication and forming relationships with co-workers is challenging. People working from home miss out on those all-important in-person connections. Messages and emails are open to interpretation, and miscommunication can lead to people not feeling valued. 
A positive team culture
Creating a positive team culture takes continued effort. There need to be clear departmental and organizational goals. Having communal goals is the first step in eliminating chances of tension. People also need to be flexible and understanding of one another.  
Making sure a newly-hired remote worker feels part of the team is one of your biggest challenges. Onboarding buddies for new hires are a common way to combat this challenge. Remote workers lack the in-person connections we so often take for granted. If anything, training remote employees demands more emphasis on psychological well-being in the workplace . Innovation is needed when coming up with ways to ensure remote trainees feel part of the team and don't feel isolated in the long run. 
Step 2. Prepare 
Outline a plan of short-term and long-term goals.
Before diving into creating your virtual training program, you need to create some overall goals. This outlined plan will keep you on track when you inevitably spend too long fiddling with an interactive presentation. Having a point of reference for your short-term and long-term goals will guide you through, even when frustrating technical difficulties occur. 
A short-term goal might be for everyone to understand your website. For new remote workers, you'd conduct this type of training early on as a form of introduction to your company. Don't worry, you don't have to sit through telling them how much your domain name cost or what an AI domain means . You should, however, guide them through your site via a screen-share. 
This short-term goal can be easily achieved, and will undoubtedly leave employees feeling more comfortable when dealing with customer queries. If you have gone through a recent website migration, be sure to guide both new and old employees through your site. You might have one of the best personalization websites out there, so make sure your whole team knows it! 
Long-term goals are just as important to consider because they act as the underlying motivators for each virtual training session. An example of a long-term business goal might be to double your number of customers by the end of the year. With this in mind, the virtual training you deliver would prioritize developing employees' customer service skills. 
Sharing long-term goals can increase a sense of camaraderie and help remote workers feel less isolated. Through publicizing a collective goal you are encouraging the philosophy that through working together, something great can be achieved. 
Pre-plan your method of communication 
With each piece of training, you are going to have to adjust the method of communication. For example, video chat might be the most effective method for behavioural training, because it allows room for discussion and questions. It's a case of trial and error. 
Whether you decide to deliver a training module over email, PowerPoint, or video, be sure to check the quality of your chosen method. You might decide Zoom isn't for you because you require a higher image quality. If this is the case, find an alternative to Zoom that matches your delivery goals. 
Step 3. Deliver
Leave plenty of time to practice presenting your training content .
After all that groundwork, be sure to leave yourself enough time to practice the delivery of your ideas. It's not easy to transition from planning, to creating, to delivering virtual content. 
Regardless of how much time and energy you put into an idea, if it is presented poorly, your employees won't find it engaging. To deliver engaging training, your communication skills need to be top notch. The best thing you can do to ensure you're ready to present is leave enough time to practice. 
Virtual training requires you to simultaneously focus on technology as well as what you're saying. If you're presenting a PowerPoint, practice by setting up a voice recorder and, as you speak, move through the visual content you're going to present. 
20% of remote workers claim that the biggest difficulty they face with working from home is communication. Don't let this be the case for your team! Put as much effort into practicing your delivery as you do into planning the training and creating your content. 
Ensure learning sticks with mentors and peer coaching
Many corporate training initiatives involve online courses and seminars. Although they are important and will not likely disappear anytime soon, there are better ways to make learning stick. By pairing employees with mentors , they can discuss what was learned during training as well as the goals they have for their careers. It makes it more relevant and meaningful. Mentors can reinforce what's learned as well as provide additional guidance and advice. 
In addition to mentors, employees should also be paired with one another for peer coaching . Similar to mentorship, employees can build on what they're learned together by discussing what their goals are and how they're working towards them. It's a different kind of relationship than a mentor-mentee relationship , but still very impactful. Peers can instill some healthy competition and accountability. 
Both mentors and peer-to-peer learning benefits employee development.
Step 4. Track and get feedback 
The only way to truly know if a virtual training program is going well is to find out from your employees. Send out a survey asking for feedback on your training program. Be sure to investigate what is working well and which areas need improvement. If your training program is flexible, you're at a huge advantage, as you can incorporate changes throughout.
Through using the feedback you can begin to compare your virtual training program to in-person training. Being able to spot gaps will show you what needs improving in both in-person and virtual training programs. 
If you choose to use a tracking tool , rather than a survey, try not to focus too much on the clock. Whilst the time it takes for someone to complete training can be a useful indicator of ability, it's not everything. What's more important is assessing whether employees are reaching their set goals. 
Now's the time to start 
Now you know how to conduct a solid virtual training program for employees, it's time to get going. It takes a while to adjust to virtual training, but having a solid training program plan in place is a great way to start. Putting time into your virtual training will undoubtedly help your company in the long run. 
Feedback is the key to improvement. If employees aren't connecting with a program there is no point in continuing with it. Irrespective of how much time you put into planning virtual training sessions, the only way to find out its effectiveness is to give it a go. Virtual training programs will differ between companies and teams. Continuous development is the only way to ensure you're building a future-ready organization . 
Author Bio:
Francis King leads customer acquisition at OnlyDomains , a domain management solution that offers global services and support that can be accessed from anywhere in the world. Francis has been a part of the team since 2009. He is our go-to guy for everything online advertising. Originally from Melbourne, Francis cannot go a day without lifting weights; he is considering taking on Jiu-Jitsu next. He has also written for Zumvu and Trujay .
Table of Contents
Social sharing.
Our most popular articles
Set apart your organization with mentorship.
Schedule 30 minutes to see Together's platform in action, or jump right in for free.
Together Platform
Turnover Cost Calculator
Customer Help Center
Platform Status
Why Mentorship
How it Works
Mentor Matching Algorithm
Integrations
Human Resources
Learning & Development
Department Leads
Community Managers
Attracting & Retaining Talent
Diversity & ERG
Employee Engagement
High Potentials
New Manager
Remote Work
Terms of Service
Customer Terms
Affiliate Agreement
Channel Partner Agreement
Cookie Policy
Acceptable Use
Uptime Agreement
Mentorship program planning hub
Best practices to run a mentorship program
State of coaching and mentoring 2022
6 Mentorship models cheat sheet
How to build a business case for your mentoring program
Mentorship program proposal template
Meeting templates for mentors and mentees
Mentorship program planning template

[email protected]

+1 (833) 755-5502
Help Center
Partnership Programs
Solutions By Industry Education Transform ordinary classes into engaging online courses. Retail Train retail staff online to boost sales and create a better customer experience. Automotive Perform timely compliance training and upskill your automotive technicians. Restaurants Streamline restaurant staff onboarding across all chain locations. By Use Case Compliance Training Induction Training Product Training Channel Partner Training Sales Training Microlearning Mobile Learning
Company About Us Customers Partnership Course Development Contact Us Blog Forum Webinars Guides
Community Blog Forum Webinars Guides
Language EN English Français Deutsch Español Italiano Nederlands Portuguese Polski 中文 日本語
Shopping Cart
How to Train Remote Employees: A Complete Guide

Remote employee training is a hot topic right now and that is mainly because it has been thrust into the spotlight in response to the COVID-19 crisis. A huge number of organizations, both public and private, have been forced to adopt a remote training model, but with almost no preparation or lead time. 
Close to a quarter of the U.S. workforce already works from home at least part of the time, but this sudden shift has left many companies struggling to put essential employee training online. These new policies mean that many employees – and their trainers – are working outside of the office and are separated from each other for the first time. And this challenge is exacerbated when scheduled training has to be shifted to remote delivery of work-related tasks and projects.
In this article, we will show you, step by step, how to launch remote training and will share best practices on how to do so quickly and effectively. So if you are new to online teaching, need a refresher, or are looking to improve the engagement of your virtual training sessions, you'll find some ways to get training online faster and more efficiently.
Common Challenges of Remote Employee Training
Remote training has its own set of challenges, which means that simply opening up an online meeting tool and PowerPoint is not a good answer. Let's dig a little into some of the common challenges you may face when you start training your employees online.
Lack of face-to-face supervision 
The lack of face-to-face interaction is a commonly cited issue relating to remote working in general, but it can be a pain point for remote training, particularly if the switch has recently been made from classroom-based models.
Let's face it: employee training in many cases is still seen by staff as a compulsory box to tick and their attention cannot be 100% guaranteed. Trainers worry that learners will not study as hard without in-person supervision. Many learners, on the other hand, struggle with reduced access to "over the shoulder" instructor support and communication. 
Lack of access to information
Newly remote workers are often unpleasantly surprised by the increased time and effort needed to locate information from coworkers and others. Even getting answers to what seem like simple questions can feel like a large obstacle to a worker based at home.
Framed in the context of remote training, this often translates to information about how to access the training, how to ask questions, and how it all works. Essentially, remote employees need to know the WHAT, WHEN, WHY, and HOW of any remote training you want them to take well before the scheduled session takes place. They also need to know how to get help if they need it – both before and during online training sessions. Lack of access to this information is setting your training up to fail.
Social isolation
Feelings of isolation are one of the most common complaints about remote work, with employees missing the informal social interactions of a workspace setting. Fortunately, this is one area where online virtual training sessions can actually help if they are run correctly. Participation in group training can relieve these feelings and a well-run session will incorporate active engagement, collaboration, and time for questions.
If remote training doesn't include group training sessions where people have an ability to communicate, isolation can cause any employee to feel less engaged and not "belonging" to their organization. So you need to ensure that your remote training sessions encourage interaction and inclusivity.
Distractions
It's sad to say, but effective virtual work is a far cry from the way it's often presented in the media as someone tapping away at their laptop on a beach while sipping a cocktail. That might be a fun fantasy, but employers typically must ensure that their remote workers have both a dedicated, quiet workspace and adequate childcare before allowing them to work remotely. 
Remote training is even less forgiving of distractions – it may be virtual but ultimately it is a training session – and 100% focus is not just nice to have, it's a necessity. So it's imperative that even if the rest of the day is open to distractions, your 1-hour training slot is non-negotiable.
Technical challenges
It's possible for training sessions to be interrupted by technical issues even in purpose-designed classrooms with organizational infrastructure, so imagine how much more likely this is to happen when you attempt to run a remote session. A great number of things can go wrong – from unstable internet and VPN connections to software and platform issues to training environment access.
There is no way to guarantee that you won't experience technical issues when you run a remote training session, but there is much you can do to minimize the likelihood of issues occurring. We will cover this later in the tips section.
Key takeaway: All those challenges and many others make it important to plan and organize remote employee training correctly. How is that done? The next section breaks it down step by step.
Step-by-Step Walkthrough of Remote Training
There are different ways to set up and run remote training, and which process works best for you will depend on your needs. Here are the steps that we believe will ensure a smooth and hassle-free way to get your virtual training up and running fast. Watch this video guide or continue reading the article. 
Step 1. Choose a delivery model
When we use the term 'remote training', most people's first thought is something similar to an online meeting. That is definitely a popular model, but it's not the only one available to you. Here's a quick breakdown of your choices.
Synchronous learning
Synchronous learning is any training activity in which all learners are participating simultaneously. It can happen either online or offline; so it's likely that the instructor-led classes that you conduct fall into this category. This type of learning is time-dependent – there is a single time slot in which it can happen. You, as a facilitator, need to carefully plan your teaching sessions and make sure they are announced in good time. At the same time, your learners may need to book a specific time slot in the schedule to virtually attend.
Asynchronous learning
This model, in contrast, happens when learners access learning content, assessments, and communicate and participate in activities in their own time – or 'self-paced'. They don't need to be on site, and for remote training, they don't even need to be in the same online learning space at the same time to study and complete the training. Asynchronous learning can also be run instructor free, as with most eLearning and video-based training, or the instructor can be involved to review assessments or as a contact resource to answer questions online. This type of model often demands the training results – in the form of a course completion status, score, or assessment – are provided before a certain deadline.
Blended learning
Blended learning can take elements from both the synchronous and asynchronous models and mix them together to create a custom solution. Because of its flexibility, a blended solution may be the best way to approach more complex remote training requirements. For example, it could incorporate an eLearning module and a virtual classroom session all scheduled through an LMS.
Step 2. Buy the necessary tools
While it's quite possible to run a remote training program using Skype as your communications platform, an Excel sheet to track attendance and completions, and PowerPoint to create the training, it may not be the best option. Why? First, you will make life extremely difficult for yourself, and, more importantly, you will provide your trainees with a sub-par experience.
Like anything else, good remote training requires some investment in the correct tools to get the job done. At a minimum, you will need:
Conferencing and webinar platform
You will probably be looking at software that is different from what you may have deployed in your conference rooms to make wide-scale virtual training. As a minimum feature set, you should look for a platform that has the ability to screenshare, remotely access one another's desktops, chat via text, exchange files, and even broadcast to large groups of passive viewers. 
There are two types of platforms that can be used for online remote training delivery. The first type is a conferencing/webinar platform. The second type is a dedicated virtual training platform that would have many more features specifically tailored to running training, like virtual assessments and breakout classrooms for group work. 
Here is a list of options for both types of platform:
Conferencing and webinar: Zoom, Bluejeans, Join.me, Webex, GoToMeeting, Zoho.
Virtual Classroom: GoToTraining, BigBlueButton, Larksuite.
As important as how you will connect online with your remote trainees is how you will manage, deploy, and track your training efforts. This is where a learning management system comes in. An LMS will, at the very least, take the hard work out of inviting attendees to remote sessions, assigning learning materials, and tracking results.
If you're looking for an LMS that is easy to use for beginners but also offers all the necessary features for remote training, you can try iSpring Learn . This is a cloud-based platform that enables you to move with remote training programs fast. 
It has a built-in tool that allows you to create an online courses from your existing material with illustrations, quotes, and videos, so you can gather the learning content and deliver it to your employees within minutes. iSpring Learn also is fully integrated with the iSpring Suite authoring toolkit . So if you want to build more complex asynchronous interactive courses, you will find the entire ecosystem to be extremely well integrated for remote training delivery. 
Besides, iSpring Learn is integrated with Zoom, one of the web conferencing platforms we mentioned above. So you can broadcast your videos and host web meetings directly from your LMS. It also includes a calendar for scheduling video conferences to allow you to manage your training efforts. 
iSpring Learn also has a strong reporting engine. You can keep track of how your learners take courses and quizzes and monitor their attendance at web meetings. 
eLearning authoring tool 
Authoring tools are designed for creating online courses. Of course, you can upload PDF manuals and Word documents to the LMS, but 'page-turner' eLearning has low engagement levels. Choosing the right tool can help you create engaging asynchronous training that provides real value to your employees. 
You should look for authoring tools that are HTML5 based, allow you to create interactive content, are easy to use, and support a variety of output formats. You should also opt for an authoring tool that automatically packages your remote eLearning courses and makes them ready to run on mobile devices, tablets or any browser. This will go a long way toward reducing technical access issues for remote workers who want to be able to simply click a link and complete a training.
For example, iSpring Suite , which we mentioned above, meets all these demands. With iSpring, you can create engaging courses with quizzes, conversations, simulations, and interactions in a matter of hours, not days. To get remote training online as fast as possible, it lets you easily repurpose existing assets like PPT presentations, Word documents, and PDF files. And even more complex elements like ILT classroom role-play scenarios can be re-built with the rapid dialog simulation editor, making it possible to get ILT courses online and delivered remotely without compromising the content.
Step 3. Prepare your learning materials
This step in the process will depend on what type of approach you are using. First, ask yourself: What methods will be used to deliver the content? If you decided on a synchronous remote experience, you will need to prepare or create some presentations for your web-based classes and build some reference materials to accompany them or videos to insert into the webinar training.
If you opted for an asynchronous approach, it's likely that eLearning courses and videos will be the cornerstone contents that need to be prepared. If you decide on a blended approach, then, of course, you may have all of those types of materials and more to prepare.
For those who want to make some or all of the training eLearning based, it's time to put your authoring tool to work. Let's see what you can do with iSpring Suite. 
iSpring features a vast content library of course templates that include standard elements like title slides, tables of content and navigation, chapters, timelines, and info slides. So you can simply choose a template you like, populate it with all necessary information, and get a course up and running very quickly. 
This is what a course created with iSpring Suite looks like: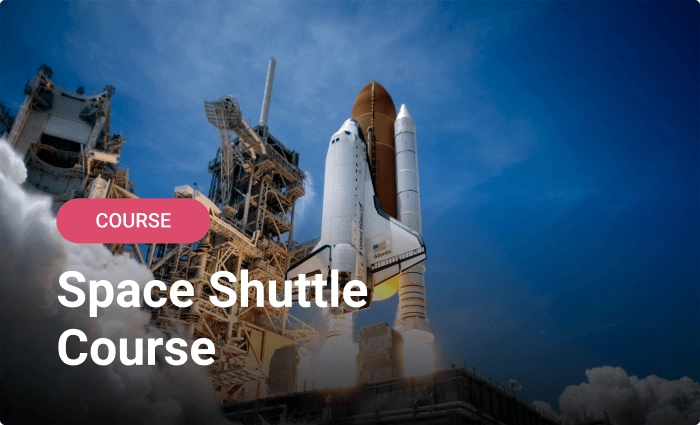 Once you have the base content in the authoring tool, you can consider adding some other types of content, such as:
Video: Embedding video in your eLearning is a quick way to present a topic, explain a process, or present some expert information via public domain videos from reputable organizations like the WHO, OSHA, and the CDC.
Polls, surveys, assessments, and knowledge checks: These are great as they help to test learners' knowledge and check if they are actively engaged in a remote session. 
Dialogue simulation: Role-play sims are very effective for building communication skills. This is a great type of content if you need to train your sales and customer support teams.
Step 4. Deliver training
Now it's time to actually get your remote training delivered and the good news is that because you are using an LMS, this should be simple to set up. You just need to upload the eLearning courses, set deadlines, and invite employees. 
For virtual classroom training we will cover some tips on running and managing virtual training delivery in the next section.
Step 5. Track learning results
The final step is to track the results of your remote training. What you decide to track will depend on your organizational needs – it may be only course completions, or you may want to understand other metrics such as how long learners took to complete an eLearning course or their scores in particular assessments.
Your LMS should have you covered here – iSpring Learn, for example, has easy-to-access but very detailed learning tracking.
You may also want to look at virtual classroom metrics such as engagement rate to see if learners are actively taking part in the virtual session or if their attention is going to other windows or applications that they have open.
Top Tips for More Effective Remote Employee Training 
So now you know the basics of how to get your remote training online and that's a great start, but there are some really important things you can do to ensure that it is well received, effective, and engaging. Here are our top tips to make your remote employee learning really shine.
1. Make an effective training schedule
When people have a consistent and transparent schedule for training, they'll prioritize it and you'll generally get higher attendance. 
A well-thought-out training schedule will ensure that anyone who needs to take the learning has access to it at a suitable time and date. It's easy to manage all training activities with the LMS calendar. Rather than having your training attendance reports and other important info strewn across multiple files, spreadsheets, and to-do lists, a holistic calendar organizes everything in a single tab.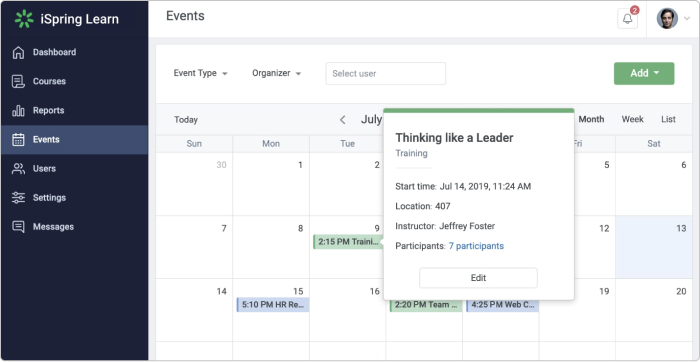 Events calendar in iSpring Learn LMS 
2. Create a pre-class checklist
When you run a remote training online, you are managing the content, the environment and the experience, which is a big responsibility. Creating a checklist or agenda will help you along and ensure that you don't forget any essential steps or any of the tips we're outlining.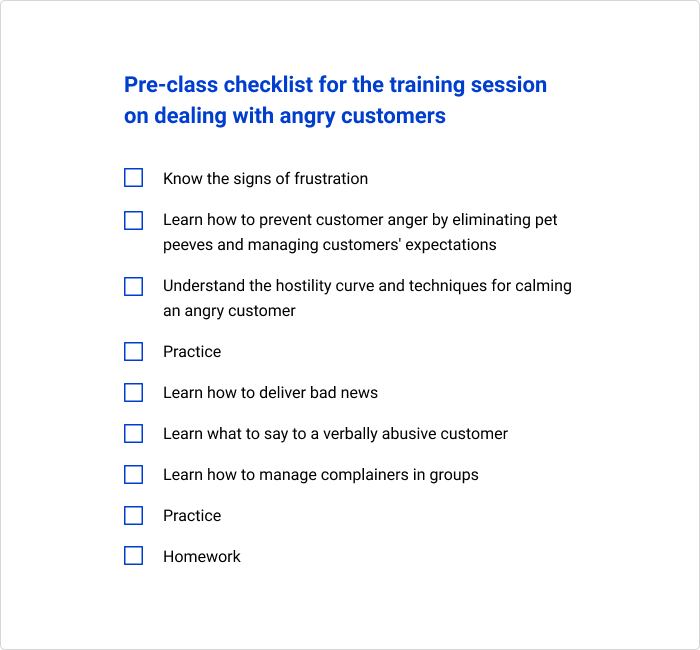 An example of a pre-class checklist for the customer service training session
3. Define the support process
Who is going to provide assistance when you can't access that training instance or your VPN connection drops and you lose a class of twenty students?
Being prepared is critical and important aspect of this is establishing who will be available to support your session. At a minimum, have a member of your IT support team prepped, available, and on-call, and discuss what will happen in the event you have serious issues with them beforehand.
4. Ensure access is pain free
Communication is key, so don't be afraid of 'over-communicating.' This is not an office environment so the 'too many emails' rule should be disregarded here in favor of making sure your training session is clearly communicated and easily accessible.
So, send an email a few days beforehand with the virtual session link and maybe an image or two of a screen capture of the virtual classroom.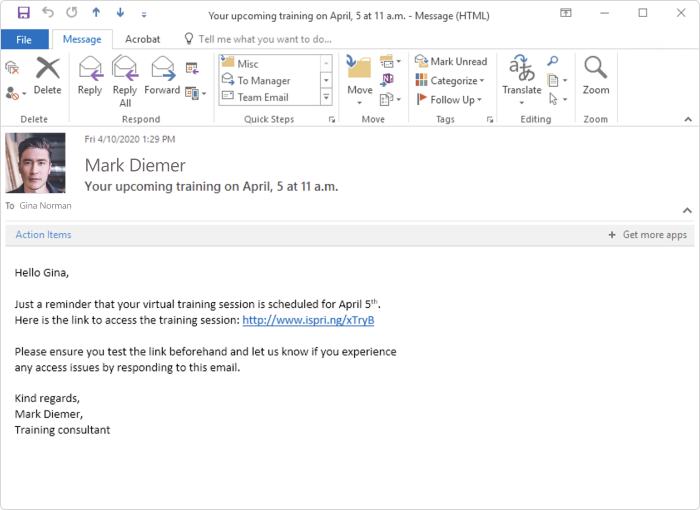 An example of an email reminder
You may also want to show students what to expect and what the virtual classroom will look like – you could also put together a 'cheat sheet' on the basic functions they will need to use, like muting their microphone, raising their hand to ask a question, or using the chat feature. Send a message the night before the online class and also a few moments before the class begins to resend an email with the URL. 
Check that you can access all platforms and systems at least one hour before the training starts. Logging on should be a breeze and set the tone of your session, it should not be an obstacle to overcome. It is essential to have a facilitator online to help out with sign-on and connectivity issues or to assist learners who are not keeping up with the pack.
5. Start with orientation
Just like an ILT session, you need to establish some ground rules for your remote training and explain to your learners what is expected of them in order to participate in the training and make it effective.
Some housekeeping suggestions include:
Establish how to deal with problems like connectivity; for example: use the chat feature with the 2nd instructor or facilitator if you lose access to the course
Keep microphone on mute when not speaking
To ask a question, request clarification or make a comment, use the raise hand feature and wait for a response 
Put mobile phones on mute
Close email and other windows
At the start of your virtual sessions, provide some opening slides that describe the functions that are available to the students.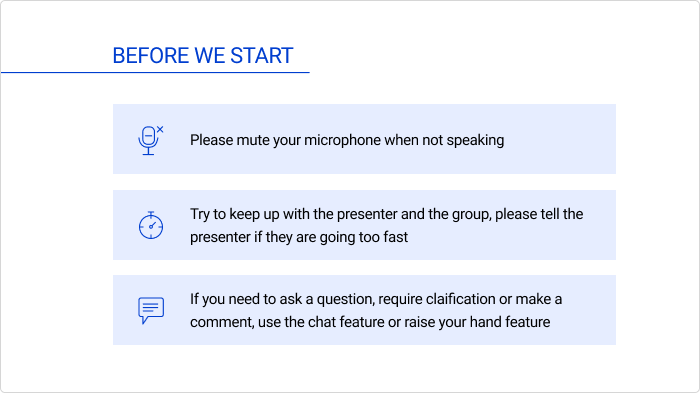 An example of the virtual session opening slide 
6. Stay online and offer regular check-ins or meetings 
When you are wrapping up the session, tell the students you will stay online afterward to answer questions, address issues, review, give assignments, etc. You can also schedule check-ins to discuss same and make yourself available online should any students wish to connect.
7. Engage learners 
Since it is remote training, you need to find some additional ways to create some extra engagement. For example, you can reward your employees' training efforts. Often, online learning platforms have a built-in certification function that automatically awards certificates of completion – a great way to motivate and engage learners.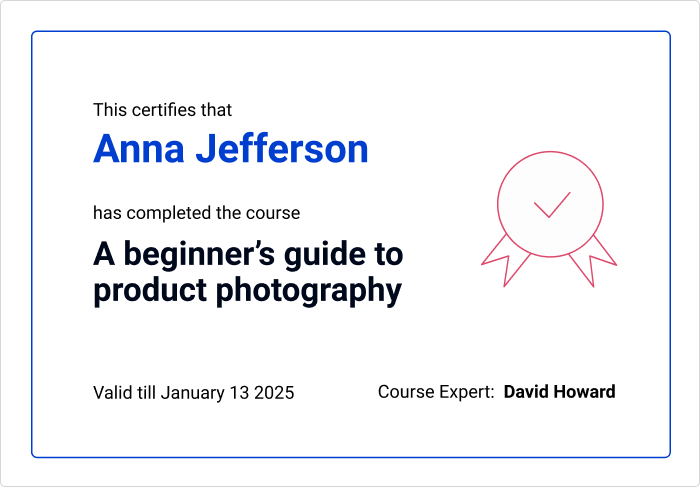 An example of a course completion certificate 
You could also consider using the gamification features of your LMS like leaderboards to keep learner engagement high and provide some milestones as they progress through the session.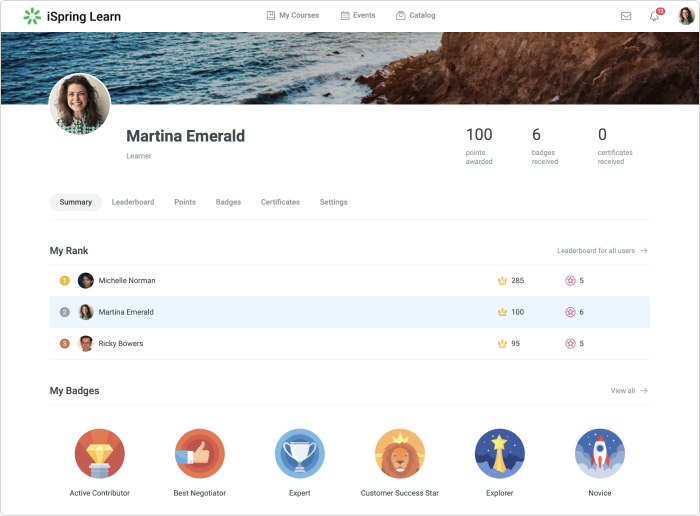 Leaderboards in iSpring Learn LMS
That wraps up this deep dive into remote employee training. We covered a lot of material on this very current topic and we hope you found some useful information that will help you improve your remote sessions.
We would love to know what you are doing to train your remote employees and if you have any tips to offer that we missed in this article.
for your mission-critical project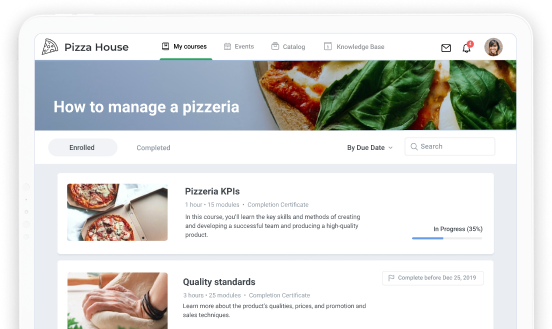 Content creator:
Helen Colman
She enjoys combining in-depth research with expert knowledge of the industry. If you have eLearning insights that you'd like to share, please get in touch .
You might also like this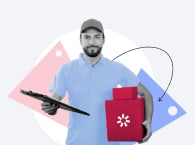 Subscribe to our blog
Stay tuned to get our latest eLearning tips and tricks!
By clicking "Subscribe", you agree to our Privacy Policy . All emails include an unsubscribe link, so that you can opt-out at any time.
We use cookies to give you the best possible experience on our website and also for analytics and marketing purposes. You can enable or disable optional cookies as desired. See our Cookie Policy for more details.
Manage your cookies
Essential cookies are always on. You can turn off other cookies if you wish.
Essential cookies
Analytics cookies
Social media cookies
Virtual Teams
Training in Virtual Teams
In the face of the complex and unique virtual work environment, organizations are required to invest in the training and development of virtual team members. This is to ensure success of these virtual project teams in effectively performing their task activities and successfully delivering the project goals. The overall objective of a well-defined training program should be to develop a virtual team whose members are capable of using variety of technological tools to effectively communicate with each other with competencies to collaborate and build trust in order to achieve their shared purpose.
A successful virtual team is the one where the energies of team members are combined towards achieving a common goal and the energy loss due to team conflicts are minimal. The training program for virtual teams should focus on three aspects - technology, group processes and cross cultural management .
Technology Training
Virtual teams rely on information technology tools for their interactions. Various electronic media used for information sharing are web-conferencing, meeting managers, white boards, and electronic bulletin boards etc. Hence it is important that all members are well-versed with the usage of different electronic media. Technology training should also involve coaching members on how to choose the most effective media in different situations so that it perfectly matches the team tasks requirements. For example, choosing web-conferencing when visual cues are essential and creating a password-secured shared drive for making confidential information accessible to selected few. Many a times organizations make use of advance software packages such as WebX, Live Link and IP-Team for facilitating globally distributed virtual team management. These are complex and require adequate amount of training to be able to harness their full potential and effective return on investment. Effective use of different tools dramatically reduces the communication problems and also aid faster and gainful interactions among the virtual team members.
Group Processes Training
Throughout the life cycle of the virtual team development, virtual team members face different challenges at each stage. It is imperative to effectively train the virtual team members for each of these challenges in advance as well as during the team operations. The group process training involves various modules related to goal-setting, problem solving, building trust and collaboration, monitoring performance, and leading virtual teams. It is advisable to provide the training through web-based modules. The training schedule and targeted deadline for each module should be provided and the team members should be allowed to complete the module at their own convenience and pace. The team members should be encouraged to discuss their training notes with each other through a discussion forum. This would help to build social capital and workplace relationships which will be effective for future collaboration and trust.
Cross Cultural Training
Virtual environment brings together the subject-matter experts and specialists from different cultures across the world to work on a project. There could be individuals from USA, Israel, Japan and India working as part of a virtual team. This might lead to potential problems if members are not aware and sensitive to the cultural differences in work behaviors, communication and religious preferences. For example, an American would be highly result and target-oriented while Asian would emphasize on relationships or a teammate from Israel might not be available for calls on Friday afternoons or Saturday because of their tradition of Sabbath. Such cultural issues might lead to misunderstandings with adverse effect on the task progress. Therefore it is the responsibility of the HR department of the organization to provide a cross-cultural training to the virtual team members before the project kick-off. This would sensitize and create awareness among the members for each other culture, religion and traditions.
The impact of virtual teams can be increased manifold by carefully designing and implementing the training programs customized to the virtual team requirements . Such workshops and e-learning programs enhance the competencies and capabilities of the virtual team members resulting in stronger collaboration and trust, increased productivity and profitability of the global virtual workspace.
Related Articles
Setting Up a Virtual Team
Knowledge Management in Virtual Team
Managing Social Isolation in VT
Pros and Cons of Working from Home
Measuring ROI of Virtual Teams
View All Articles
Authorship/Referencing - About the Author(s)
The article is Written By "Prachi Juneja" and Reviewed By Management Study Guide Content Team . MSG Content Team comprises experienced Faculty Member, Professionals and Subject Matter Experts. We are a ISO 2001:2015 Certified Education Provider . To Know more, click on About Us . The use of this material is free for learning and education purpose. Please reference authorship of content used, including link(s) to ManagementStudyGuide.com and the content page url.
Virtual Team - Introduction
Virtual Teams vs Traditional Teams
Virtual Teams - Myths and Realities
Types of Virtual Teams
Advantages & Disadvantages of VT
Reasons for Failure of Virtual Teams
Degree of Virtuality in Teams
Role of Virtual Team Members
Four Dimensional Model of Virtual Teams
Competencies of Virtual Team Members
Success Factors for Virtual Teams
Leadership Essentials for Virtual Teams
Performance Appraisal System for VT
Rewards & Recognition System in VT
Managing Conflict in Virtual Teams
Politics in Virtual Workplace
Everything You Need To Know About Virtual Team Training
Looking to train your virtual team ?
Thousands of companies are now employing remote teams to quickly scale their workforce.
But hiring remote teams comes the added challenge of delivering the necessary training virtually .
A solid virtual training program will help you produce a super-efficient global virtual team. They'll be well-versed with the right tools for their work and will be able to communicate effectively with team members and managers.
These well-trained, cohesive teams make managing virtual teams a piece of cake for any employer!
So what exactly goes into an excellent virtual team training program and how do you start?
In this article, we'll explore what should go into your virtual team training. We'll also review some key factors involved to help you avoid any potential training pitfalls.
This Article Contains:
(clicks the links below to jump to specific sections)
What Should A Virtual Team Training Program Cover?
Training In The Required Technology
Group Processes Training
Cross-Cultural Training
8 Key Factors To Consider When Training a Virtual Team
What To Consider When Training New Hires For A Virtual Team
Training a virtual team is no easy task.
Your goal is to provide your team with the tools and processes they need to perform remote work efficiently. You should also be able to monitor their training progress to ensure that things are proceeding according to plan.
So here are 3 things your virtual team training program should definitely address:
1. Training In The Required Technology
There are tons of software available today that can help a virtual team stay organized and productive.
However, remember to pick the right apps for your virtual workers to help them complete their tasks as easily as possible.
Here are some tools that can help you increase virtual team effectiveness:
Video conferencing software like GoToMeeting or Zoom Meetings for team meetings.
Whiteboard software like Miro or InVision for project discussions.
Project and team management apps like Asana and Basecamp to track project progress.
Communication technology like Slack to keep team members up-to-date.
Productivity tracking apps like Time Doctor to record virtual work hours accurately.
Your team members should be well-versed with different collaboration methods and know which tool to use for a specific situation. Once you have the right tools figured out, the next step is to train your team on how, and when, to use those tools.
For example, if visual cues are needed, train your team to use video conferencing to share information. If they need to share confidential information, learning how to create a password-secured shared drive or folder (like on Google Drive) for select team members is important.
2. Group Processes Training
Group processes training is where a team member's role and responsibilities are defined, including learning how to deal with issues and conflict within a group.
But before you begin planning out your group processes module, you should evaluate the life stage of your virtual team:
A. Understanding your team's life stage
Is your team full of new members?
Then the entire team will need training on roles, responsibilities, collaboration and communication skills.
But what if your virtual team has been around for a while?
Working in an isolated environment can take a toll on your virtual employees.
A seasoned project team won't need to learn how to use their project management apps. But they'll likely require support and training on managing conflict and staying connected with fellow virtual team members.
An effective group process training session should cover various useful topics like:
Setting a common goal for project execution.
Problem-solving tactics.
Building trust, communication and collaboration.
Individual and team performance monitoring.
Leadership for virtual team management skills.
Your training should communicate how individual and team goals align with company goals. This will give your virtual team an idea of how they fit in the big picture.
Not only will this help remove the sense of isolation an individual may have, but it'll also improve their morale and productivity.
B. Delivering Group Process training
So how do you go about this type of training ?
Group processes training is best provided through web-based e-learning modules. Set a targeted deadline that allows a virtual team member to complete the module at their own pace.
Encourage your team to discuss and give feedback on the training among themselves. This gives them a chance to air their opinions and interact with other team members. Effective communication will also help solidify the knowledge of their roles within the team.
3. Cross-Cultural Training
A virtual environment can bring together team members from different parts of the world.
The benefit?
It gives an employer access to an almost unlimited talent pool and recruitment opportunities.
However, even two people in the same room can have many different thoughts, right?
Naturally, people from different countries and cultures will have different views and approaches to a specific situation.
So how do you deal with this?
The first step involves learning to use the right tone of communication. This easily prevents any misunderstandings that could negatively affect project progress and virtual team success.
Next, encourage cultural sensitivity training sessions to make your global team aware of different cultures and to appreciate these differences.
Additionally, team members and trainers should be mindful of time zone and cultural differences.
Live online training sessions should consider the availability of participants in different time zones. However, this can be tricky if time zones are separated by night and day. A morning training session in Tokyo could be sleep time for someone in New York!
In this case, you could run two separate training sessions, or discuss the times with your participants to find common hours. However, sometimes participants may have no choice but to attend training during odd hours. Be sure to appreciate their effort if this happens.
8 Key Factors To Consider When Training A Virtual Team
Let's now take a look at 8 key factors that can directly affect the effectiveness of your training:
1. Ensure Multi-platform Support
Can your virtual team training software run on any platform?
Your virtual team members might be using various devices to access the training session on different browsers or operating systems.
So you need to make sure that everyone can easily access the training software. Look for a tool that runs on both mobile (Android and iOS) and desktop (Windows, macOS) platforms and is easily accessible .
Additionally, ensure your employees prepare their devices for the meeting well ahead of time to avoid delays caused by last-minute installations. Ideally, send out email or calendar alerts 3–4 days before the training session to ensure that everyone has enough time to prepare.
2. Address Pre And Post-training Concerns
Sometimes, teams are so focused on a training program that the prep work and follow-ups are more of an afterthought.
You shouldn't neglect pre-training tasks or post-training support to optimize the overall impact of the training.
What do pre-training tasks involve?
Make sure that any prior requirements for your virtual team training are completed ahead .
This could be something as simple as installing the required tools on your remote team member's devices. Or it could be something more complex, involving studying case studies of other training programs.
This gives you insight into how to structure your virtual training to make it as effective as possible.
What about post-training support?
People in the company's leadership roles should be aware of the training expectations and be ready to provide support when questions arise.
For example, let's say that your virtual team is trained on using a new project management software, and a licensing issue crops up. If your managers are not aware of licensing requirements, it'll be difficult for your team to get their help in resolving it.
3. Don't Neglect Testing
Conduct several trial tests of your virtual team training program on different systems.
This will ensure that it won't fail in the middle of a training session. Troubleshooting a glitched system in the middle of your session is a waste of everyone's valuable training time!
However, if there's a risk of your training system failing due to uncontrollable reasons (like power or network failure), have a backup plan in place when you test. This could be like recording training sessions or creating reference notes that could be distributed to team members.
It will give your team members something to refer to if they end up missing training segments. This is especially useful if your training schedule is tight, and you don't have time to conduct repeated sessions.
4. Create Interactive Modules
Want your team members to interact during the session?
Traditional companies often run team building activities to help their employees get to know each other. It creates a feeling of community and builds team spirit.
A team building trip to the beach is obviously not viable for a virtual team.
But you can still create something that builds interaction and participation among members into an online course . This helps develop team cohesion and effective communication skills easily.
How do you do that?
Have a virtual team building activity that requires team participants to work as a group.
It could be something like asking each member to learn a topic and have them teach it to the rest of the group. This will improve their understanding of their topic, and their communication skills with others.
5. Include Virtual Leadership Training
When creating and training virtual teams, leadership can sometimes be overlooked.
It's not right to assume that all virtual leaders are comfortable with managing virtual teams. Some project managers aren't used to having their teams off-site and may want to micromanage — which could demotivate a virtual team in the long run.
Managing virtual teams well is a skill that any virtual team leader should have.
Train your managers with courses and webinars on virtual leadership. These courses can also help them host an engaging and interactive virtual meeting , which can seem difficult in a virtual environment.
Hosting a fruitful virtual training session will ensure that your managers are comfortable leading virtual teams, and are capable of virtual collaboration.
6. Ask For Training Feedback
Your virtual training needs to have an impact, so you don't waste your team and company's time.
After the training, ask your participants and yourself these questions:
How effective was your training ?
Was the delivery good?
Were the topics of value?
Additionally, evaluate the training program regularly based on these factors:
Trainee reaction – How did your team members react to the training? Did the participants find it easy to follow? Gather feedback on the training immediately to evaluate its effectiveness.
Engagement – Were your team members engaged in the training (especially in group interaction and discussion). Were they interested in the topic, and did they ask relevant questions?
Level of skill improvement, knowledge or attitude – Have a system in place to evaluate team member improvement on the trained topic.
Ease of application on the job – Is the topic taught easy for your team members to apply to their daily work? Does it improve their working efficiency?
Having a feedback system in place helps tweak and improve your virtual training program. This ensures that it remains relevant for future team development.
7. Create FAQs
As your virtual team training course is repeated with different teams, you'll likely gather a pile of similar questions asked by the participants.
The questions can show you where your training program may be lacking. In this case, you can address those issues by incorporating them into your training modules.
Otherwise, an FAQ (Frequently Asked Questions) document could help. An FAQ can cover repeating questions in a training program. It can also address questions that participants may not have thought of until after the training is over.
8. Encourage Real-life Or Virtual Get-togethers
If possible, bring your team together in real life (like traditional teams) to foster trust, culture and commitment to their work and company.
This may not be possible for a distributed team that is fully remote and lives in different countries.
However, team members that live in the same city or country could be encouraged to meet now and then. This adds live human interaction among your team and encourages their virtual teamwork.
If a real-life meetup is not in the picture (with the ongoing pandemic), you could also conduct a virtual get-together.
Have your team members come online for a casual chat session with their favorite food and drinks, and ban any work-related talk. This is an indirect form of virtual team building. It can substitute the watercooler chats that often exist in traditional office spaces.
After all, encouraging team spirit is just as important as keeping your team up-to-date on the latest software and company policies!
Virtual team training isn't all about training existing employees, right?
Here's what you should keep in mind when you onboard new hires to your organization:
A. Onboarding Orientations
It's important to implement a solid orientation process when onboarding new remote hires.
Let remote members meet their virtual team leaders and mentors face-to-face virtually. This gives them a chance to get to know each other to help build trust and cooperation.
Provide online courses or instructor-led webinars on company values, policies and procedures for virtual employees. You should have participants complete these before launching a virtual team training course.
B. Mentoring Programs
It can be tough working on a virtual team when you're new and don't know who to ask for help.
Mentoring is one of the best ways to help new team members adjust to a virtual team environment.
Assign a member on your virtual team to guide the new member until they are familiar with the virtual working environment. This makes it easier for your new member to ease into the job. Having a mentor also fosters excellent team relations — essential for effective virtual teams.
Concluding Thoughts
Remote employees are becoming more common as companies leverage the technology that makes managing virtual teams a piece of cake.
Cost savings, expanding recruitment options, and increasing workplace diversity, are all sound business reasons to invest in a remote team.
And with the current COVID-19 pandemic keeping people at home, companies have even more cause to shift to the virtual team option.
However, when it comes to remote workers, developing skills virtually can be a complicated process. As virtual team performance can depend on the quality of learning they receive, it's essential to take a thoughtful and strategic approach to virtual team training.
Follow the tips we covered here to create an effective action plan for your training programs. This way, you'll be able to transform your employees into a successful virtual team in no time!
Liam Martin is a co-founder of Time Doctor which is software to improve productivity and help keep track and know what your team is working on, even when working from home.
Top 7 Vericlock Alternatives (Features, Pricing, Ratings)
The ultimate guide to medical transcription outsourcing, related posts, employee monitoring laws in the us and eu explained, 10 key principles for managing call center operations, a foolproof time and attendance policy for remote employees, 10 key reasons to hire a virtual assistant for your business, managing offshore teams (challenges, solutions, tools), what is computer monitoring (plus 5 top tools to use).

Top 10 Most Popular Remote Work Courses of 2023
Communication Skills
Stress Management / Wellbeing
Are you struggling with the transition to a hybrid workplace? Are you finding it challenging to communicate, brainstorm, and problem-solve effectively with your remote team? You're not alone. Virtual and hybrid teams have unique needs that require specialized skills and training to master.
Collaborating with dispersed team members, holding productive virtual meetings, and managing remote teams are just a few of the skills necessary for success in today's work environment. That's why we've compiled a list of the Top 10 Most Popular Remote Work Courses to help you and your team adapt to the new normal.
Invest in your professional development and stay ahead of the game!
10. Self-Leadership: Developing Your Motivational Intelligence™
Contact provider for information
This course, Self-Leadership: Developing Your Motivational Intelligence, helps individuals unlock their potential and achieve greater success in all aspects of life. It teaches participants how to let go of negative thinking and limiting beliefs that hold them back and develop a growth mindset, increasing their Motivational Intelligence (MQ). The program can be used for breakthrough performance barriers, employee onboarding, increasing engagement, and building a high-functioning team culture.
Attendees will learn to foster confidence, master fear, develop initiative, improve employee retention and empowerment, and create a success culture. This course is ideal for individuals looking to build a more successful life, advance in their careers, or gain critical insights for people leadership roles.
More about Self-Leadership: Developing Your Motivational Intelligence™
9. The Science of Wellbeing
Contact for information
Built on the science of behavior change and healthy habit formation, this program will reduce stress and increase your workplace productivity and engagement. During four powerful interactive sessions, The Science of Well-Being program dives into proven strategies to improve key areas of well-being. Discover how to better understand emotional intelligence and become more self-aware.
This program includes inspirational content, practical tools, techniques, and activities. Learning will take place with a peer cohort and internationally recognized facilitators. This program is for everyone at all levels.
More about The Science of Wellbeing
8. Facilitation Skills for New Facilitators - Plan & Lead Meetings
Looking to develop and/or improve your facilitation skills? Interested in making your meetings, virtual and face-to-face, more productive? This highly interactive workshop will provide you with the skills you need.
You will learn fundamental facilitation tools to generate and organize ideas, analyze and prioritize ideas, and make decisions. Walk away from the course with a structured process that can be applied to any type of facilitated session-- staff meeting, focus group, brainstorming session, or any kind of meeting you want to be more meaningful and productive.
More about Facilitation Skills for New Facilitators - Plan & Lead Meetings
7. Virtual Presentation Skills™ (On-site)
Virtual Classroom
Need some help mastering your virtual presentation skills? In this program, you will learn to become comfortable using a web platform, practice presenting visuals, and learn techniques for making your presentations work in an online environment.
Virtual Presentation Skills is broken into live, facilitator-led sessions with breaks in between. Class is capped at 10 participants to ensure a highly interactive and engaging learning experience.
More about Virtual Presentation Skills™ (On-site)
6. Virtual and In-Person Presentation Skills™
From 1,550 USD
Virtual and In-Person Presentation Skills is a hybrid program that teaches you how to prepare and deliver engaging and effective presentations in both virtual and in-person environments.
In this course, you will learn by doing-- practicing, accepting feedback, making adjustments, and perfecting your skills in a supportive and collaborate environment. This highly successful, time-tested approach allows you to master new skills and use subject matter drawn from your own work environment so your skills can be immediately applied back on the job.
More about Virtual and In-Person Presentation Skills™
5. PCSkills: Virtual Team Building and Management
Virtual classroom
3 days (2.5-3 hours/day)
GoldSRD's PC Skills course has once again made it to our Top 10-course list! With the rise of hybrid workplaces and virtual teams, it has become increasingly important to equip individuals with the necessary skills to overcome the unique challenges of working in a virtual environment.
This course focuses on providing participants with practical skills to succeed in a virtual team, including holding effective meetings, building trust, managing people, and communicating effectively. By mastering these skills, participants will be better equipped to navigate the challenges of managing a virtual team and ensure their team's success, regardless of location.
More about PCSkills: Virtual Team Building and Management
4. Leading World Class Teams: Local, Global, Virtual
On-site, Virtual Classroom
1 or 2 days
Leading World Class Teams equips leaders and team members with essential soft skills to build and lead high-performing teams regardless of location or cultural differences. This comprehensive program emphasizes team communication and collaboration, going beyond traditional remote worker training to overcome barriers and achieve success.
Delivered over one or two days, either virtually or on-site, this course includes pre-work, live skill practice, feedback, and resources for ongoing reinforcement.
More about Leading World Class Teams: Local, Global, Virtual
3. Stress Detox
On-site, Live or Virtual Classroom
Contact provider for information
Sleeplessness. Anxiety. Irritability. Fear. These are common symptoms of stress. What steps can you take to mitigate stress' impact? What can you do to take back control of your life?
In this course, you will learn the difference between positive and negative stress, cognitive and physical symptoms of negative stress, mindset and the stress response, your circle of influence, and stress-reduction techniques. This course is delivered in the live virtual classroom, traditional classroom, or onsite.
More about Stress Detox
2. Effectively Managing Virtual, Telecommuting & Offsite Employees and Teams
Virtual classroom, Onsite
Leading virtual teams can present unique challenges that require a specialized set of skills. Proven Training Solutions has created a comprehensive course to equip managers with practical strategies for successfully managing remote teams. This idea-packed program will help you build confidence in your leadership abilities, establish a strong virtual presence, and foster trust and motivation among team members.
With a focus on intentional communication and collaboration, you will learn how to effectively manage virtual teams by letting go of some controls and empowering team members to achieve success from anywhere. Gain the skills and knowledge necessary to become a successful virtual manager through this course.
More about Effectively Managing Virtual, Telecommuting & Offsite Employees and Teams
1. Leading with Motivational Intelligence™
Virtual Classroom,
"Leading with Motivational Intelligence" is an award-winning course that helps high-potential leaders enhance their strategic thinking, elevate team performance, and effectively mentor every team member. Based on Nobel prize research and advancements in cognitive psychology, the course teaches the science behind Motivational Intelligence (MQ) to unshackle human potential and achieve more.
This course is designed for high-potential leaders who want to enhance their strategic thinking, elevate their team's performance, effectively mentor team members, improve communication and collaboration, and transform their team culture. Participants will learn tools, techniques, and strategies to increase their team's MQ, create a growth mindset, and become better people leaders and coaches.
More about Leading with Motivational Intelligence™
Looking to improve your remote work experience?
We list nearly 200 virtual teams courses.
Find the skills you need, today.
Search remote work courses
You might also be interested in:
How to Communicate with Power and Presence
Communication. It's one of those things we all do. It is essential to human interaction. Yet so many people struggle with communication, especially at work or in high-profile settings. Learn more about the magic elements it takes to move, engage, and connect with people.
Waffling in Decision Making Hurts Productivity
Many of us are feeling a loss of productivity right now. One of the best ways to feel more productive is to make decisions faster, but when you waffle, you take away the ability to move onto the next task. Stephanie Bickel shares some tips to improve your decision making within your team.
7 Leadership Qualities Every Remote Boss Should Have
Managing teams remotely requires an elevated set of leadership skills and qualities. The ones who lead with people at the forefront are the ones who succeed. Remote bosses everywhere are now asking themselves-- " have I got what it takes?"
Can Project Managers Really be Innovative?
Values Centered Innovation co-founder, Debra R. Miller, participated on a conference panel relating to Project Management and Innovation. Read her thought-provoking answers to 4 key questions.
Top 10 Most Popular Change Management Courses for 2022
Would you like to develop your change management skills to more effectively lead your team during transitional times? Browse our Top 10 Change Management courses and get started on your learning journey!
Diversity, Equity, and Inclusion courses
See the list
Virtual Training to Keep Remote Employees Connected
From across the hall to across the country, deliver consistent training experiences to all of your employees., how do you connect with your remote employees.
According to a recent study , 42% of employees with a remote work option plan to work remotely more often in the next five years. #WFH is not just a perk anymore; it's expected.
Learning and development professionals have to adapt to trends in the workplace, and right now, your employees are working from home.
Keeping your learners engaged is a challenge for traditional training, but keeping remote employees engage with learning and development programs may seem impossible.
By adopting cutting edge technology and expert instructional design, you can create a custom learning program that will not only keep your learners engaged, but get them excited.
Partner With The Virtual Training Experts
Roundtable Learning has a team of instructional designers, graphic artists, and technology experts to bring your training to life, wherever your employees are.
Our instructional design experts advise on the perfect blended learning solution to allow remote employees to work independently, with instructors and their own peers, to take advantage of your employee's time and schedule.
Our team will work with your managers and learning professionals to develop learning objectives to solve your business challenges, then create everything you need to conduct consistent training experiences - no matter the facilitator or location.
Stay Connected With Your Workforce
Leverage Technology for Measurable Results
Continue to Grow Your Employees and Business
Build a Strong Culture Your Employees Will Love
Utilize technology to train your employees remotely, overcome work from home distractions by mixing up training modalities and expert instructional design specifically for virtual learning..
There are many perks for remote employees - little-to-no commute, more flexibility in scheduling, better work-life balance - but having your learners spread across the country - or even the globe- can prose a new set of challenges for learning and development professionals.
When you can't get your learners in one place, technology can help close the distance between instructors and learners.
Here are a few custom learning solutions that can help your remote employees stay connected:
Virtual Instructor-Led Training - when an instructor facilitates a training session for a group of learners or an individual over a virtual setting.
eLearning - training content that can be hosted online or through a local network and commonly uses a Learning Management System (LMS).
Video Learning - on-demand, pre-recorded videos with SMEs that walk through a topic, commonly set up as progressive modules.
Augmented Reality - bring virtual versions of equipment and products to your employees so they can work with them off-site.
Virtual Reality - put your learners in any situation through a headset , and no matter your budget - we have a solution.
Start Designing Your Training Program
Take your first step towards the future of learning and start designing your training program today!
New to the Resource Center
How to create clear learning objectives for your training program.
There's a popular saying that when we make plans, the…
Roundtable Learning Scores Second Top 20 Training Company Award from Training Industry Magazine
Training Industry magazine continued to recognize Roundtable Learning in 2022…
Roundtable Learning Recognized as Top 20 Training Company: Experiential Learning Technologies by Training Industry Magazine
Roundtable Learning, a leader in innovative learning solutions, was selected…
3 Tips To Keep In Mind When Using Corporate Learning Reinforcement
Training is not a set-it-and-forget-it task – it's an ongoing…
What Is Functional Skills Training? Less Than 100 Words
Ready to learn more about Functional Skills Training? Let's dive…
The 3 T's Of VR Training
Virtual Reality has already transformed training at workplaces throughout the…
What Is Just-In-Time Training? Less Than 100 Words
Ready to learn more about JIT training? Let's dive into…
How To Show Your Culture When Virtually Onboarding
An ideal onboarding process retains employees, boosts new hires' productivity,…
Getting To Know Roundtable: Max Calhoun Employee Spotlight
This week, we sat down with Roundtable's Max Calhoun to…
What Are CGI Characters? Less Than 100 Words
Ready to learn more about using CGI characters for your…
4 Benefits of Using CGI Characters For Your VR Training
CGI characters enhance video games, television, and films – so…
What is AR-Based Remote Assistance And Can It Be Used For Corporate Training?
When training on complex tasks helps to have subject matter…

Additional Team Building Resources
Virtual team training: what it is & how to make it effective.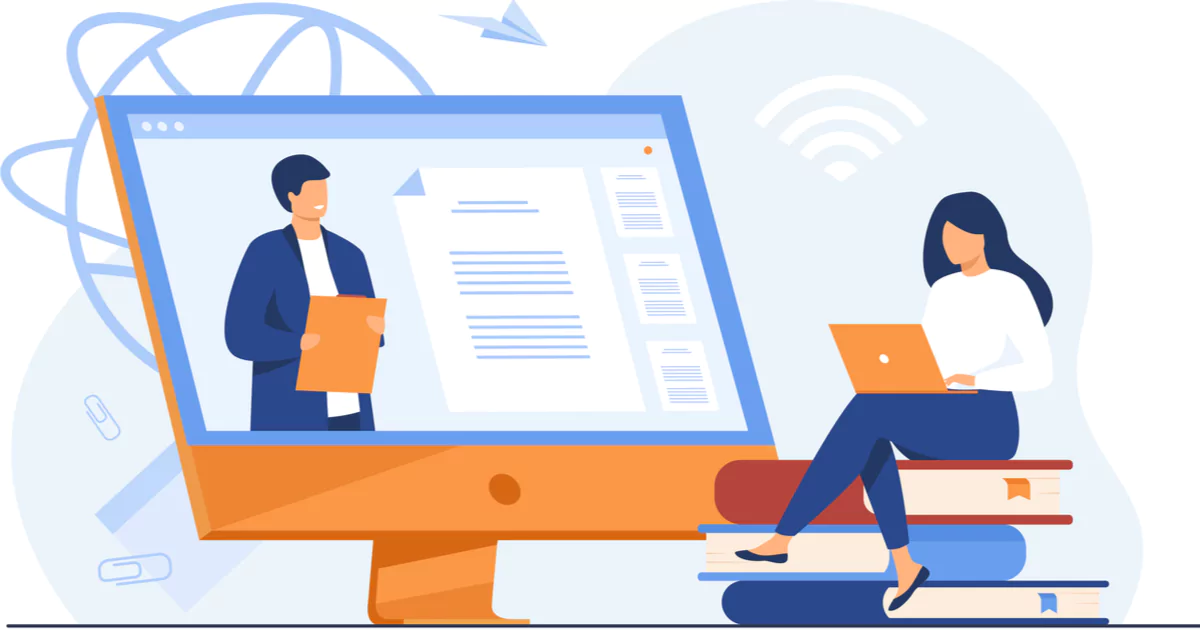 As you add to and manage people on your team, you've got the important task of training them to be an integral part of the organization. The question is, can virtual team training be truly effective? The short answer is yes! Keep reading for more information about virtual team training and how to make it work for you.
Table of Contents
What is virtual team training?
Is virtual team training as effective as in-person training?
How do you train staff virtually, how to measure your virtual team training, activities to use during your virtual team training, what is virtual team training and why is it important.
Virtual team training involves your team and any learning experience that you can offer to them online. Those experiences can be anything from onboarding to virtual team building to learning new software and more. Virtual team training is a major part of managing virtual teams and virtual team development .
These trainings occur on various virtual platforms, especially video conferencing options like Zoom, Google Meet, or Skype where participants can interact with each other. Pre-recorded trainings can take place on a learning management system (also known as an LMS), which has the benefit of allowing employees to watch trainings at their own pace within a deadline. However, if you want real-time engagement from your staff, a scheduled video call is the best way to go.
Any team can benefit from ongoing training, even those with low turnover or that have highly-skilled employees. As you hire more people, you'll want to calibrate the team and ensure everyone is on the same page when it comes to work practices and expectations. It's also inevitable that the longer you manage your virtual team, you'll want to upgrade them with certain skills or on new systems you may put in place.
Keeping your team up-to-date with different trainings can help them work better together. Leading a virtual team includes navigating things like communication and teamwork, and virtual team trainings can ensure that your teammates are on the same page to work together well.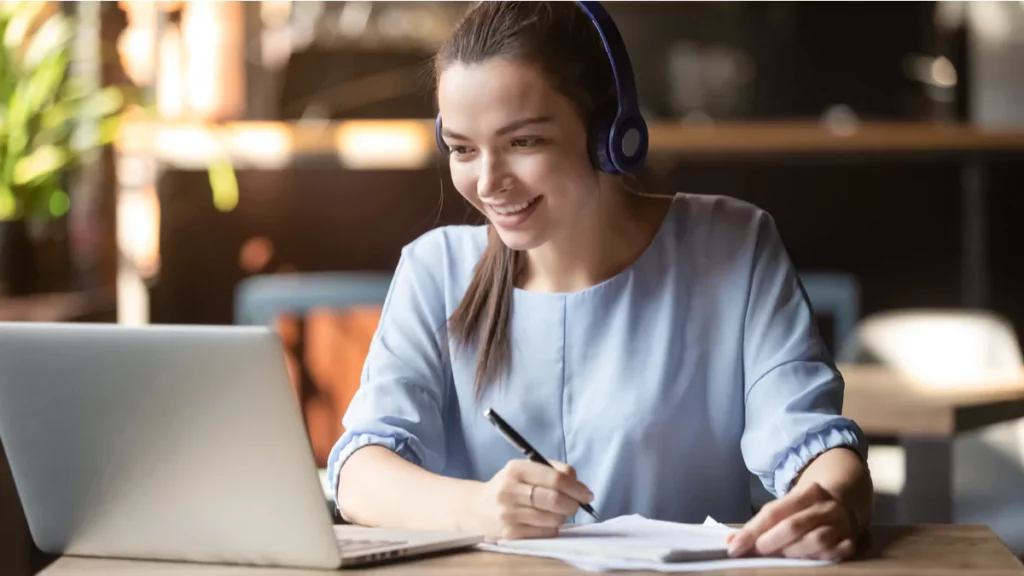 Virtual team training can be as, if not more, effective as in-person training! You might think there are too many distractions for remote workers to fully focus or retain information, but studies report that virtual training works, and trends show that more and more companies are choosing virtual team training to upgrade their teams.
The American Heart Association reported that employee productivity increased by 25% because of virtual team training, and Papers Owl found that employee engagement increased by 18% after virtual training. Higher employee engagement has positive results such as increased productivity, company profit, and overall employee health!
Some of the most successful companies see the value of online training and e-learning as well. According to LinkedIn Learning , almost 80% of learning and development professionals predicted that more organizations would shift to virtual training over instructor-led training in 2021. When you start focusing on good virtual training for your team, you can expect increased profit for your organization as well. Over 40% of organizations in the United States experienced an increase in income because of online training, according to The Educators .
One thing to consider is who is entering the workforce: recent college graduates. Nowadays, a lot of academic learning takes place in the virtual atmosphere, either in hybrid or fully remote classes. Recent graduates are familiar with online platforms, virtual teachings, and interacting with classmates online. They're also successful in these methods! In fact, EdTech Magazine discovered that online courses have a completion rate of 72%, just 3% lower than in-person courses.
If you're managing a growing virtual team, virtual team training is an option you don't want to skip out on. Proper training makes it easy for your employees to grow their individual skills and will upgrade your team's overall productivity. Your staff will benefit from it, and so will you!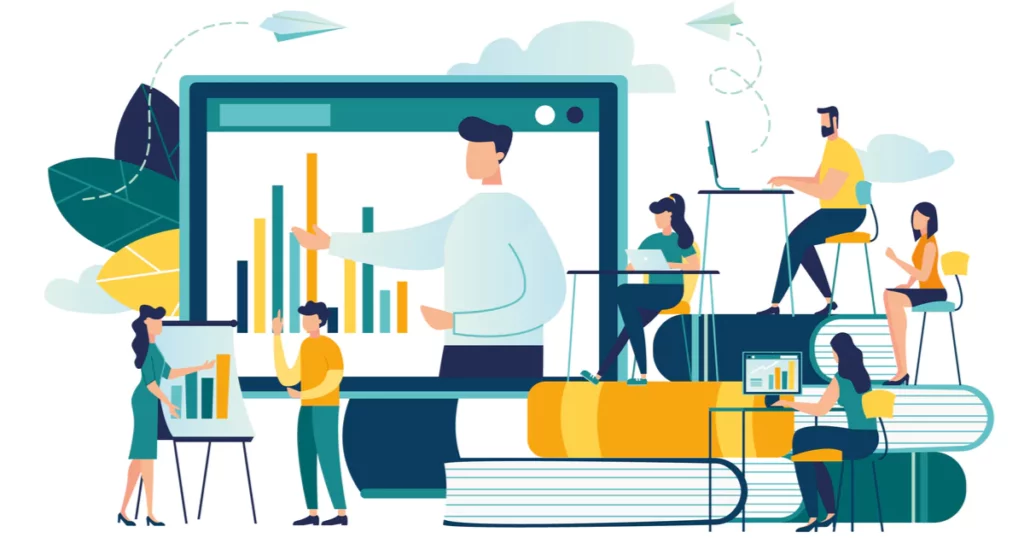 So now that you've got the idea about virtual team training and have looked at the stats on its effectiveness, it's time to set up your own training. Keep in mind the nuances of leading a virtual team (such as considering different time zones, navigating the lack of face-to-face interaction, and boosting employee communication) cross over into training a virtual team. But have no fear! We've got all your basics for how to train staff virtually and effectively.
What can I use virtual team training for?
Virtual team training can be used for a number of different things, including onboarding , introducing your team to new software, interactive webinars, hosting effective team meetings and activities, and more. If you're looking to build retention with your team, don't hesitate to schedule virtual training with them. Because of increased employee engagement in virtual training settings, you can also take the opportunity to develop your team's leadership skills! Be sure to see our blog about leadership activities for more ideas on that.
How to set up virtual team training
The first thing you'll want to do to set up your virtual team training is to choose a virtual platform. Your best options include a video conferencing platform such as Zoom where your participants can see each other, interact with the instructor, and use the chat function to ask any questions or to comment on prompts given during the training. While something like Zoom is what your team might be most familiar with, don't be afraid to explore different options for your training that might be better suited for what you have planned. Whatever you plan for your training—e.g., media, interactive moments, slide decks, etc.—should be customized for the virtual setting.
If you want your training to run more like an online learning course, one option you can explore is a learning management system . These systems can make training easy for your employees, although there can sometimes be less of an interactive feel to them if you're allowing them to learn at their own pace.
Two different methods for virtual team training
One thing you'll want to consider when you're setting up your virtual team training is whether you want to have synchronous or asynchronous training . The differences between these methods are pretty simple; synchronous training puts your team in the training together in real-time on a schedule, while asynchronous training uses pre-recorded sessions or videos that your employees can watch and complete on their own time.
Your role as a manager would change depending on which kind of training you choose. If you prefer to be more hands-on or available for Q&A, you'll want to use synchronous training. This allows for more interaction between teammates, including breakout groups and any games you might play. On the other hand, you could use an asynchronous method if you need to provide a kind of refresher training for your team that doesn't require you to field questions from them.
Examples of synchronous training include:
Interactive webinars
Video calls
Online presentations
Examples of asynchronous training include:
A learning management system (LMS)
Assigned reading
Online courses
Pre-recorded trainings
Both trainings have pros and cons so choose your method based on what you think is best for your team! You also have the option to blend different pieces of each kind of training. For example, you can host an interactive forum through a learning management system that your team can chat on during a live presentation. Or you can create a lesson checklist for your employees to see and check off as they go through a video training.
Get Your Free Game
The 3-minute non-cringey ice breaker for your next meeting.
A ready-set-go game to run at your next fully remote or hybrid meeting without the hassle or added pressure of developing a team-building exercise yourself. Get it here →
What to expect when you train your staff virtually
Some of the nuances of leading a virtual team carry over into the training, such as different time zones, technology interruptions, and at-home distractions. Be patient with yourself and with your team as you might run into some of those obstacles, but also be flexible to navigate around them and provide a great training for your team.
Your team might have some insightful questions throughout the virtual training. Make sure you leave time for Q&A at the end of each session or hold a recap at the beginning of new sessions, especially if you've taken a short break.
If you're using a platform like Zoom or Google Meet for your training, your employees might prefer to have their cameras turned off. Although you can encourage them to turn their cameras on, don't be discouraged if you can't see their faces. In this case, make sure that you include plenty of interactive moments in the presentation to keep them engaged in the training.
You can also expect that the more you do your virtual team training, the more it will morph! More than likely, new technology or platforms will emerge that will make your job easier and help your employees get more out of the trainings.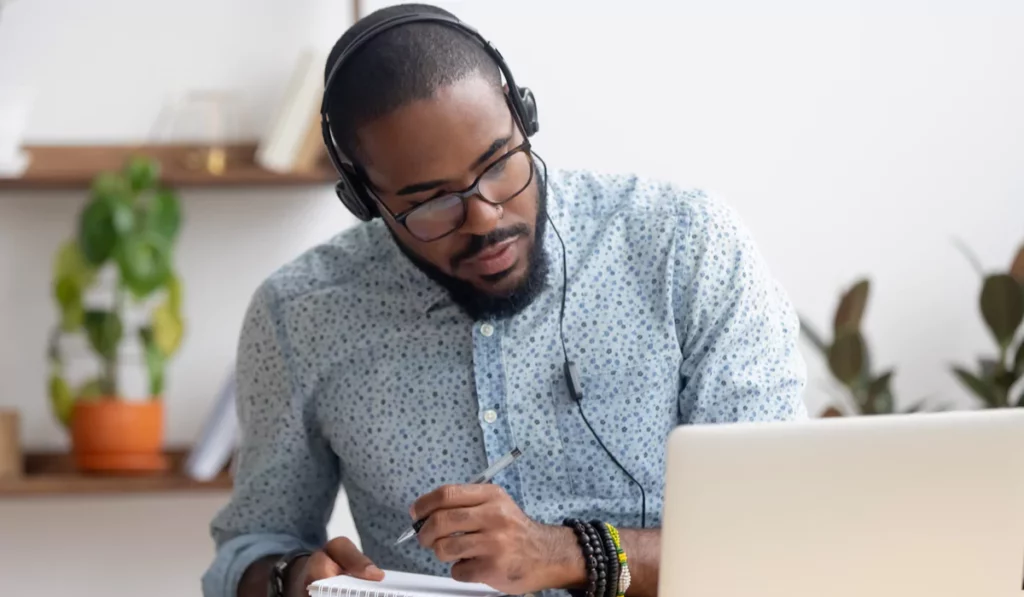 It's important to measure your virtual team training to ensure that your team members have picked up what you've thrown down! In other, more professional words, has your team retained the information that you've given? Before you get into measuring your training's effectiveness, it's important to make sure you've got clear goals written out ahead of time. What you hope to accomplish with your trainings has an effect on what you teach, how you teach, and the metrics that you look at afterward.
There are several ways you can measure the effectiveness of your virtual team training:
Reviewing participation rates
Reviewing completion rates
Holding mini-quizzes throughout the training or after it's over
Post-training surveys with open-ended questions and rating scales
One-on-one conversations with employees about the training
After you've collected data from employees about the virtual team training, do your own assessment and track productivity, employee engagement, customer satisfaction, and other areas of work that would have been affected by the training. In light of the data and your own assessments, make sure to implement changes that could make the next training even better or could reinforce the teachings from the most recent training.
Games and activities are helpful in virtual team trainings because they keep your employees' attention and reinforce the teachings that they're receiving. Activities also give you a chance to take a breather from teaching and allow your team to interact with each other. Some activities you can use during your training are:
Icebreakers
Trivia games
Discussion groups
Virtual water coolers
Kahoot! games
You can use these activities and more throughout the training. While most of them will focus on the training itself, certain activities like icebreakers or a virtual water cooler can give your team a mental break, especially if they're absorbing a lot of new information at one time.
10 tips for training staff virtually
Now that you've got the basics, here are some tips and best practices that you can use as you prepare your virtual team training!
1. Make an agenda
Making an agenda (and sticking to it!) is key to a successful virtual team training. Create a detailed outline of what you will be teaching, when you will be teaching it, any breaks in between including Q&A moments, and any discussion times that you're planning. Be as thorough as you can, at least in the first couple of virtual team trainings you hold. Once you get an understanding of how you flow in these trainings, you can use less detail. But your agenda is not just for you—it's helpful for your team to know what they should expect as you lead them through the training. Agendas help turn anxious minds from wondering, "Are we done yet?" to "I can't wait to talk about this agenda item!"
2. Keep trainings in short increments
Although employees can remember more information given in virtual training, that doesn't mean that there won't be moments of distraction. Keeping trainings in short increments ensures that you won't break the threshold of their attention spans, and it also leaves room for your team members to process what they're receiving! Short increments can be from 15 minutes to 45 minutes depending on the material that you are teaching. Also, keep in mind the instructor's teaching style and tone of voice. If they're an emotive or highly interactive speaker, you can stretch your session time because your team is more likely to stay attentive.
3. Keep it interactive from start to finish
When you make any meeting more interactive, chances are, you've grabbed your team's attention and they're ready to participate in everything you've got planned for them. Along with trivia games that we mentioned earlier, you can also use videos, photos, audio, and other media to increase your team's retention. Have your trivia games include questions that are related to the particular training. You can also build in a little competition through these games with "rewards" like badges and freebies, but don't let them stray too far from the crux of the meeting, which is the training.
Another way to make your training interactive is to be mindful of when your employees might have pressing questions. Are you introducing new policies? Is there new software that could disrupt someone's workflow? Are you bringing in a new hire who isn't used to your organization's jargon or terminology just yet? Throughout your training sessions, you can pause in intentional moments to leave room for quick questions or to ask mini-refresher questions to the group.
Keep your training as interactive as possible throughout the whole training, and when appropriate, keep it light-hearted and fun!
4. Document the training (keep a record of what's learned)
Along with having your detailed agenda, have a detailed record of what is taught during the virtual training. Keep a record of what your team is learning, and also pass a checklist on to them for what they can expect to learn. This checklist can be virtual (for instance, you can host it on an online kanban system or utilize a learning management system ), or you can create a customized PDF for your team. Documenting the training also helps you know what your team has gone through in case you need to bring it up at another point or if you want to revamp the training in the future.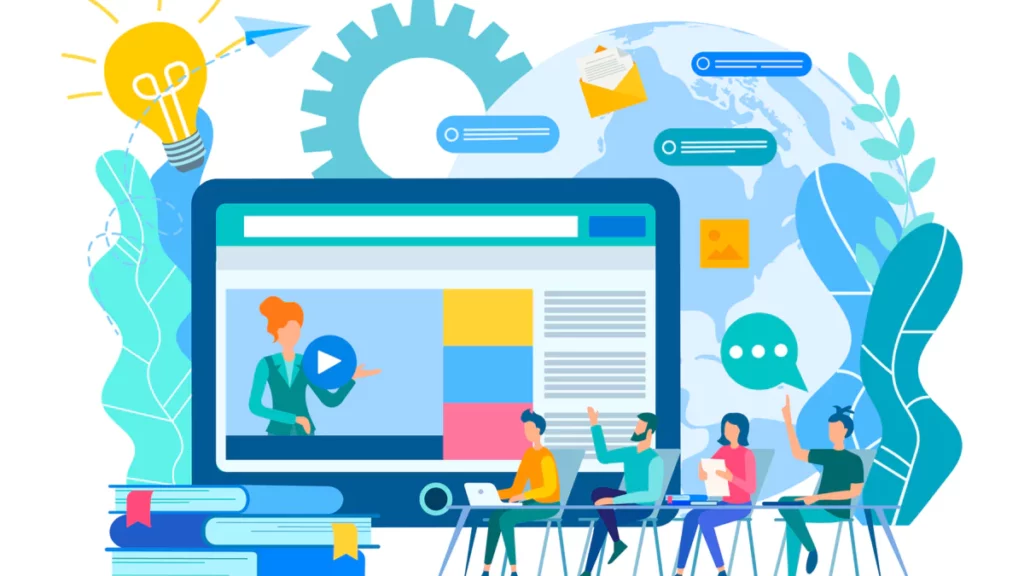 5. Use a learning management system (LMS)
A learning management system , or LMS for short, can help you do pretty much everything with your virtual team training. You can host quizzes, post videos to watch, create forums that your team can interact on, and more. An LMS is a great option for teams where a scheduled virtual training together would be impossible because of time zone differences, or for material that doesn't need a manager's assistance. Sometimes they don't allow for teams to do a lot of interaction, so if you're looking to build your team's communication with one another through virtual team training, you might want to look at other options for your training.
6. Leverage technology
Just like you want to make sure your material is customized for the virtual space, you'll also want to think of how you can best use that virtual space to your advantage! Some things to think about are how you can use all the features of your virtual video platform, or if there is a way you can optimize the training for a cell phone. Can you send out email reminders a day or two after the training as a recap? What media (photos, videos, blog posts) can you share with your team during the training that can keep them engaged and can add to your presentation?
7. Prepare the proper training material
Of course, for any training, you'll want to have the right training material on hand. For virtual team training, material helps your team stay focused and adds another point of reference for their training. The first point of reference would be the instructor! The proper material can include notes given on a PDF, pre-training videos that your team is assigned, or software packages that they need to have downloaded ahead of time.
8. Give practical application
Practical application is helpful in any training for your team to see how what they're learning has to do with their everyday work. In some training, the practical application is all that will be talked about, for instance, if you are sharing a new software or are walking your team through some new processes. Other trainings, like diversity trainings or company value trainings, might be more difficult for them to grab hold of in a practical sense without examples, case studies, or discussion questions. And speaking of discussion questions, that leads us to our next tip . . .
9. Break into discussion groups
Discussion groups are another great way that you can make your training interactive, and it also reinforces what your team has learned. You can use discussion groups after specific sessions in your virtual team training, or you can keep these groups separate for a time after the training is finished. It would be best if these groups would meet soon after the training ended, specifically the same day, but if you have an all-day training and your team is running on fumes, you can hold discussion groups the next day.
For these groups, include a short set of questions that they can go over together. You'll want to make sure these questions are not just "yes/no" questions but are ones that involve some dialogue or prompt fleshed-out answers. You can also have one person in each group be a group leader who would help facilitate conversation.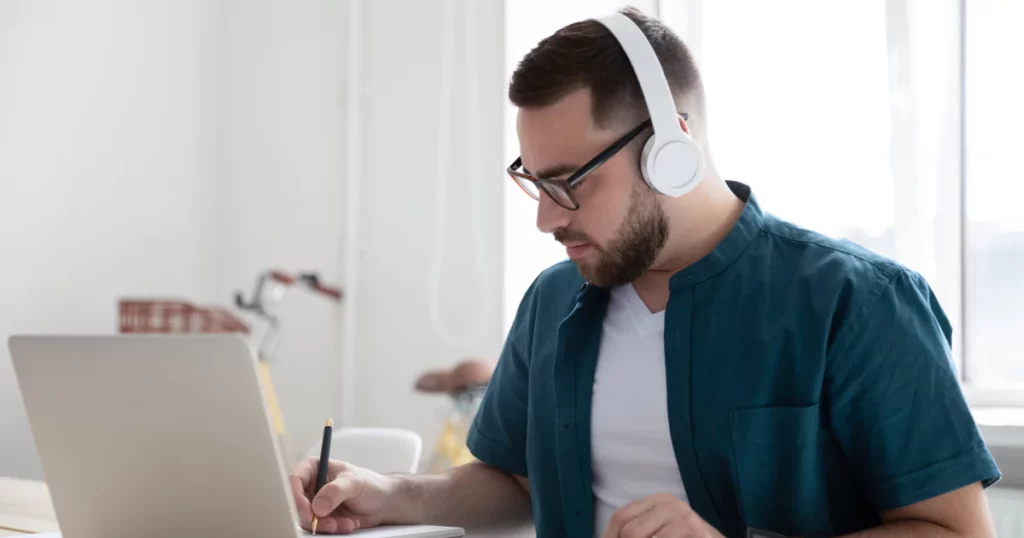 10. Ask for feedback
After the dust has settled from your stellar virtual team training, don't be afraid to ask for some feedback. You can send out a short questionnaire through a platform like Google Forms or Survey Monkey , and make sure to ask questions that would be helpful for the next time you run a virtual team training. Of course, you can ask about the material ("Was it clear?", "Did you struggle with any of the taught concepts?", "Would you want to do a refresher training in approximately six months?"), but also ask what they liked or didn't like about the actual training.
Don't be afraid of harsh feedback, especially if you know you have given valuable information. Think of this feedback as an opportunity for you to grow in a new skill and to make it as great as possible for your team!
Start planning your virtual team training!
Virtual teams have become more normative in the business world, and with that territory comes the expectation of virtual team training. You might face some nuances like new technology or building and sharing a detailed schedule, but the sooner you can start, the better you can adapt! Your team will also appreciate the opportunity to grow as employees.
Be sure to see our page about managing virtual teams and virtual team development for more ideas and information about leading your online team!

When you combine live cohort-based classes with a best-in-class learning platform, you get a next-generation learning experience that teams – and learning administrators – love.
Live Training Programs
Research-backed content taught by experts to small groups of learners​
Give your people the freedom to forge their own learning journeys​
Live, interactive, small group learning with engaging and practical exercises
Our programs are designed for leaders, managers and ICs regardless of seniority or location and gives them the skills they need to succeed in the modern workplace.
Learning Journey
We take a holistic approach that spans the employee lifecycle
Bringing the best educators and leaders to train your team
Success Stories
See how Hone has helped some of the best companies in the world
Learn more about the world-class team behind Hone
Recent Webinar
The Josh Bersin Company sits down with Clover Health and Rover to discuss how live, cohort-based training measurably impacted their respective L&D objectives and shifted their company cultures forward.
Product updates and articles on leadership, growth, and culture
Download industry reports and ebooks to create better leaders
Register for upcoming webinars and watch recordings
The latest news, updates, and happenings from Hone.
Diversity & inclusion
Free resources for DEI programming and building an anti-racist workplace
Hybrid & remote work
Free resources to address the challenge of leading remote teams
Check out our glossary of common terms and definitions.
Management Training , Remote Teams
8 Tips for Building a Successful Virtual Team Training Program
With the world increasingly shifting towards remote and hybrid work, it is clear that businesses need new ways to teach their distributed workforce the skills needed to succeed. And while live online training has proven to be more cost-effective, scalable, inclusive, and effective than e-learning (and, for that matter, traditional classroom training), switching to it is not without its own challenges.
At Hone, we focus on live online training for leadership development and management skills. Over the years, we've learned a ton about what to do – and what not to do. Whether you are adapting an in-person training curriculum into a virtual team training format or building a live online training program from scratch, in this article, we'll break down common virtual learning challenges and share how you can build a truly engaging, efficient, and effective virtual team training program:
1. Define your L&D Goals
Before you start building your virtual team training curriculum, you need to know what your L&D goals are. This will not only guide how you format your training program, but it will also help you measure and report on success – which is a crucial step towards helping you justify any additional budget, resources, or headcount down the road, as well as to recognize the progress of your efforts. 
To define your program goals: 
Clarify behavior expectations and KPIs: This will help you measure the effectiveness of your L&D initiatives. For example, if you are trying to encourage more managers to have regular 1-on-1 meetings with employees , your KPI might be "80% of our people report consistent 1-on-1 meetings every week by X date." 
Tie training to moments of need: People are more motivated to learn during moments of need (e.g., teaching your people how to give feedback right before annual performance reviews). Some key moments of need include becoming a manager, performing annual performance reviews , learning how to interview job candidates, or dealing with organizational changes.
2. Opt for live online training
While many businesses choose e-learning to scale their L&D efforts, this self-paced, video or slide deck-based learning method often fails to give employees the ability to ask questions and clarify course material. Live online training, on the other hand, combines the scalability of e-learning with the social connection of traditional classroom learning. Employees can ask questions in real-time, benefit from other participants' questions, and learn from a subject matter expert. 
Live online training also allows learners to connect with colleagues in different countries, opening them up to diverse perspectives and new approaches to everyday problems. Additionally, live online training opens up access to the best instructors for the topic and audience, unconstrained by geography.
3. Make It Engaging
Virtual team training is only valuable to your organization if it inspires behavioral change. Unfortunately, hosting an informational, one-off training session is often not enough to convince your workforce to switch up deeply rooted behaviors. In order to inspire change, you need material that can keep your employees' attention and focus. 
To create engaging online learning training sessions:
Break up long sessions into 3-4 session sprints: If training is too long, people lose focus, rendering your training sessions ineffective. If you have a lot of material to cover, teach it over 3-4 separate 60-minute sessions over the course of a few weeks. At Hone, we have designed our curated Learning Tracks around this principle to improve knowledge retention. 
Keep sessions short: Aim to limit sessions to 60 minutes or less so you keep everyone's full attention.
Interact with attendees every 3-5 minutes: Don't let your facilitator drone on. Use polls, questions, and breakout rooms to help keep everyone engaged.
Ask questions before presenting material: Inviting people to speak up and share their thoughts makes the class more interactive.
Present material in bite-sized steps: This will keep you from overwhelming your student's working memory. 
Target behaviors, not topics: Behavior is not a one-off task or action – it's the way somebody acts in response to a stimulus. Skills like giving feedback, having coaching conversations, and leading one-on-ones with your direct reports are behaviors that are relevant to any employee in a managerial or leadership role.
4. Reduce Distractions
Unfortunately, when your employees are at their computers, they can be easily distracted. All it takes is one email, text, or instant message to break their focus, distract them from your class, and make your training program effectively useless. In order to keep them on-task, encourage your participants to put their devices on "Do Not Disturb" mode to silence any notifications and help keep them present. 
At Hone, we include a slide of "House Agreements" before every one of our virtual team training classes. This slide reminds participants to:
Keep your video on
Be present and resist multi-tasking
Be an active participant
Maintain a judgment-free space
By establishing these rules, we create a safe environment for learning and growth.
5. Hold Learners Accountable
A good way to motivate your employees to pay attention and use what they've learned in class is by holding them accountable. Instead of wrapping up class and sending your employees out into the world without a second thought, ask them to write down and share a commitment they want to make based on what material you covered that day. 
At Hone, we ask learners to make commitments at the end of every class in order to hold them accountable and think of ways to apply learning directly to their personal or professional life. You can even go a step further: at the start of the next class, ask your employees to share these commitments, the degree to which they fulfilled them that week, and anything they learned from applying them in real life. 
Other ways to hold employees accountable during virtual team training sessions:
Make sure everyone participates: Encourage everyone to participate, and don't be afraid to call on people by name.
Pop into breakout rooms to see how conversations are going: Don't feel like you need to police participation, but hop into breakout rooms to answer questions and get a pulse for what students are discussing. 
Split learners into accountability groups of 2-4: Periodically split up into small group breakout sessions so students can discuss course material and practice applying the skills you've discussed. 
6. Appeal to All Learning Styles
Everyone learns differently and at their own pace. When building a live online learning program, you'll want to ensure your course design helps learners of all types understand your material. For example, having one person talk for 45 minutes without any visual aids might work for some people, but visual learners might be quickly left behind. Instead, that same speaker might consider using a slide deck covering some of their main points, split the group up to practice what they've learned, and send out a worksheet to assess retention of material covered in class. This new approach can not only create a more engaging training program, but it can also appeal to auditory, visual, kinesthetic, and reading/writing learners. 
Here are a few elements to include in your L&D training to help you appeal to all four types of learning styles: 
Slide decks
Breakout Sessions
Handouts / Learner guides
Post-Class Recordings
7. Leverage Technology
One of the biggest strengths of live online learning is that you can leverage everything technology has to offer. In order to create truly memorable and engaging classes, you can try incorporating some of the following elements into your virtual team training courses: 
Interactive real-time quizzes your employees can take to assess their skills
Online exercises (like this implicit bias test from Harvard)
Share interesting videos
Ask learners to type questions into the chat so as not to interrupt class 
Leverage breakout sessions to allow employees to pair up and practice what they've learned
8. Have Learners Practice Skills
Learning skills is one thing, but actually having the time to practice them in class, make mistakes, learn from others, and ask questions as you go provides a much richer educational experience for your employees and is the key to creating lasting behavioral change within your organization. 
In every Hone class, we host breakout sessions for learners to discuss their personal experiences, roleplay a scenario, and connect with a partner or small group. Once the group reconvenes, employees can ask specific questions on what they learned or struggled with so they can receive real-time feedback that can help them improve these skills before they try them for real in the workplace. 
While the switch from in-person professional development to virtual team training can seem intimidating, it can be done, and, with some effort, your workplace training can be more effective than in-person training. You can also turn to a live online training solution like Hone that already has hundreds of online classes proven to teach managers the skills they need to succeed in the modern workplace.
Ready to see more? We'd love to show you how Hone works and how live training can be scaled, delivered, and measured for remote and hybrid teams of all sizes.
Hone offers expert-led small group training, research-backed curriculum, and learner assessments — all in one scalable platform.
Training Industry
Transitioning to a virtual workforce.
Published in May/June 2018
In the last month, how many meetings did you attend in which someone participated via phone or video? How many team members, clients, vendors don't reside within the four walls of your work location? More than likely one of those scenarios is a reality for you.
When the World Economic Forum surveyed global HR decision-makers, some 44 percent pointed to new technology enabling remote working, co-working space and teleconferencing as the principal drivers of change. However, the identification and adaptation of the skills needed to be successful in a virtual workplace has been slow to be incorporated into ways of working. Instead there is a tendency to make in-person behaviors fit into a remote environment. This type of conduct risks alienating remote workers, impacting engagement and productivity.
Learning and development can be a powerful enabler to combat this "one size fits all" mentality. Following the principles of instructional design, there is an opportunity to understand the needs of various populations, identify the competencies needed to be successful, and embed training to support the required skill development.
A needs analysis for both the user and environment identifies the size of the remote population, the types of work and interactions conducted virtually and the technology available. It is important to include the co-located employees in the analysis as well since everyone becomes "virtual" the minute they attend a video or phone conference.
Technology has created a fundamental shift in how organizations operate. The widespread use of tools like email, social media and video conferencing enable work to be done without geographic constraints. Therefore, a technology assessment factors significantly into a needs analysis. Items to consider are the types of conferencing tools available, the user's familiarity with the tools and the meeting norms associated with the utilization of the technology.
Utilization and optimization become important factors when changing behaviors from in-person to virtual work. Too often webinar tools are simply leveraged as a conference call mechanism, overlooking the capabilities to share documents and images, use video, and interact and collaborate in shared spaces. Building a technology training strategy into onboarding plans will empower users to leverage technology in their daily work. Creating job aids for the most common applications also supports end user adoption, especially those who are infrequent users of the technology.
A best practice to incorporate as a first step in an educational webinar is to create an introductory segment focused on "learning how to learn online." This enables the learners to understand and utilize the webinar tools (e.g., chat rooms, polls, collaboration spaces, etc.) prior to jumping into the classroom portion. This type of primer is also useful in kicking off any type of virtual team.
Users are more likely to use the tools if there is a level of familiarity. The review of tools also emphasizes the expectation of participation on the part of the remote participant. A couple of the hazards of a virtual presence are (1) the co-located participants "forget" to include the remote team member in the discussion/interaction, or (2) the virtual team member disengages by multitasking or can't interject easily. The expectation of using the tools like video or chat features creates a presence for the remote participant.
INTERPERSONAL SKILLS
While the interpersonal skills needed to be successful (communication, teamwork, leadership) are universal, the application in a virtual environment does require adaptation. For example, if you are a leader who engages with your team through informal, face-to-face interactions, you will need to be mindful of creating a similar type of interaction for the team members not physically located in your office. The design of any leadership or supervisory training should include how to engage, communicate, monitor and support the achievement of goals for remote team members.
The following are competencies that should be developed as part of a leadership development program and identify ways in which a virtual team may require different strategies.
Building high-performing teams
This is a requirement for any leader. A shared vision, alignment of goals, strong communication and a recognition/reward system that emphasizes team achievement are necessary components for this competency. A leader needs to foster collaboration without daily, in-person interactions. One way to achieve this is to establish a cadence of team meetings in which team and individual goals/tasks are shared. Depending on the size of the team, enabling everyone to be heard on some frequency helps to establish the sense of community. The leader should also role model the use of technology by incorporating tools like video to help create a presence for all participants.
Effective meeting facilitation
The need to keep everyone engaged, on task and drive for outcomes is even more critical in a virtual environment. As mentioned before, it is easy for the co-located participants to dominate a meeting, making it difficult for the remote participant to interject. Likewise, the urge to multitask or become distracted is more likely if you aren't physically present and don't have an expectation to contribute. The learning function can support this skill development by offering meeting facilitation skill development. Trainers can help the teams create and implement meeting norms, leverage technology and provide coaching on meeting facilitation.
Relationship management
Effective meetings are one way to ensure engagement, but relationship management will also need to occur outside those events. Some remote workers report feelings of isolation or a disconnect from the organization's happenings. For those located in an office environment, they might not connect with their remote peers as frequently, thereby missing opportunities to leverage one another's support and best practices. To counteract these possibilities, teambuilding activities should emphasize the importance of building interactions like instant messaging, social learning platforms and picking up the phone to connect with each other. The emphasis should include both the how (use of technology) and the why (e.g., building trust, fostering collaboration, knowledge sharing, etc.). Teambuilding activities can also emphasize problem-solving scenarios in which a virtual team needs to collaborate to achieve a common goal. Having a shared sense of purpose accelerates team development.
Delivering feedback
Leading remote team training should focus on how to deliver coaching and performance feedback without an in-person presence. Providing frequent, specific feedback builds trust and engagement with employees. The use of video can provide the facial cues and overall demeanor that help to convey meaning. Relying too heavily on email communication should be avoided. The training function should create experiential learning opportunities that enable the manager to practice giving feedback without the benefit of an in-person presence.
IMPLEMENTATION
After conducting the needs analysis and creating learning strategies to build the skills needed to perform in a virtual environment, it is important to have a strong delivery and implementation strategy. Building awareness and desire to adopt these new skills and behaviors is vital. Everyone needs to understand that a successful remote workforce has to adapt to new ways of interacting. As part of the implementation strategy, include these components.  
Describe the business need for a remote workforce
Communicate the business decisions behind a remote workforce. Building stakeholder awareness of the need will help diminish resistance and increase support for the transition. Some potential benefits are an expanded talent pool not tied to a certain geography, flexible scheduling to meet client needs, employment value proposition, and decreased costs associated with real estate/buildings, etc.  
Identify strengths and challenges of a remote workforce
The communication and training plans should include an acknowledgement of both the pros and cons of a virtual workforce with strategies for dealing with matters that arise. Being transparent about potential risks enables the leaders and employees to address concerns in an up-front manner.  
Associated metrics
In correlation with the remote workforce business strategy, key metrics should be used to monitor effectiveness. Measure not only business outcomes but identify employee engagement metrics that can gauge the health of the culture/environment.  
A team transition plan
A team transitioning to a virtual or mixed workforce needs to create a transition plan. Key items to cover are remote worker policy, technology needs, skill assessment and team operating norms. Make sure everyone has the resources, knowledge and skills to be successful in this new way of working.
The learning function should plan to offer consulting and coaching until the skills and behaviors are embedded in the organization's culture. The virtual workforce is quickly becoming an organizational norm. Having a learning and development function ready to implement and support these skills is vital to the organization's success.
#change management
#leadership
#remote learning
#soft skills
#virtual learning
#virtual workforce
Nancy Nagdeman, M.A.
Nancy Nagdeman earned her Master of Arts in education and is the director of educational services at TeamHealth.
Stay up to date on the latest articles, webinars and resources for learning and development.
Privacy Overview