Cookies & Privacy
GETTING STARTED
Introduction
FUNDAMENTALS
Acknowledgements
Research questions & hypotheses
Concepts, constructs & variables
Research limitations
Getting started
Sampling Strategy
Research Quality
Research Ethics
Data Analysis
FUTURE RESEARCH
Types of future research suggestion.
The Future Research section of your dissertation is often combined with the Research Limitations section of your final, Conclusions chapter. This is because your future research suggestions generally arise out of the research limitations you have identified in your own dissertation. In this article, we discuss six types of future research suggestion. These include: (1) building on a particular finding in your research; (2) addressing a flaw in your research; examining (or testing) a theory (framework or model) either (3) for the first time or (4) in a new context, location and/or culture; (5) re-evaluating and (6) expanding a theory (framework or model). The goal of the article is to help you think about the potential types of future research suggestion that you may want to include in your dissertation.
Before we discuss each of these types of future research suggestion, we should explain why we use the word examining and then put or testing in brackets. This is simply because the word examining may be considered more appropriate when students use a qualitative research design; whereas the word testing fits better with dissertations drawing on a quantitative research design. We also put the words framework or model in brackets after the word theory . We do this because a theory , framework and model are not the same things. In the sections that follow, we discuss six types of future research suggestion.
Addressing research limitations in your dissertation
Building on a particular finding or aspect of your research, examining a conceptual framework (or testing a theoretical model) for the first time, examining a conceptual framework (or testing a theoretical model) in a new context, location and/or culture.
Expanding a conceptual framework (or testing a theoretical model)
Re-evaluating a conceptual framework (or theoretical model)
In the Research Limitations section of your Conclusions chapter, you will have inevitably detailed the potential flaws (i.e., research limitations) of your dissertation. These may include:
An inability to answer your research questions
Theoretical and conceptual problems
Limitations of your research strategy
Problems of research quality
Identifying what these research limitations were and proposing future research suggestions that address them is arguably the easiest and quickest ways to complete the Future Research section of your Conclusions chapter.
Often, the findings from your dissertation research will highlight a number of new avenues that could be explored in future studies. These can be grouped into two categories:
Your dissertation will inevitably lead to findings that you did not anticipate from the start. These are useful when making future research suggestions because they can lead to entirely new avenues to explore in future studies. If this was the case, it is worth (a) briefly describing what these unanticipated findings were and (b) suggesting a research strategy that could be used to explore such findings in future.
Sometimes, dissertations manage to address all aspects of the research questions that were set. However, this is seldom the case. Typically, there will be aspects of your research questions that could not be answered. This is not necessarily a flaw in your research strategy, but may simply reflect that fact that the findings did not provide all the answers you hoped for. If this was the case, it is worth (a) briefly describing what aspects of your research questions were not answered and (b) suggesting a research strategy that could be used to explore such aspects in future.
You may want to recommend that future research examines the conceptual framework (or tests the theoretical model) that you developed. This is based on the assumption that the primary goal of your dissertation was to set out a conceptual framework (or build a theoretical model). It is also based on the assumption that whilst such a conceptual framework (or theoretical model) was presented, your dissertation did not attempt to examine (or test) it in the field . The focus of your dissertations was most likely a review of the literature rather than something that involved you conducting primary research.
Whilst it is quite rare for dissertations at the undergraduate and master's level to be primarily theoretical in nature like this, it is not unknown. If this was the case, you should think about how the conceptual framework (or theoretical model) that you have presented could be best examined (or tested) in the field . In understanding the how , you should think about two factors in particular:
What is the context, location and/or culture that would best lend itself to my conceptual framework (or theoretical model) if it were to be examined (or tested) in the field?
What research strategy is most appropriate to examine my conceptual framework (or test my theoretical model)?
If the future research suggestion that you want to make is based on examining your conceptual framework (or testing your theoretical model) in the field , you need to suggest the best scenario for doing so.
More often than not, you will not only have set out a conceptual framework (or theoretical model), as described in the previous section, but you will also have examined (or tested) it in the field . When you do this, focus is typically placed on a specific context, location and/or culture.
If this is the case, the obvious future research suggestion that you could propose would be to examine your conceptual framework (or test the theoretical model) in a new context, location and/or culture. For example, perhaps you focused on consumers (rather than businesses), or Canada (rather than the United Kingdom), or a more individualistic culture like the United States (rather than a more collectivist culture like China).
When you propose a new context, location and/or culture as your future research suggestion, make sure you justify the choice that you make. For example, there may be little value in future studies looking at different cultures if culture is not an important component underlying your conceptual framework (or theoretical model). If you are not sure whether a new context, location or culture is more appropriate, or what new context, location or culture you should select, a review the literature will often help clarify where you focus should be.
Expanding a conceptual framework (or theoretical model)
Assuming that you have set out a conceptual framework (or theoretical model) and examined (or tested) it in the field , another series of future research suggestions comes out of expanding that conceptual framework (or theoretical model).
We talk about a series of future research suggestions because there are so many ways that you can expand on your conceptual framework (or theoretical model). For example, you can do this by:
Examining constructs (or variables) that were included in your conceptual framework (or theoretical model) but were not focused.
Looking at a particular relationship aspect of your conceptual framework (or theoretical model) further.
Adding new constructs (or variables) to the conceptual framework (or theoretical model) you set out (if justified by the literature).
It would be possible to include one or a number of these as future research suggestions. Again, make sure that any suggestions you make have are justified , either by your findings or the literature.
With the dissertation process at the undergraduate and master's level lasting between 3 and 9 months, a lot a can happen in between. For example, a specific event (e.g., 9/11, the economic crisis) or some new theory or evidence that undermines (or questions) the literature (theory) and assumptions underpinning your conceptual framework (or theoretical model). Clearly, there is little you can do about this. However, if this happens, reflecting on it and re-evaluating your conceptual framework (or theoretical model), as well as your findings, is an obvious source of future research suggestions.
Suggestions for Future Research
Your dissertation needs to include suggestions for future research. Depending on requirements of your university, suggestions for future research can be either integrated into Research Limitations section or it can be a separate section.
You will need to propose 4-5 suggestions for future studies and these can include the following:
1. Building upon findings of your research . These may relate to findings of your study that you did not anticipate. Moreover, you may suggest future research to address unanswered aspects of your research problem.
2. Addressing limitations of your research . Your research will not be free from limitations and these may relate to formulation of research aim and objectives, application of data collection method, sample size, scope of discussions and analysis etc. You can propose future research suggestions that address the limitations of your study.
3. Constructing the same research in a new context, location and/or culture . It is most likely that you have addressed your research problem within the settings of specific context, location and/or culture. Accordingly, you can propose future studies that can address the same research problem in a different settings, context, location and/or culture.
4. Re-assessing and expanding theory, framework or model you have addressed in your research . Future studies can address the effects of specific event, emergence of a new theory or evidence and/or other recent phenomenon on your research problem.
My e-book,  The Ultimate Guide to Writing a Dissertation in Business Studies: a step by step assistance  offers practical assistance to complete a dissertation with minimum or no stress. The e-book covers all stages of writing a dissertation starting from the selection to the research area to submitting the completed version of the work within the deadline. John Dudovskiy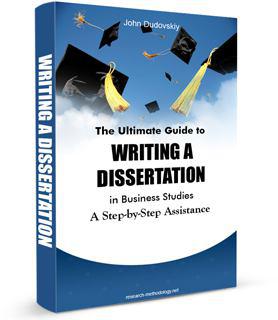 Warning: The NCBI web site requires JavaScript to function. more...
An official website of the United States government
The .gov means it's official. Federal government websites often end in .gov or .mil. Before sharing sensitive information, make sure you're on a federal government site.
The site is secure. The https:// ensures that you are connecting to the official website and that any information you provide is encrypted and transmitted securely.
Publications
Account settings
Browse Titles
NCBI Bookshelf. A service of the National Library of Medicine, National Institutes of Health.
Evans D, Coad J, Cottrell K, et al. Public involvement in research: assessing impact through a realist evaluation. Southampton (UK): NIHR Journals Library; 2014 Oct. (Health Services and Delivery Research, No. 2.36.)
Public involvement in research: assessing impact through a realist evaluation.
Chapter 9 conclusions and recommendations for future research.
How well have we achieved our original aim and objectives?
The initially stated overarching aim of this research was to identify the contextual factors and mechanisms that are regularly associated with effective and cost-effective public involvement in research. While recognising the limitations of our analysis, we believe we have largely achieved this in our revised theory of public involvement in research set out in Chapter 8 . We have developed and tested this theory of public involvement in research in eight diverse case studies; this has highlighted important contextual factors, in particular PI leadership, which had not previously been prominent in the literature. We have identified how this critical contextual factor shapes key mechanisms of public involvement, including the identification of a senior lead for involvement, resource allocation for involvement and facilitation of research partners. These mechanisms then lead to specific outcomes in improving the quality of research, notably recruitment strategies and materials and data collection tools and methods. We have identified a 'virtuous circle' of feedback to research partners on their contribution leading to their improved confidence and motivation, which facilitates their continued contribution. Following feedback from the HS&DR Board on our original application we did not seek to assess the cost-effectiveness of different mechanisms of public involvement but we did cost the different types of public involvement as discussed in Chapter 7 . A key finding is that many research projects undercost public involvement.
In our original proposal we emphasised our desire to include case studies involving young people and families with children in the research process. We recruited two studies involving parents of young children aged under 5 years, and two projects involving 'older' young people in the 18- to 25-years age group. We recognise that in doing this we missed studies involving children and young people aged under 18 years; in principle we would have liked to have included studies involving such children and young people, but, given the resources at our disposal and the additional resource, ethical and governance issues this would have entailed, we regretfully concluded that this would not be feasible for our study. In terms of the four studies with parental and young persons' involvement that we did include, we have not done a separate analysis of their data, but the themes emerging from those case studies were consistent with our other case studies and contributed to our overall analysis.
In terms of the initial objectives, we successfully recruited the sample of eight diverse case studies and collected and analysed data from them (objective 1). As intended, we identified the outcomes of involvement from multiple stakeholders' perspectives, although we did not get as many research partners' perspectives as we would have liked – see limitations below (objective 2). It was more difficult than expected to track the impact of public involvement from project inception through to completion (objective 3), as all of our projects turned out to have longer time scales than our own. Even to track involvement over a stage of a case study research project proved difficult, as the research usually did not fall into neatly staged time periods and one study had no involvement activity over the study period.
Nevertheless, we were able to track seven of the eight case studies prospectively and in real time over time periods of up to 9 months, giving us an unusual window on involvement processes that have previously mainly been observed retrospectively. We were successful in comparing the contextual factors, mechanisms and outcomes associated with public involvement from different stakeholders' perspectives and costing the different mechanisms for public involvement (objective 4). We only partly achieved our final objective of undertaking a consensus exercise among stakeholders to assess the merits of the realist evaluation approach and our approach to the measurement and valuation of economic costs of public involvement in research (objective 5). A final consensus event was held, where very useful discussion and amendment of our theory of public involvement took place, and the economic approach was discussed and helpfully critiqued by participants. However, as our earlier discussions developed more fully than expected, we decided to let them continue rather than interrupt them in order to run the final exercise to assess the merits of the realist evaluation approach. We did, however, test our analysis with all our case study participants by sending a draft of this final report for comment. We received a number of helpful comments and corrections but no disagreement with our overall analysis.
What were the limitations of our study?
Realist evaluation is a relatively new approach and we recognise that there were a number of limitations to our study. We sought to follow the approach recommended by Pawson, but we acknowledge that we were not always able to do so. In particular, our theory of public involvement in research evolved over time and initially was not as tightly framed in terms of a testable hypothesis as Pawson recommends. In his latest book Pawson strongly recommends that outcomes should be measured with quantitative data, 17 but we did not do so; we were not aware of the existence of quantitative data or tools that would enable us to collect such data to answer our research questions. Even in terms of qualitative data, we did not capture as much information on outcomes as we initially envisaged. There were several reasons for this. The most important was that capturing outcomes in public involvement is easier the more operational the focus of involvement, and more difficult the more strategic the involvement. Thus, it was relatively easy to see the impact of a patient panel on the redesign of a recruitment leaflet but harder to capture the impact of research partners in a multidisciplinary team discussion of research design.
We also found it was sometimes more difficult to engage research partners as participants in our research than researchers or research managers. On reflection this is not surprising. Research partners are generally motivated to take part in research relevant to their lived experience of a health condition or situation, whereas our research was quite detached from their lived experience; in addition people had many constraints on their time, so getting involved in our research as well as their own was likely to be a burden too far for some. Researchers clearly also face significant time pressures but they had a more direct interest in our research, as they are obliged to engage with public involvement to satisfy research funders such as the NIHR. Moreover, researchers were being paid by their employers for their time during interviews with us, while research partners were not paid by us and usually not paid by their research teams. Whatever the reasons, we had less response from research partners than researchers or research managers, particularly for the third round of data collection; thus we have fewer data on outcomes from research partners' perspectives and we need to be aware of a possible selection bias towards more engaged research partners. Such a bias could have implications for our findings; for example payment might have been a more important motivating factor for less engaged advisory group members.
There were a number of practical difficulties we encountered. One challenge was when to recruit the case studies. We recruited four of our eight case studies prior to the full application, but this was more than 1 year before our project started and 15 months or more before data collection began. In this intervening period, we found that the time scales of some of the case studies were no longer ideal for our project and we faced the choice of whether to continue with them, although this timing was not ideal, or seek at a late moment to recruit alternative ones. One of our case studies ultimately undertook no involvement activity over the study period, so we obtained fewer data from it, and it contributed relatively little to our analysis. Similarly, one of the four case studies we recruited later experienced some delays itself in beginning and so we had a more limited period for data collection than initially envisaged. Research governance approvals took much longer than expected, particularly as we had to take three of our research partners, who were going to collect data within NHS projects, through the research passport process, which essentially truncated our data collection period from 1 year to 9 months. Even if we had had the full year initially envisaged for data collection, our conclusion with hindsight was that this was insufficiently long. To compare initial plans and intentions for involvement with the reality of what actually happened required a longer time period than a year for most of our case studies.
In the light of the importance we have placed on the commitment of PIs, there is an issue of potential selection bias in the recruitment of our sample. As our sampling strategy explicitly involved a networking approach to PIs of projects where we thought some significant public involvement was taking place, we were likely (as we did) to recruit enthusiasts and, at worst, those non-committed who were at least open to the potential value of public involvement. There were, unsurprisingly, no highly sceptical PIs in our sample. We have no data therefore on how public involvement may work in research where the PI is sceptical but may feel compelled to undertake involvement because of funder requirements or other factors.
What would we do differently next time?
If we were to design this study again, there are a number of changes we would make. Most importantly we would go for a longer time period to be able to capture involvement through the whole research process from initial design through to dissemination. We would seek to recruit far more potential case studies in principle, so that we had greater choice of which to proceed with once our study began in earnest. We would include case studies from the application stage to capture the important early involvement of research partners in the initial design period. It might be preferable to research a smaller number of case studies, allowing a more in-depth ethnographic approach. Although challenging, it would be very informative to seek to sample sceptical PIs. This might require a brief screening exercise of a larger group of PIs on their attitudes to and experience of public involvement.
The economic evaluation was challenging in a number of ways, particularly in seeking to obtain completed resource logs from case study research partners. Having a 2-week data collection period was also problematic in a field such as public involvement, where activity may be very episodic and infrequent. Thus, collecting economic data alongside other case study data in a more integrated way, and particularly with interviews and more ethnographic observation of case study activities, might be advantageous. The new budgeting tool developed by INVOLVE and the MHRN may provide a useful resource for future economic evaluations. 23
We have learned much from the involvement of research partners in our research team and, although many aspects of our approach worked well, there are some things we would do differently in future. Even though we included substantial resources for research partner involvement in all aspects of our study, we underestimated how time-consuming such full involvement would be. We were perhaps overambitious in trying to ensure such full involvement with the number of research partners and the number and complexity of the case studies. We were also perhaps naive in expecting all the research partners to play the same role in the team; different research partners came with different experiences and skills, and, like most of our case studies, we might have been better to be less prescriptive and allow the roles to develop more organically within the project.
Implications for research practice and funding
If one of the objectives of R&D policy is to increase the extent and effectiveness of public involvement in research, then a key implication of this research is the importance of influencing PIs to value public involvement in research or to delegate to other senior colleagues in leading on involvement in their research. Training is unlikely to be the key mechanism here; senior researchers are much more likely to be influenced by peers or by their personal experience of the benefits of public involvement. Early career researchers may be shaped by training but again peer learning and culture may be more influential. For those researchers sceptical or agnostic about public involvement, the requirement of funders is a key factor that is likely to make them engage with the involvement agenda. Therefore, funders need to scrutinise the track record of research teams on public involvement to ascertain whether there is any evidence of commitment or leadership on involvement.
One of the findings of the economic analysis was that PIs have consistently underestimated the costs of public involvement in their grant applications. Clearly the field will benefit from the guidance and budgeting tool recently disseminated by MHRN and INVOLVE. It was also notable that there was a degree of variation in the real costs of public involvement and that effective involvement is not necessarily costly. Different models of involvement incur different costs and researchers need to be made aware of the costs and benefits of these different options.
One methodological lesson we learned was the impact that conducting this research had on some participants' reflection on the impact of public involvement. Particularly for research staff, the questions we asked sometimes made them reflect upon what they were doing and change aspects of their approach to involvement. Thus, the more the NIHR and other funders can build reporting, audit and other forms of evaluation on the impact of public involvement directly into their processes with PIs, the more likely such questioning might stimulate similar reflection.
Recommendations for further research
There are a number of gaps in our knowledge around public involvement in research that follow from our findings, and would benefit from further research, including realist evaluation to extend and further test the theory we have developed here:
In-depth exploration of how PIs become committed to public involvement and how to influence agnostic or sceptical PIs would be very helpful. Further research might compare, for example, training with peer-influencing strategies in engendering PI commitment. Research could explore the leadership role of other research team members, including research partners, and how collective leadership might support effective public involvement.
More methodological work is needed on how to robustly capture the impact and outcomes of public involvement in research (building as well on the PiiAF work of Popay et al. 51 ), including further economic analysis and exploration of impact when research partners are integral to research teams.
Research to develop approaches and carry out a full cost–benefit analysis of public involvement in research would be beneficial. Although methodologically challenging, it would be very useful to conduct some longer-term studies which sought to quantify the impact of public involvement on such key indicators as participant recruitment and retention in clinical trials.
It would also be helpful to capture qualitatively the experiences and perspectives of research partners who have had mixed or negative experiences, since they may be less likely than enthusiasts to volunteer to participate in studies of involvement in research such as ours. Similarly, further research might explore the (relatively rare) experiences of marginalised and seldom-heard groups involved in research.
Payment for public involvement in research remains a contested issue with strongly held positions for and against; it would be helpful to further explore the value research partners and researchers place on payment and its effectiveness for enhancing involvement in and impact on research.
A final relatively narrow but important question that we identified after data collection had finished is: what is the impact of the long periods of relative non-involvement following initial periods of more intense involvement for research partners in some types of research, particularly clinical trials?
Included under terms of UK Non-commercial Government License .
Cite this Page Evans D, Coad J, Cottrell K, et al. Public involvement in research: assessing impact through a realist evaluation. Southampton (UK): NIHR Journals Library; 2014 Oct. (Health Services and Delivery Research, No. 2.36.) Chapter 9, Conclusions and recommendations for future research.
PDF version of this title (4.3M)
In this Page
Other titles in this collection.
Health Services and Delivery Research
Recent Activity
Conclusions and recommendations for future research - Public involvement in rese... Conclusions and recommendations for future research - Public involvement in research: assessing impact through a realist evaluation
Your browsing activity is empty.
Activity recording is turned off.
Turn recording back on
Connect with NLM
National Library of Medicine 8600 Rockville Pike Bethesda, MD 20894
Web Policies FOIA HHS Vulnerability Disclosure
Help Accessibility Careers
How to write the part scope for further research?
The part scope for further research is essential in every academic study such as a thesis , dissertation or journal paper . The main purpose of this part is to make the readers aware of the findings emerging from the study, and its shortcomings. The shortcomings of the research gap guide future researchers on a domain that they must consider to save time and avoid repetitive outcomes.
Furthermore, this section also gives guidelines to researchers on other dimensions and critical estimations from which the topic can be explored.
Emphasize the significance of further research
There are no specific rules or guidelines for this part. However, since it is expected to be brief and informative, the following format is recommended.
Start this section by reflecting on the significance of the present study in brief. Answering questions such as:
Whether the research deviated from its initial objectives?
What was the original idea behind the research?
From where was the inspiration drawn?
Answering such questions is important because the reader should connect to the idea of the research.
Limitations of the study
Furthermore, briefly explain the limitations of the study. This step proves significant for scholars who wish to address areas that can enrich the research topic further. The limitations can either be presented separately, in an independent section called "Limitations of the research", or can be integrated within the future scope. Also, the limitations should be scalable and relatable, i.e. something that other researchers feel can be accomplished under different circumstances. This is also the key to setting recommendations for future studies.
Justify the future scope
Furthermore, provide justifications for the reasons why the mentioned areas have not been covered in the current study. Identify the probable bottlenecks other researchers might encounter while considering future research related to the topic. This will help them formulate an achievable or practically applicable plan for their own research, including the scope, aim and methodology.
Suggestions
Finally, the approach of the researcher becomes more direct. To be specific, some direct research suggestions should be given to other scholars for future studies. Be precise so that the reader is confident to undertake future studies in the suggested areas.
Answering the following questions can help:
What should be explored by others?
Why is it worth exploring?
What can be achieved from it?
Will the suggested study be relevant five to ten years down the line?
How does it add to the overall body of the literature?
Types of writing a future scope
There are different types of future research scope, based on the kind of writing, such as:
The future scope is focused solely on study findings.
The future scope is focused on the theory or theoretical model misused.
The future scope from lack of literary support.
The future scope of geographical outreach.
The future scope of testing methods and statistics.
The future scope on the complete redesigning of methodology.
Points to keep in mind
The most important aspect of writing the future scope part is to present it in an affirmative way. As identified in the former section, it is crucial to identify if the limitations are methods-based or researcher based. It should be concise and critical to the field of study. Refrain from using a reference in the scope for the future research part.
Make sure the points discussed remain achievable in a proximal time frame. In addition, make sure that they are in relation to the theoretical development of the study in focus.
Click to share on Twitter (Opens in new window)
Click to share on Facebook (Opens in new window)
Click to share on LinkedIn (Opens in new window)
Click to share on WhatsApp (Opens in new window)
Click to print (Opens in new window)
Notify me of follow-up comments by email.
5 thoughts on "How to write the part scope for further research?"
Research paper, proofreading.
Surviving Grad School
(and hopefully thriving), how to write: future work/conclusions.
This post is the final part of a series on how to write a paper. The first was on  abstracts , the second on  introductions , the third on  related work  and fourth on methodology and analysis of results .
I'm combining future work and conclusions into a single post since they are often found combined in a single section in a paper. While a conclusion is always necessary, sometimes people don't include future work. While I don't think it's always necessary to have a future work section, I would argue that it's always worthwhile to include some mention of future work.
Let's start with Future Work .
The future work section is a place for you to explain to your readers where you think the results can lead you. What do you think are the next steps to take? What other questions do your results raise? Do you think certain paths seem to be more promising than others?
Another way to look at the future work section, is a way to sort of "claim" an area of research. This is not to say that others can't research the same things, but if your paper gets published, it's out there that you had the idea. This lets people know what you're thinking of doing next and they may ask to collaborate if your future research area crosses over theirs.
If you do include a future work section, it should be pretty short. The goal should not be to go into a bunch of details, but instead just a sentence or two explaining each idea. It should just provide enough information as to a possible research path and why the path may be important. Motivation is always key in research. I stressed earlier that you need to motivate your research. This also applies to future work. If you can't motivate a good reason to continue research down some path, then why should/would you?
Conclusions
Conclusions are the last section people read in your paper, and therefore it's what they leave remembering. You need to make sure they walk away thinking about your paper just the way you want them to.
Your conclusions needs to do three main things:
Recap what you did. In about one paragraph recap what your research question was and how you tackled it.
Highlight the big accomplishments. Spend another paragraph explaining the highlights of your results. These are the main results you want the reader to remember after they put down the paper, so ignore any small details.
Conclude. Finally, finish off with a sentence or two that wraps up your paper. I find this can often be the hardest part to write. You want the paper to feel finished after they read these. One way to do this, is to try and tie your research to the "real world." Can you somehow relate how your research is important outside of academia? Or, if your results leave you with a big question, finish with that. Put it out there for the reader to think about to.
Optional  Before you conclude, if you don't have a future work section, put in a paragraph detailing the questions you think arise from the work and where you think researchers need to be looking next.
Things to not  do in your conclusion:
Introduce new information. The conclusion is for wrapping up everything you've done. It's not a place to say "oh yeah, and we also got result y." All results should be first presented and detailed in the result section. Think of the conclusion as a place to reflect on what you've already said earlier in the paper.
Directly re-quote anything you've already written. I've seen conclusions that are almost identical to the abstract or a collection of sentences from throughout the paper. As a reader, it makes me think the author was lazy and couldn't be bothered to actually summarize their results for the paper. Take the time to write a proper conclusion so that the reader walks away with good thoughts about your work.
Write a conclusion longer than your introduction. A conclusion should be short, and to the point. You'll rarely see them over 3 paragraphs, and three is often long. A lot of the time they are usually only one or two. Think about a conclusion as a chance to see how concisely you can summarize your entire research project. It's your "30 second" research spiel .
Share this:
Click to email a link to a friend (Opens in new window)
Click to share on Twitter (Opens in new window)
Click to share on Facebook (Opens in new window)
Related posts
Reading papers, how much time to write a paper, how to write: introductions, 2 thoughts on " how to write: future work/conclusions ".
hi akajb, thanks for sharing this series! it helps me a lot, i hope it will stay online for a long time!
thanks for this. very helpful for my research paper 🙂
Join the discussion Cancel reply
Fill in your details below or click an icon to log in:
You are commenting using your WordPress.com account. ( Log Out / Change )
You are commenting using your Twitter account. ( Log Out / Change )
You are commenting using your Facebook account. ( Log Out / Change )
Connecting to %s
Notify me of new comments via email.
Notify me of new posts via email.
Already have a WordPress.com account? Log in now.
Follow Following
Copy shortlink
Report this content
View post in Reader
Manage subscriptions
Collapse this bar
Have a language expert improve your writing
Run a free plagiarism check in 10 minutes, generate accurate citations for free.
Knowledge Base
Research paper
How to Write a Discussion Section | Tips & Examples
How to Write a Discussion Section | Tips & Examples
Published on August 21, 2022 by Shona McCombes . Revised on December 7, 2022.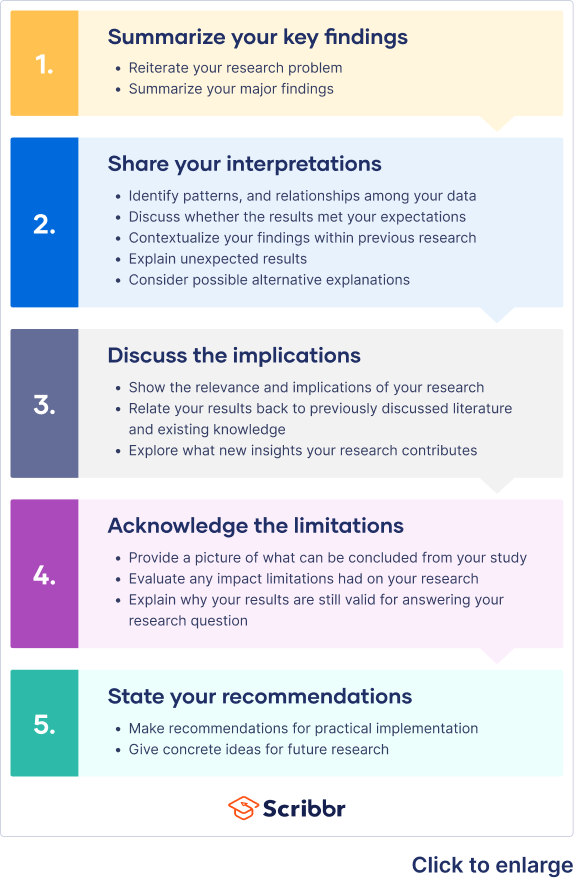 The discussion section is where you delve into the meaning, importance, and relevance of your results .
It should focus on explaining and evaluating what you found, showing how it relates to your literature review and paper or dissertation topic , and making an argument in support of your overall conclusion. It should not be a second results section.
There are different ways to write this section, but you can focus your writing around these key elements:
Summary : A brief recap of your key results
Interpretations: What do your results mean?
Implications: Why do your results matter?
Limitations: What can't your results tell us?
Recommendations: Avenues for further studies or analyses
Table of contents
What not to include in your discussion section, step 1: summarize your key findings, step 2: give your interpretations, step 3: discuss the implications, step 4: acknowledge the limitations, step 5: share your recommendations, discussion section example, frequently asked questions about discussion sections.
There are a few common mistakes to avoid when writing the discussion section of your paper.
Don't introduce new results: You should only discuss the data that you have already reported in your results section .
Don't make inflated claims: Avoid overinterpretation and speculation that isn't directly supported by your data.
Don't undermine your research: The discussion of limitations should aim to strengthen your credibility, not emphasize weaknesses or failures.
Start this section by reiterating your research problem and concisely summarizing your major findings. Don't just repeat all the data you have already reported—aim for a clear statement of the overall result that directly answers your main  research question . This should be no more than one paragraph.
Many students struggle with the differences between a discussion section and a results section . The crux of the matter is that your results sections should present your results, and your discussion section should subjectively evaluate them. Try not to blend elements of these two sections, in order to keep your paper sharp.
The results indicate that…
The study demonstrates a correlation between…
This analysis supports the theory that…
The data suggest that…
Receive feedback on language, structure, and formatting
Professional editors proofread and edit your paper by focusing on:
Academic style
Vague sentences
Style consistency
See an example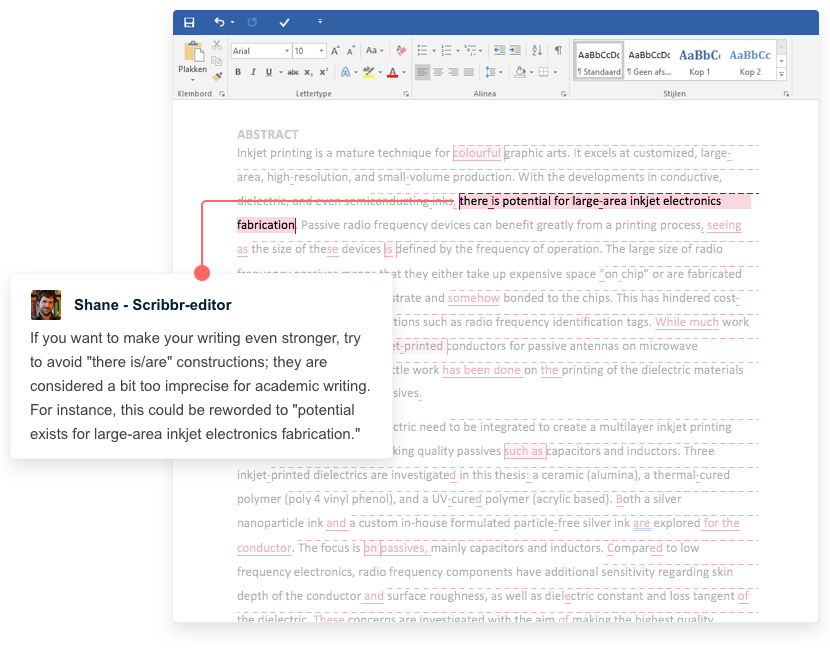 The meaning of your results may seem obvious to you, but it's important to spell out their significance for your reader, showing exactly how they answer your research question.
The form of your interpretations will depend on the type of research, but some typical approaches to interpreting the data include:
Identifying correlations , patterns, and relationships among the data
Discussing whether the results met your expectations or supported your hypotheses
Contextualizing your findings within previous research and theory
Explaining unexpected results and evaluating their significance
Considering possible alternative explanations and making an argument for your position
You can organize your discussion around key themes, hypotheses, or research questions, following the same structure as your results section. Alternatively, you can also begin by highlighting the most significant or unexpected results.
In line with the hypothesis…
Contrary to the hypothesized association…
The results contradict the claims of Smith (2022) that…
The results might suggest that x . However, based on the findings of similar studies, a more plausible explanation is y .
As well as giving your own interpretations, make sure to relate your results back to the scholarly work that you surveyed in the literature review . The discussion should show how your findings fit with existing knowledge, what new insights they contribute, and what consequences they have for theory or practice.
Ask yourself these questions:
Do your results support or challenge existing theories? If they support existing theories, what new information do they contribute? If they challenge existing theories, why do you think that is?
Are there any practical implications?
Your overall aim is to show the reader exactly what your research has contributed, and why they should care.
These results build on existing evidence of…
The results do not fit with the theory that…
The experiment provides a new insight into the relationship between…
These results should be taken into account when considering how to…
The data contribute a clearer understanding of…
While previous research has focused on  x , these results demonstrate that y .
Even the best research has its limitations. Acknowledging these is important to demonstrate your credibility. Limitations aren't about listing your errors, but about providing an accurate picture of what can and cannot be concluded from your study.
Limitations might be due to your overall research design, specific methodological choices , or unanticipated obstacles that emerged during your research process.
Here are a few common possibilities:
If your sample size was small or limited to a specific group of people, explain how generalizability is limited.
If you encountered problems when gathering or analyzing data, explain how these influenced the results.
If there are potential confounding variables that you were unable to control, acknowledge the effect these may have had.
After noting the limitations, you can reiterate why the results are nonetheless valid for the purpose of answering your research question.
The generalizability of the results is limited by…
The reliability of these data is impacted by…
Due to the lack of data on x , the results cannot confirm…
The methodological choices were constrained by…
It is beyond the scope of this study to…
Based on the discussion of your results, you can make recommendations for practical implementation or further research. Sometimes, the recommendations are saved for the conclusion .
Suggestions for further research can lead directly from the limitations. Don't just state that more studies should be done—give concrete ideas for how future work can build on areas that your own research was unable to address.
Further research is needed to establish…
Future studies should take into account…
Avenues for future research include…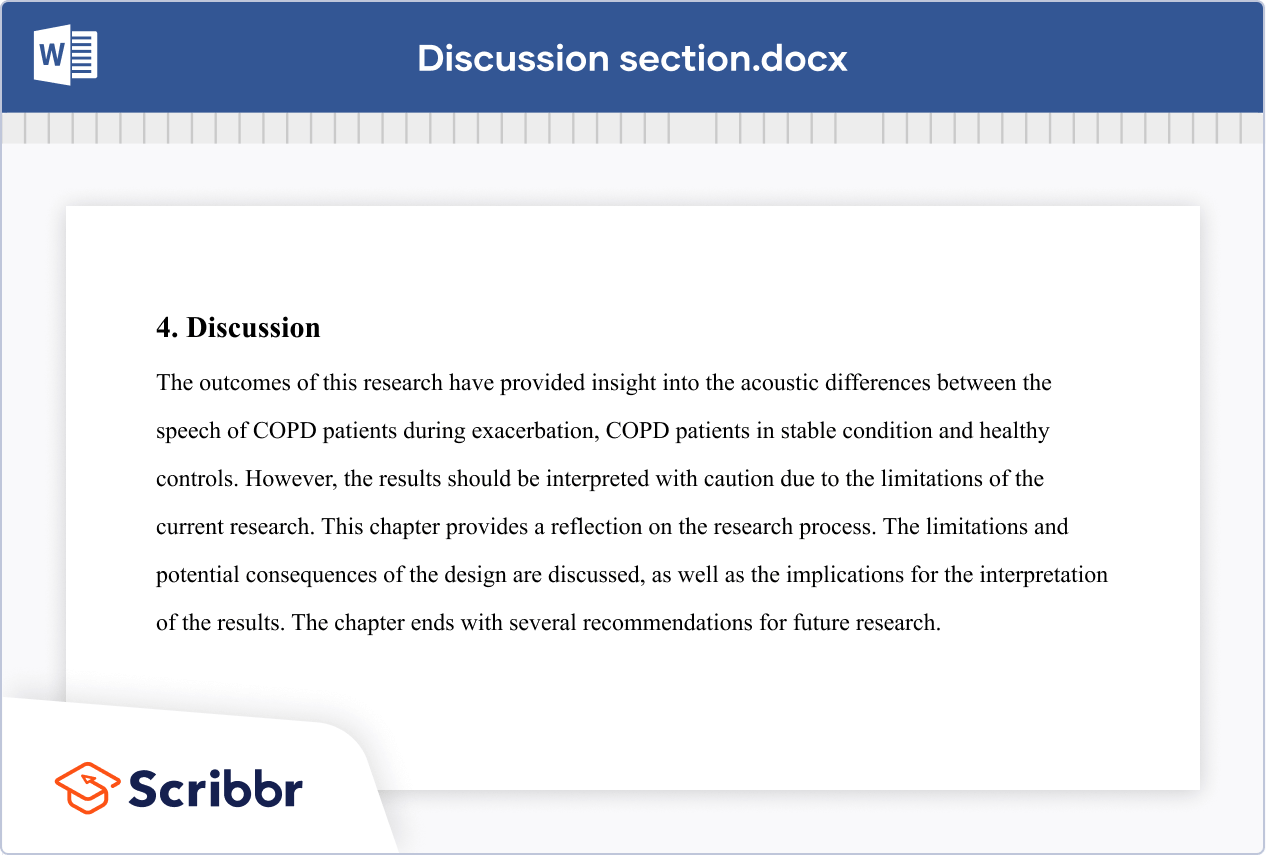 In the discussion , you explore the meaning and relevance of your research results , explaining how they fit with existing research and theory. Discuss:
Your  interpretations : what do the results tell us?
The  implications : why do the results matter?
The  limitation s : what can't the results tell us?
The results chapter or section simply and objectively reports what you found, without speculating on why you found these results. The discussion interprets the meaning of the results, puts them in context, and explains why they matter.
In qualitative research , results and discussion are sometimes combined. But in quantitative research , it's considered important to separate the objective results from your interpretation of them.
In a thesis or dissertation, the discussion is an in-depth exploration of the results, going into detail about the meaning of your findings and citing relevant sources to put them in context.
The conclusion is more shorter and more general: it concisely answers your main research question and makes recommendations based on your overall findings.
Cite this Scribbr article
If you want to cite this source, you can copy and paste the citation or click the "Cite this Scribbr article" button to automatically add the citation to our free Citation Generator.
McCombes, S. (2022, December 07). How to Write a Discussion Section | Tips & Examples. Scribbr. Retrieved March 9, 2023, from https://www.scribbr.com/dissertation/discussion/
Is this article helpful?
Shona McCombes
Other students also liked, how to write a literature review | guide, examples, & templates, what is a research methodology | steps & tips, how to write a results section | tips & examples, what is your plagiarism score.
latavernetta
Best dissertation writing help
Dissertation Help
Why students should use dissertation writing services
How to buy dissertation safely
Hire USA essay writers
Thesis Help
How to write thesis
How to choose professional thesis writing service
How to plan your thesis writing
MBA thesis writing – how to start?
What Is Your Study About?
Motivation for thesis writing
Importance of your thesis
Significance of thesis writing
Bridging gaps with your study
Limitation encountered
Your findings
Method and sampling plan
Method selection
Your recommendations
Future research
Practical use of your research
Research summary
Changes in your paper
Dissertation structure
Dissertation Conclusion
Dissertation References
Dissertation Proposal
Dissertation Cooperation
Cooperation with academic supervisor
Cooperation with committee during writing your dissertation
Time management for dissertation writing
Based On Your Findings What Areas Will You Suggest For Future Research?
The results of your particular research paper should be organized with more than just a description of what those results are. The section should also include information on the future research that you wish to plan for any purpose. You should talk about suggestions that you might have for future projects regardless of whether they are ones that you or another entity will produce.
Talk About Research Gaps
To start, you could talk about any research gaps that you had and how they might have impacted your findings. Sometimes you might not have access to certain forms of research or other ideas that could be useful for your study. You can write in your recommendations about future plans that you might hold based on what studies could be carried out in the future or any variables that might be difficult to acquire or utilize.
Build Upon Certain Findings
The next point could be to build upon what you have found. You might notice one part of your results that is very interesting and fascinating. You could build upon those findings by talking about how those results could be explored in detail based on new research opportunities that have come about.
Expand Frameworks
Your framework or model for research could be analyzed quite well. You can ask to have an additional amount of research performed by adding new variables or other special measurements that might be of value to you. Anything that is relevant or sensible for research purposes is always worth considering so you will find ways to make research more useful down the line.
Review New Contexts
Sometimes the results that you come across could be reviewed in a new context. That is, you might ask to have a particular topic analyzed based on outside factors that might come about in the future or how a certain subject could be influenced by alternative variables. You must think about as many new contextual points as possible while also being realistic as to whether or not they could be reviewed at some point in the future.
Some of the contextual points could entail aspects relating to a cultural plan or to a certain location. Whatever the case is, you have to write a smart context based on what you understand so it will be easier for a project to be reevaluated over time.
You have to think about how you're going to expand upon the research in your project to make it stand out. Be certain when writing that you are fully aware of how your research is going to be managed in a sensible way. This is to make your report more sensible over time as it helps to expand upon your topic.