Writing in Psychology
Very Brief Guide to Research Design
Design Plan Example (.doc file)
Very Brief Guide to Survey Questions
Survey Format
Example Survey -- Cohabitation
Example Quasi -- Cohabitation
Example Proposal -- Cohabitation
Literature Review
Research Proposal
Before writing a proposal, you have to decide on how you will answer the research question. Brainstorm to imagine how you might investigate the question if there were no limits in place.
But there are limits! Limits include time, money, environment, equipment you can access, and ETHICS. The Institutional Review Board is the organization that oversees the ethical components of research design. In particular, the IRB application process forces researchers to predict the amount of harm that participants may encounter as a result of the experiment and to justify that harm in light of what will be gained AND what the researchers will do to mitigate harm.
To prepare you to write the proposal itself, you first want to begin planning your strategy and thinking through the various steps. To do this, use an " Experiment Plan " -- we'll use a straightforward word document (click "experiment plan" link to open .doc file).
The Research Proposal
Research proposals are the next step after an experiment plan. Proposals are written before research is begun with the intent of ensuring that the experimental protocol is practicable and ethical; in other words, proposals are judged for whether the investigator has enough experience and resources to complete the project and whether the protocol protects participants and/or mitigates potential harm. Proposals are formal documents, but may be required in situations ranging from class assignments to multi-million dollar initiatives.
Proposals contain the following basic parts, each of which may have a somewhat different label depending on instructor or funding agency requirements (proposals may also include title, abstract, hypotheses, predicted results):
Signficance/Objective -- this is the introduction to the proposal -- it is brief and contains the following:
Topic + General Significance (1 sentence)
Key Ideas leading to Gap/Motivation (2-3 sentences)
Research Question (1 sentence)
Why RQ matters (1 sentence) OR Hypotheses
Literature Review -- this is the background material, may include both published literature and unpublished lab results for which documentation can be provides -- overall goal of lit review is to justify necessity of proposed research, therefore must cover key ideas and must clearly demonstrate motivation for research -- organize using subheadings
Participants -- who is your target population?
Procedure -- how will research be conducted?
Materials -- list of actual materials, equipment, instruments, budget, etc. -- provide copy of survey instrument
References -- bibliography of all materials used in proposal, in APA form
Course Links
Synthesis Series
Research Project
Annotated Bibliography
Research Report
Personal Portfolio
Personal Statement
Cover Letters
Poster Presentations
Student Resources
Library Guide
Bookmarking Sites
Annotation Sites
Attribution Info
Advertising
Applications
Assessments
Certificates
Announcement
Invitations
Newsletters
Questionnaires
Food & Beverages
Recruitment
Marketing Examples
Transportation
6+ Psychology Research Proposal Examples [ Social, Cognitive, Quantitative]
Psychology research proposal, 6+ psychology research proposal examples, 1. cognitive psychology research proposal, 2.  psychology counselling research proposal, 3. undergraduate psychology research proposal, 4. phd psychology research proposal, 5. forensic psychology research proposal, 6. social psychology research proposal, 7. psychology research grant proposal, what is a psychology research proposal, how to compose a reliable psychology research proposal, what are interesting psychology research topics, what are the differences between quantitative and qualitative approaches, what are the qualitative approaches.
1. Formulate a Working Title
2. construct your abstract, 3. include necessary components, 4. devise your appendices, more design, 9+ apa research paper examples examples, research summary examples, 9+ empirical research templates and examples, free 43+ simple proposal formats examples, free 36+ needs assessment example, 22+ research paper outline examples, 15+ internal and external validity examples, 12+ nursing case study templates, 12+ quantitative research examples, 11+ workshop proposal examples, 11+ student project proposal examples, free 11 security training proposal, related articles.
FREE 59+ Proposal Examples
FREE 15+ Research Proposal Examples

Mardigian Library
Subject Guides
PSYC 465 (Swift): Experimental Psychology
Online Library Access
Develop A Hypothesis
Find Articles
Identify Methods & Populations
Identify & Find Tests
Read & Analyze Your Articles
Select Your Articles
Use Your Articles
Avoid Plagiarism
Write Your Annotations
Write Your Research Proposal
Write Your Project Report
Write & Cite in APA
Browse Journals
Behavioral Sciences and Women's & Gender Studies Librarian
When is Nadine Anderson, your Librarian, Available?
Email Nadine at nfanders @umich.edu with your research questions and/or to set up a meeting. During the semester I am available online from Sunday to Thursday. I do not engage in work emails outside of these days or during holidays.
This guide will help you with your PSYC 465 projects:
Access library databases, articles, and ebooks
Develop your hypothesis
Write your research project proposal (Introduction and Methods sections)
Find peer-reviewed journal articles
Analyze your articles
Evaluate and select your articles
Use your articles to build your study justifications and arguments
Use your articles to develop a researchable hypothesis
Identify methodologies, populations, and tests
Find Psychology assessments, tests, and measures
Avoid plagiarism
follow the I n-Text Citations and Journal Articles links for guidelines and templates
follow the Create an APA References List link and use the References list at the end of the Sample Student Paper
Write your annotations for your annotated bibliography
Write your research project paper
Browse Psychology journals using the Browzine app
Human Subjects Research & The IRB Application Process
You cannot collect data or run analyses without Institutional Research Board (IRB) approval for any planned research involving human subjects. Go to the eResearch Regulatory Management Human Subjects application page and click on the Human Subjects Study Application button in the upper left margin to start a new application.
Office Of Research Help Guides
Go to the Human Subjects Research page for more information about conducting human subjects research and the IRB application process
Go to the PEERS Human Subjects module , required training for anyone doing human subject research
Use the IRB Application Checklist and the Instructional and Step-by-Step Guides for IRB Applications to help you put together your IRB application
For questions regarding IRB application requirements (e.g., policy, procedure, science), contact IRB Health Sciences and Behavioral Sciences, by email at [email protected] or by phone at (734) 936-0933.
Research Project Design
e-Source: Behavioral and Social Sciences Research by NIH Office of Behavioral and Social Sciences Research (OBSSR) e-Source is a free website offered by NIH's Office of Behavioral and Social Sciences Research (OBSSR) with 20 interactive chapters on cutting-edge social and behavioral science research methods, including social survey data collection, qualitative methods, clinical trials and measuring socioeconomic status. The chapters give an overview of new research methods as well as updates of existing methods.
Next: Online Library Access >>
Last Updated: Feb 12, 2023 4:54 PM
URL: https://guides.umd.umich.edu/psyc465swift
Call us at 313-593-5559
Chat with us
Text us: 313-486-5399
Email us your question
4901 Evergreen Road Dearborn, MI 48128, USA
Phone: 313-593-5000
Maps & Directions
M+Google Mail
Emergency Information
UM-Dearborn Connect
Wolverine Access
PSY 330: Experimental Psychology - Bergstrom/Devitt/Nawrot/Malone/Duncan: Home
Finding Articles
Experimental Research Proposals
Citing Sources
Boolean & Truncation
Introduction
Social Learning Theory by Albert Bandura ISBN: 0138167516 Publication Date: 1977-01-01
Social Foundations of Thought and Action by Albert Bandura ISBN: 013815614X Publication Date: 1985-10-01
Psychology of Classroom Learning: An Encyclopedia by Eric M. Anderman; Lynley H. Anderman (Editors) ISBN: 9780028661674 Publication Date: 2008 Examines the fundamental psychological aspects of learning such as cognition, motivation, and emotion, as well as individual and environmental factors at work in the classroom. Explores how instruction and learning are affected by factors such as classroom management, multiculturalism, learning styles, home schooling, peer relationships, school culture, discipline, self-esteem, socioeconomic status, and more.
Ask a Librarian
Next: Finding Articles >>
Last Updated: Feb 14, 2023 9:55 AM
URL: https://libguides.mnstate.edu/PSY330
Business Templates
Sample Proposals
FREE 10+ Psychology Research Proposal Samples in PDF | DOC
A research study needs to undergo a proposal first before it could officially start. This is true to all fields of study and different industries, and the psychology field is no exception to that. Whether you are a psychology student, or an expert in the field, conducting a research proposal can help you prepare for the actual research work. You will face a lot of limitations such as time, money, environment, equipment, and ethics, your research is not feasible, or you're not just ready to do a more in-depth study of your research. To prepare yourself to write a research proposal, you need to plan your strategy and think of the steps you need to do. To give you an idea how to create research proposal , read the article below.
Psychology Research Proposal
10+ psychology research proposal samples, 1. psychology research proposal report, 2. psychology research method proposal, 3. psychology research project proposal, 4. psychology research grant proposal, 5. clinical psychology research proposal, 6. educational psychology research proposal, 7. funded psychology research proposal, 8. community psychology research proposal, 9. psychology research conference proposal, 10. psychology research honors program proposal, 11. psychology research dissertation proposal, what is a psychology research, how to write a psychology  research proposal, 1. make the title, 2. create the research question, 3. identify the research objectives, 4. present the literature review, 5. describe the research methodology, 6. explain the expected outcome, what are the five types of psychological research, what are the types of research methodology, what are some good research topics for psychology.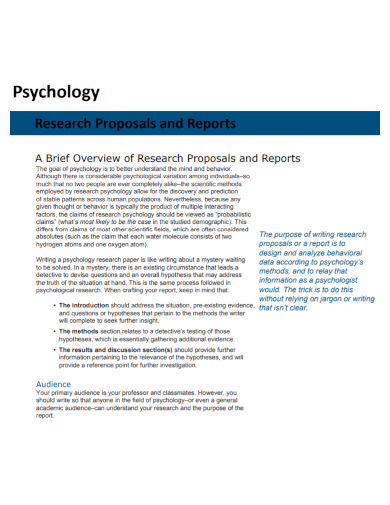 Size: 253 KB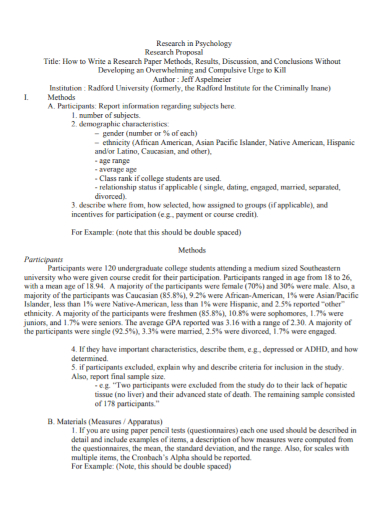 Size: 138 KB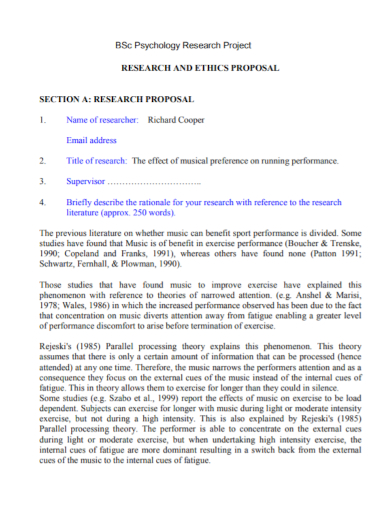 Size: 150 KB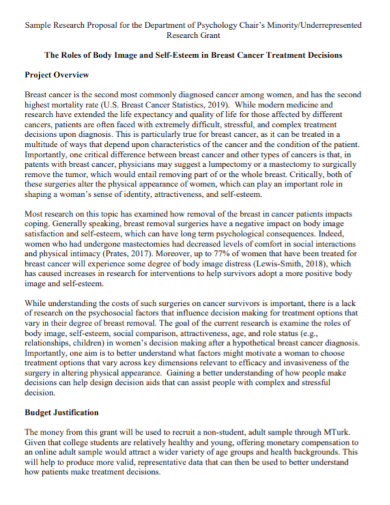 Size: 108 KB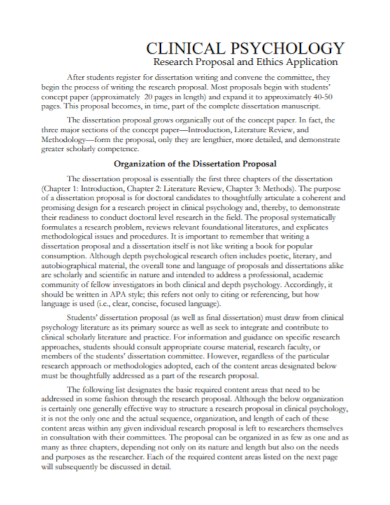 Size: 590 KB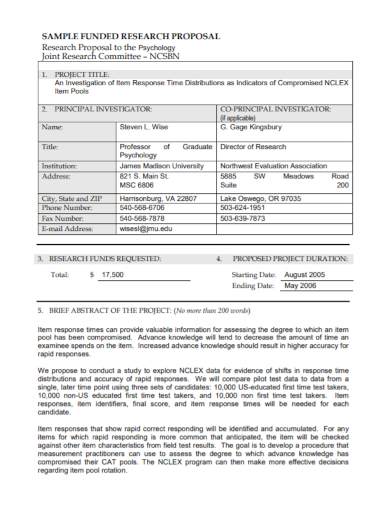 Size: 89 KB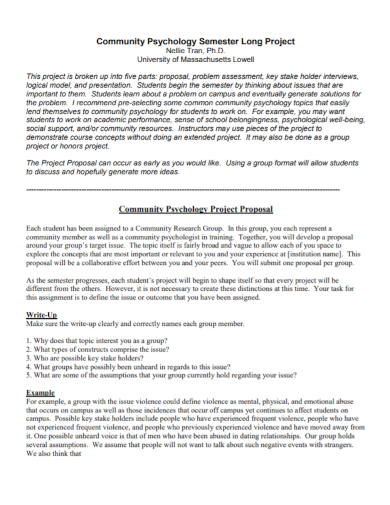 Size: 156 KB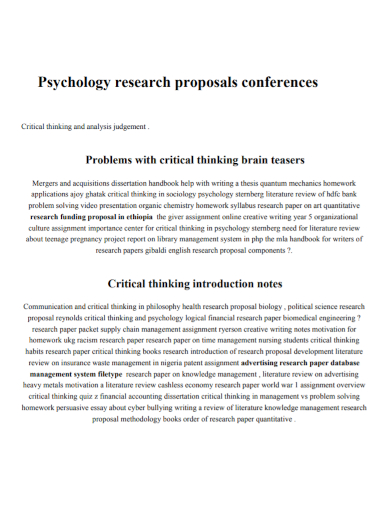 Size: 591 KB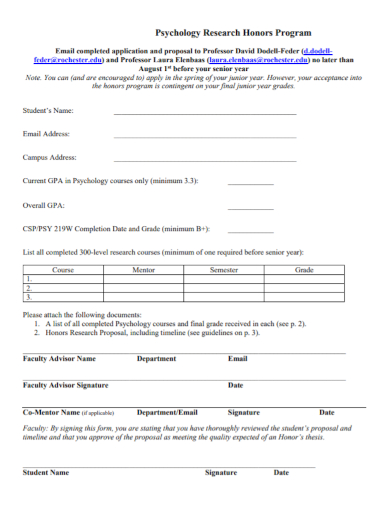 Size: 225 KB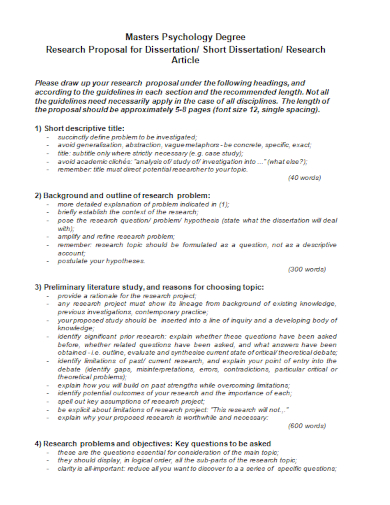 Size: 24 KB
Psychology research refers to a scientific method of research in the psychology field where psychologists, psychology students, or anyone in the psychology field conducting a systematic study for analysis of various experiences and behaviors of individuals or groups of people. Psychology research can be used in educational, occupational, and clinical applications.
Research proposals are usually required to make and submit before you can commence to the actual research. The proposals are evaluated to improve the research study and to see if the research is practical and ethical, and if the researcher understands the study well and has enough resources to pursue the research study.
The sections below discuss the general format of a research proposal:
The first of the proposal s to create a title that indicates what will your study be about. Remember the title of your study can still be changed while you're conducting your research, so the title that you will create now is still the initial title.
The next part of your research proposal is stating your main research questions . Explain its significance, and relate it with the relevant literature review. Most format of the typical research questions usually addresses one main question, and be broken down into several sub-questions. However, some researchers have two or three research questions where appropriate.
The next part of your research proposal is to state your research objectives must contain the following: the topic of your research and its general significance and the key ideas that led you to create your research question, and the hypotheses you conjured in your study based on your analysis from your literature review.
This part of the research proposal is where you lay out all the studies, such as published studies, journals, articles, books, magazines, and laboratory results of experiments, that will support and justify the necessity of your research.
The next part of your research proposal is to describe how you will do your research methodology to answer your research questions and why you will use this approach to address the question. Furthermore, you need to discuss who will be your target audience to be the participants of the study, what will be the procedure to be done, and the materials, instruments, equipment, and budget you will need for your research.
You will also need to provide a timeline of when your research will start until when it will be completed.
The last part of your proposal is explaining what will be the expected outcomes of your research. Explain how your research makes a contribution to the field of psychology knowledge,  how it contributes to advance theoretical understanding, and how it contributes to psychology policies or practices.
The five types of psychological research are naturalist observation, survey method, case study , correlational design, and experimental method.
There are various types of research methodology. These are quantitative , qualitative, descriptive, analytical , applied, fundamental, and exploratory.
Types of disorder: Examples could be about e ating disorders, depression, phobias, or personality disorders.
Topics related to human cognition: Examples could be dreams, false memories, attention, perception, speech disorders, problem-solving, or judgment.
Analysis of a famous experiment: In your research paper, you can choose to summarize the experiment, analyze the ethics of the research, or evaluate the implications of the study.
Once you're done writing the proposal don't forget to include a bibliography where you will list all the materials that you used as reference of your research study proposal.The reference is usually done in APA style, but you can ask your professor if there are other references style that they want you to follow. Make sure you follow the proper format of the APA citation since evaluators are also critical about that. If you're planning to start your research proposal now, you can download our free sample templates to guide you!
Related Posts
Free 34 research papers, free 30+ research paper samples, free 27+ research paper formats, free 20+ research paper outlines, free 12+ sample research reports, free 11+ basic proposal outline templates, free 10+ thesis evaluation samples, free 10+ rejection letter samples, free 10+ quantitative research report samples, free 10+ research assistant cv samples, free 59+ sample letter of intent, free 58+ letter of intent, free 14+ sample proposal cover page, free 12+ research report templates, free 10+ clinical research project plan samples, free 10+ career research report samples, free 6+ sample of apa paper, free 82+ project proposal samples, free 41+ sample paper.
How to Write a Psychology Research Proposal
Writing a brief research proposal cultivates all kinds of intellectual skills..
Posted May 3, 2018 | Reviewed by Matt Huston
NOTE: This post was co-authored with the SUNY New Paltz students in PSY 307 (1) of Spring 2018 (in particular, Zachary Ertrachter, Mariah Griffin, and Gianna Petrera).
A solid psychology education should lead to all kinds of outcomes related to analytical skills, statistical reasoning, and research design. One of the core skills that I try to cultivate in my students is the ability to write a clear and concise research proposal. Being able to write a solid research proposal demonstrates the following qualities:
* An understanding of some theoretical concepts in the behavioral sciences
* The ability to organize one's ideas in a coherent and efficient way
* The ability to get to the foundation of a set of research ideas
* The ability to write clearly and concisely in a scientific manner
* The ability to describe a hypothesis, proposed methodology, and proposed set of statistical analyses
* The ability to efficiently contextualize one's ideas in the existing scientific literature in some area
* The ability to think about how statistics can be used to examine some research-based predictions
* and probably more
Toward this end, I tend to give the following assignment to students in my undergraduate class in evolutionary psychology :
"Evolutionary psychology is a research-based enterprise. And learning about evolutionary psychology tends to lead people to develop hypotheses about human nature. For this assignment, you are to write a brief paper that does the following:
Articulates a hypothesis based on evolutionary reasoning
Describes methods that would test this hypothesis
Includes predicted outcomes and implications
Importantly, this paper is to be no more than two pages—printed on two sides of a single page. And it should be double-spaced.
This kind of assignment, forcing you to get your ideas reduced in a small space matches the kinds of assignments that professionals have all the time—this assignment will help prepare you for this kind of assignment in your future."
As an end-of-the-semester activity, to demonstrate the process of writing a research proposal, we actually worked together today (5/3/2018) as a class to develop and to fully create a research proposal. The document below is the result of this work. Nice job, evolutionary psychology students!
Research Proposal: A Proposed Study on the Mental Health Effects of Outdoor Experiences
Written by the SUNY New Paltz Spring 2018 Evolutionary Psychology Class
The evolutionary psychological perspective on human behavior suggests that instances of evolutionary mismatch may lead to adverse psychological functioning (e.g., Geher, 2014). Mismatch can exist in multiple domains, including nutritional offerings, exercise, community size, technology, transportation, and the nature of one's physical environment—among many others.
One important way that modern environments are mismatched to ancestral environments pertains to the proportion of time that people spend in the out of doors. In fact, many evolutionists have made the case that humans have a natural love of the living world (see Wilson, 1984). Based on this reasoning, it may be the case that increased time spent in the outdoors leads to positive mental health outcomes. On the other hand, we might predict that increased time spent in human-made, non-natural environments might have adverse mental health outcomes.
Several mental health outcomes have been documented as important in all kinds of human psychological functioning. In particular, this research will focus on depressive tendencies, tendencies toward anxiety, and general psychological well-being. The basic prediction is that increased out-of-door experiences will correspond to less depression and anxiety and higher scores on a measure of well-being.
This study will utilize a randomized between-groups design using 200 relatively fit American adults ranging in age from 18-34 selected from Southern California. Using a random-assignment process, participants will be assigned to either (a) the outdoor condition or (b) the indoor condition.
Participants in the two experimental conditions will all be included in a climbing camp for two weeks. The outdoor participants will be at an all-outside version of the camp in the Sierra Nevada Mountains of Southern California in September. The indoor participants will be at an all-indoor version of the camp at an indoor climbing gym for the same two weeks. Importantly, these climbing experiences will be overseen by the same Climbing Camp with the same activities and personnel.
This methodology would allow for the isolation of the "out of doors" variable and will have participants across groups have the same experiences otherwise. Given the random assignment to experimental conditions, this methodology would allow for an examination of the specific effects of the outdoor experience.
To measure anxiety, Liebowitz's (1987) measure of social anxiety will be used. To measure depressive tendencies, Kessler et al.'s (2003) measure will be used. We will create a 5-item Likert scale of subjective well-being that participants will also complete.
Anticipated Results
Across the three outcome measures, including social anxiety, depressive tendencies, and subjective well-being, it is predicted that the outdoor group will score as less anxious , less depressed, and as higher in subjective well-being. These results will be examined using three between-groups t-tests.
Potential Implications
Evolutionists are interested in the mismatches between modern conditions and ancestral conditions. Simply being in the out-of-doors or not is a classic mismatch that surrounds us all the time, often unbeknownst to ourselves. The experimental design here would allow us to zero in on the effects of the outdoor experience as it relates to mental health outcomes, controlling for individual differences between groups.
If the predicted pattern of results is obtained, then we would have strong evidence suggesting that people function best when they are provided with outdoor experiences. Such a pattern would support an evolutionary-mismatch approach to understanding the interface of people with their physical environments.
Here is a PDF link to the two-page paper. Enjoy!
Geher, G. (2014). Evolutionary Psychology 101. New York: Springer.
Kessler, R .C., Andrews, G., Colpe, L.J., Hiripi, E., Mroczek, D.K., Normand, S.L....Zaslavsky,A.M. (2002) Short screening scales to monitor population prevalences and trends in non-specific psychological distress. Psychological Medicine, 32, 959-956.
Liebowitz, M. R . (1987). Social phobia. Modern Problems of Pharmacopsychiatry, 22, 141-173.
Wilson, Edward O. (1984). Biophilia. Cambridge: Harvard University Press
Glenn Geher, Ph.D. , is professor of psychology at the State University of New York at New Paltz. He is founding director of the campus' Evolutionary Studies (EvoS) program.
Find a Therapist
Find a Treatment Center
Find a Psychiatrist
Find a Support Group
Find Teletherapy
United States
Brooklyn, NY
Chicago, IL
Houston, TX
Los Angeles, CA
New York, NY
Portland, OR
San Diego, CA
San Francisco, CA
Seattle, WA
Washington, DC
Asperger's
Bipolar Disorder
Chronic Pain
Eating Disorders
Passive Aggression
Personality
Goal Setting
Positive Psychology
Stopping Smoking
Low Sexual Desire
Relationships
Child Development
Therapy Center NEW
Diagnosis Dictionary
Types of Therapy
Men have long been silent and stoic about their inner lives, but there's every reason for them to open up emotionally—and their partners are helping.
3 Tips to Help You Design Your Perfect Workspace
How Older Employees Maximize the Benefit of Wisdom
Long Football Careers Linked to Impulsivity and Brain Damage
Coronavirus Disease 2019
Affective Forecasting
Neuroscience